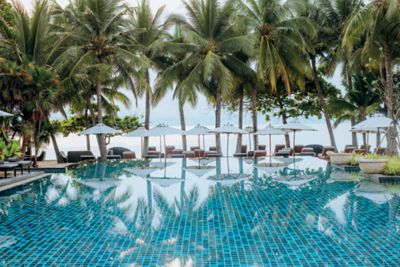 싱싱한 열대 가든 내에 위치한 아름다운 바닷가의 후아힌 리조트
목가적인 자연 풍경 속에 자리잡아 평안에 감싸인 듯한 느낌을 선사함과 동시에 손쉬운 접근성을 자랑합니다. 우아하면서도 편안한 분위기를 가진 이 매력적인 저층 리조트는 바람에 부드럽게 흔들리는 야자수, 파릇파릇한 정원 그리고 빛을 반사하는 호수로 둘러싸여 있습니다.
96개의 스위트 및 빌라는 120부터 400 제곱미터에 달하는 여유로운 생활 공간을 통해 친밀한 화려함을 제공해드립니다.  태국 요리와 섬세한 프랑스 요리를 선보이는 리조트 내 레스토랑에서 식사를 하시고, Asara Spa에서 긴장을 풀어준 뒤 리조트의 수영장 두 군데 중 한 곳에 몸을 담그시거나 잔잔한 파도가 이는 바다와 거기에 비치는 노을이 자아내는 이국적인 분위기에 흠뻑 빠져보세요.
레스토랑 & 바
진정한 삶을 만나는 곳
저희는 맛있고 신선한 요리, 풍성한 간식, 오직 뫼벤픽만이 드릴 수 있는 미식을 정성을 다하여 풍성하게 제공함으로써 고객의 진정한 만족이 제대로 완성된다고 믿습니다.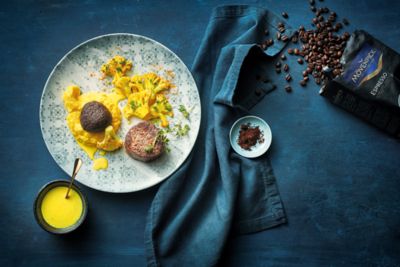 시설 & 액티비티
삶이 더 달콤해지는 곳
뫼벤픽에서 좋은 삶을 즐겨보세요. 화창한 수영장에서 즐기는 스파 시간, 활력을 주는 운동, 몰입형 문화 체험에 이르는 다양한 기회에 여러분을 초대합니다.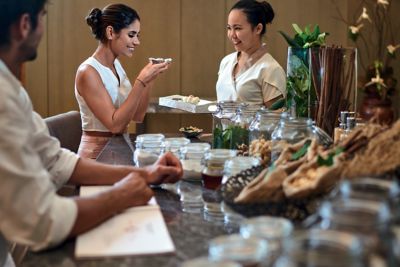 리뷰
Ian T
23/05/2022 From Tripadvisor
An older style, beautiful resort
We spent 2 nights in a pool villa and loved every minute. I can now understand how people can go on a holiday and simply stay I a resort. Being older added to the charm and the gardens were just beautiful. Food in both restaurants was very good. Baan Dum Oceanfront seafood restaurant is very much "Thai style" while Kampu offers a more international menu. My preference rests with Kampu, with views of the waterfront, pool and beach bar adding to the relaxing atmosphere. Breakfast at Kampu was really good. There was a huge range of dishes on the first morning and an equally huge but different range on the second. And the coffee was "ok" both in temperature and taste, a rarity at many hotel's breakfast offerings. A longer stay next time!
Artopera
16/05/2022 From Tripadvisor
Good property without quality
Good property without quailty Arrival Start with careless welcoming service they left me stand for 10 min waiting for anyone taking charge for check in then someone approached me gave me a seat and get my ID then took another 5 min and someone came back again to ask me for ID and ask the same question. This was my 4th stay and I'm Diamond member of All Accor they never care to remember and recognized (I expected this because they keep doing this every time) Room The room I stayed is a biggest room of this property (room100) president ocean villa which stunning view from room. my dad requested only this room in movenpick Huahin room charge around 20K THB per night (I think this is good price for the room) But the thing is many part of the room is not ready for use and out of order. -living room blinds doesn't work on arrival. - Washing sink drain not well - there is no cold water in the bathtub and their hotwater seem like it could boiling instant nooddle. hotel staff told me to hold it couple hours to cool down but I come back found dry bathtub because drain plug was leak. Then I try again use ice bucket to dilute hot water so funny because I slipped on the bathroom floor that was not a big deal. Almost every defect and broken stuff was not be able to fix in my stay (3 days) Breakfast Breakfast buffet was fine but they provided me special stone in the spinach bread. By the way restaurant remove contaminated bread immediately and made new one for us. But I got scare of it already. Food in Ban dam restaurant is very delicious with a good sea view and ambiance. Spa is the strongest point in this hotel. therapist has good attitude and massage techniques with long experience. This is only good experience while I stayed One more big disappointed experience is room card was issued only one night front desk didn't give me proper roomcard issue even I prepaid the whole stay at the check in and I also come back to front desk for clearing my bill on second day but they didn't check my card. Then we come back from dinner outside while it's raining and get to the room(very far from front desk) my mom urgently has to go to toilet. But cannot get in because roomcard turn red at the door. This made me super super angry.I walked thru the rain to front desk and went nut at the front desk!!!! So crazy Checking out GM appointed me to talk about my experience found in this stay but finally he refused to meet me without good reason his name is Mr. Sven Walter. (If you found my massage here I would like to tell you that I disappointed your refusing to meet me it would be better if I got your explanation and advice and promise to improve) Thanks for K. Bow for our special lunch we appreciated it. Ps, Guest come with elderly please has someone go along everywhere because slippery floor and door entrance always has many step go up and down and hotel doesn't provide rubber flip flops we should prepare ourselves shoes. My experience base on my stay on 14-16 May 2022
TMausH
11/05/2022 From Tripadvisor
Older hotel in the area but still very nice
Our family stayed there across 5 different rooms which was quite fun. The ocean front villas are lovely, whilst the private pool villas were nicely private and spacious. The lagoon rooms also had similar space but on the 1st floor which was a nice change in perspective. All the rooms are well maintained given the age of the resort and you will find all you need in them. Bathrooms are sizable and the outdoor showers are a treat especially on hot sunny days. Breakfast on site was a bit busy now that the pandemic is easing, although all still wear masks and many wear the supplied plastic gloves. There is a decent selection for breakfast although I would have expected a bit more - ie limited condiments for congee, no seafood savories, limited deli meats and cheeses. The spread was nicely laid out but it felt decidedly lacking was the consensus from our family. Service was also good and as you would expect in such a resort. Everyone was very helpful and did their best to help. The gardeners helped direct me around and took my trash when I was looking for one, the receptionist recommended several good restaurants, the housekeeping did a good job in the rooms. This is a lovely family hotel which is busy but the layout felt private enough to enjoy some peace. The rooms are slightly dated but still very serviceable. The privacy in the villas and the very spacious rooms were a very big draw and did not disappoint. This is a nice change from the modern sterile hotel buildings in the town these days. Would I come back - we are spilt on this, my husband loved it, some others thought it nice enough although they would have wanted better breakfast options. We will come back with the kids and stay again as they have access to a big pool[s] and freedom to roam through the lovely resort. But i will likely eat off campus instead of staying in as there are so many good food options in Hua Hin already. Just make sure you have transport as the resort is about 10 mins drive from the town centre.
Petcpetc
01/05/2022 From Tripadvisor
2 bedroom villa
Wonderful stay. . . No complain on the service. The only thing not that great is basically there is ' no beach'. The beach front is basically a break water/ retaining wall ( I think most properties along this stretch is about the same ). Beach will only be expose and can be seen if its low tide. For those who want hotel facilities., hospitality. Its great.
heygauthey
25/04/2022 From Tripadvisor
Very good and very happy with this Resort
Overall very good and very happy with this Resort. Loved the grounds, lovely pool, great little manmade beach by the ocean, restaurants with good food, massive breakfast selection. Chocolate hour from 3-4 is great (not as good as at the Movenpick Soi 15 in Bangkok tho) The restaurants have delicious food, good variety and also a kids menu (Kampu). Stayed in one bedroom pool-villa and it was excellent, massive bathroom, nice pool and nice to have a separate living room with couch. As others said before, ask to stay on the north side of the property for more privacy, we stayed in Room 114, very nice. (Anything around Room 102 - 128 should be good.) Really, overall it is excellent and you wont regret coming here. A few negatives: Room service (cleaning) - on a rainy day they didn't show up at all - Our tray of plates & foodscraps was sitting outside our villa for a day before somebody picked it up (even tho we called for room service to come get it) (happened multiple times that the tray was sitting there for 24hours or more) Room service (food) - Diavola pizza is not good - Cocktails not good at all (my mojito was basically just soda water & some lime) - 2nd time we ordered (burger & pizza) we waited and waited and then after 1 hour we called the restaurant and they said they never got the order - not okay - apparently the order 'got lost', aka the front desk didnt pass the order on to the kitchen. - a bit inconsistent, menu says Club Sandwich comes with Salad, but it didn't. Kids menu sandwich (egg & mayo) says it's wholewheat bread, but it definitely is white bread. Kampu & Baan Dum - we enjoyed all the food we ate (except Diavola Pizza and the Tom Kha at Baan Dum didnt blow us away) - Friendly staff & nice atmosphere (especially P. Sao!) - Baan Dum Restaurant very nice, on the lawn right by the ocean (and cheaper than Kampu) Probably the culprit is the front desk people, very friendly & nice, but dont relay messages / dont do their job properly. Even basic things like passing on a food order or calling the shuttle. Movenpick is great. Great facilities and all, but the service is just lacking. Had the same experience at the one on Soi 15 in Bangkok. Staff training needs to happen, even for simple basic things.