Mövenpick Resort Al Marjan Island
Beach House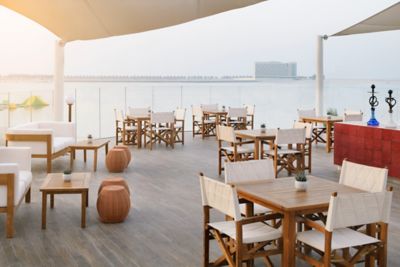 Daily 9.00 am to sunset; Lunch is served 12 noon to 5.30 pm Shisha and Beverages (Upper deck) 3.00 pm - 10.30 pm
Satisfying bites and zesty flavours from the blended cuisines of California
Surf's up at the Beach House. Feet in the sand seating and a poolside atmosphere create the casual California Coast vibe of this lunch and drinks hangout. 
Hispanic, East Asian, European and U.S. cuisines are blended in this beachside restaurant. Taking inspiration from the mixed flavours of the Californian coast, the à la carte menu balances healthy eating with satisfying tastes. Creamy and indulgent desserts and smooth rum cocktails complete the beachfront feel of this trendy and inviting surf shack diner.
Waves lap against sand just metres from Beach House restaurant where guests can choose to sit indoors or enjoy the sea view from the open-air rooftop terrace.
Shisha is available daily with a menu of various flavours and blends.