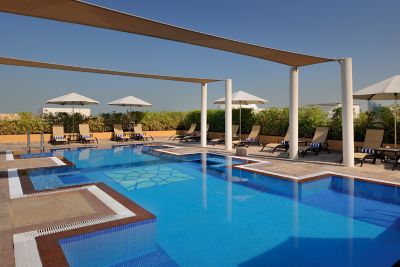 Restaurants & Bars
The Place to Savour Life
We believe in indulgence done right, treating our guests to deliciously fresh cuisine, abundant treats and flavours that are unmistakably Mövenpick, all served with a generous portion of heartfelt care.
Facilities & Activities
Where Life Tastes Sweeter
Help yourself to the good life at Mövenpick. From sunny pool days to indulgent spa time, energising workouts to immersive cultural experiences, we invite you to drink it all in.
Meetings & Celebrations
Memorable Meetings & Sparkling Celebrations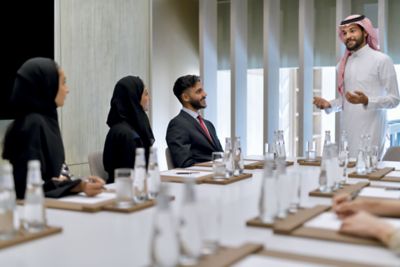 scroll up for previous option
Meetings that satisfy
With enticing venues and a menu of professional services, our meetings solutions are a recipe for success.
Find out more
scroll to show detail options
Practical Information
Practical Information
Reviews
shirleygraces
20/05/2022 From Tripadvisor
Extremely rowdy behavior of front office manager Mr.Sameer
The worst hotel you can ever find in UAE! Having lived in the country for over 10 years and a huge hotel stay lover, we were beyond shocked by the terrible condition of the hotel rooms, old, furniture broken, view of a dump yard, beds with BEDBUGs! When we requested to leave immediately having the worst experience and making a complaint to The so called front office "Manager" Mr. Sameer, he literally mocked my husband who is a black African man in front of other customers and when I tried to intervene he raised his hands at challenging me and raising his voice to talk to a lady this way!! I was about to call the police and then he immediately changed his tone and started talking politely and trying to recover himself. He is the worst person to be in customer service let alone be a manager in front of house! He is a RACIST and the most I'll mannered man in the world!!!! We were racially abused and treated terribly for complaining about their terrible condition of the hotel and pool! This man Sameer also promised us a refund but he blatantly lied to us as we have not received our money yet and have been following up for over 2 weeks now! A horrific experience!
Nene766
17/05/2022 From Tripadvisor
Loves it
The staff were amazing, the service was super and even though the hotel was kinda old ( not like other Mov) I extended my stay because of the service ✨ special thanks to Denise, Satheesh, Karim and akshay
759samuele
06/05/2022 From Tripadvisor
Mr Samuel
A very welcoming room ,neat clean and great ambience,very attentive staff. It was a wonderful experience, Shalu the Receptionist was very professional and a lovely warm personality. Sateesh the Concierge was very helpful and active. I wish them both goodluck and best wishes
chrisbale1974
05/05/2022 From Tripadvisor
Movenpick, Al Mamzar, Dubai
Decided to move accommodation from the First Central on the other side of the city and opted for the Movenpick in Al Mamzar instead. A bit of an upgrade from the previous place but still nothing all that overwhelming, although it is spotlessly clean inside. The staff are very helpful, so much so that the receptionist convinced me to sign up for some ALL - Accor Live Limitless thing, so no doubt loads of junk mail in my emails will follow? I did get called to move the car a couple of times from reception, but I found allocated parking wasn't made very clear from the beginning, they did send a chap up to move the car for me, but I just did it myself. The apartment itself was alright, very basic, clean and nicely air conditioned, at least it had a microwave and all the electrical sockets worked. I found the bed a bit soft though, I prefer a firmer mattress and I'm pretty sure they'd have gone out of their way to get me one had I asked. You do get complimentary drinks, bottles of water, sachets of coffee etc but there's a service charge on the cans and bottles in the fridge and there's also some snacks plus an 'intimacy kit' so you could skin yourself up whilst eating a chocolate Bounty bar if you really wanted? After what was forked out for accommodation there wasn't even a breakfast included, it's all 'extras' unfortunately, so yet again, it's a case of it is what it is, plus I think I'm just getting harder to please in my old age! Happy enough to recommend the Movenpick in Al Mamzar though, even if they want more dosh out of you for brekkie!
154mirkor
13/04/2022 From Tripadvisor
Visit
We really enjeyed in the hotel it was a great experience we stayed for two weeks all the staff service was outstanding spiecaily MR Amer manger in Spices the food in iftar timing was super good and the room was so big and fully equipped thank to movenpick hotel. Staff team are very good and all about during the breakfast, lunch and dinner.