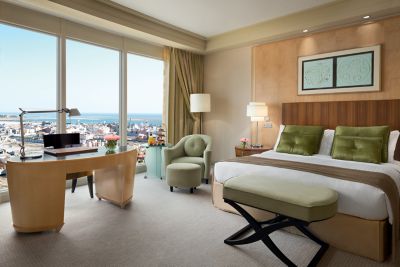 Mövenpick Hotel Al Khobar
5 Star Hotel in Al Khobar
Discover the utmost in refined comfort and unrivalled service with a personal touch when you book an unforgettable stay at the 5 Star Mövenpick Hotel Al Khobar.
Conveniently located on the vibrant city's popular Corniche, our elegant twelve-story luxury hotel is ideal for leisure and business travellers alike. 
Featuring 143 spacious and delicately furnished hotel rooms and suites that offer splendid views of the city skyline and the Arabian Gulf shore; four remarkable restaurants namely The Blue, The View, Le Café and the famous Mahajara by Michelin-Star chef, Vineet Bhatia; ten meetings and events halls that offer the perfect combination of flexible space and innovative concepts.
Our state-of-the-art wellness and recreation facilities allow for the utmost relaxation. Book your stay at the Mövenpick Hotel Al Khobar and discover everything you require at our 5 star upscale hotel in Al Khobar.
Restaurants & Bars
The Place to Savour Life
At Mövenpick Hotel Al Khobar, we believe in indulgence done right, treating our guests to deliciously fresh cuisine, abundant treats and flavours that are unmistakably Mövenpick. Our 5 star hotel offers an array of dining options in the heart of Al Khobar.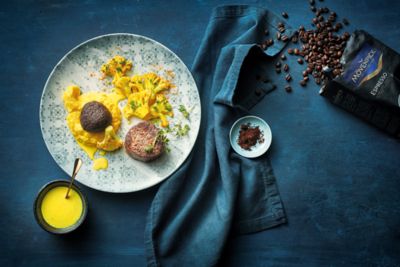 Facilities & Activities
Where Life Tastes Sweeter
Experience the good life in Al Khobar at Mövenpick Hotel Al Khobar. From sunny pool days to indulgent spa time, energising workouts to immersive cultural experiences during your stay in Al Khobar.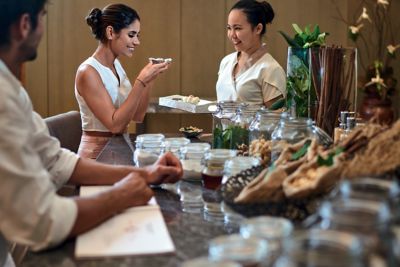 Meetings & Celebrations
Memorable Meetings & Sparkling Celebrations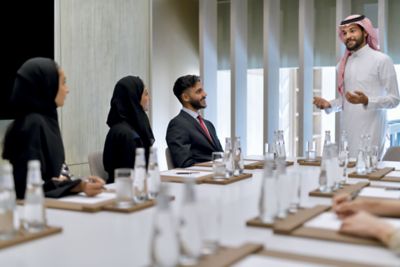 scroll up for previous option
Meetings that satisfy
With enticing meeting and event venues in Al Khobar and a menu of professional services, the meeting solutions at Mövenpick Hotel Al Khobar are a recipe for success.
Find out more
scroll to show detail options
Practical Information
Practical Information
Reviews
Ashram1st
20/04/2022 From Tripadvisor
The usual excellent stay
I stay frequently at the Movenpick - AL Khobar Hotel and they never disappoint. It is always a pleasant stay. The reception staff are friendly and cooperative, also fast in checking me in and out. It is my favorite stay in Khobar.
mathurank
31/03/2022 From Tripadvisor
Comfortable stay, nice view from the room
Had a comfortable stay for a week at Movenpick. Good breakfast spread at "the View". Enjoyed shrimp biryani and lemon fish at the restaurant at the ground floor. Initially had a challenge setting up comfortable temperature in the room, but Nur Mohammed from house keeping was really helpful. He came back and checked if my stay was comfortable. I love coffee, so he would keep the coffee machine and water stocked. Overall the location of this hotel is prime in Al Khobar with a great view of the sea. If you love sunrise, take the room with sea view and enjoy great sunrise every day.
Ahmad-aks
21/02/2022 From Tripadvisor
Calm hotel, DIRTY towels, no hot water
Staying here for 2 whole weeks! From the first night we asked for new towels as the ones in the tooilet were DIRTY. We had to call twice to ge them. On the second day we asked for a clean up and linen change. They didn't change them as they were DIRTY since check in The water in the toilet is warm and not HOT not suitable for showering at all, we asked to be fixed. Will check it while writing the review
E4388ZPrichardg
19/02/2022 From Tripadvisor
Movenpick Al Khobar never lets me down!
A New Year, a new schedule of trips to Al Khobar and an even more enjoyable stay at the Movenpick Hotel! In addition to the outstanding service from all the staff, I really enjoyed the violinists playing in the lobby area in the evenings, the Arabic coffee and dates served by Naser as you come back to the hotel after a hard day and the seafood special nights in "The Blue" restaurant. This is, of course, in addition to the attentiveness and courtesy of the staff throughout the hotel and its excellent restaurants, View, Blue and Marharaja by Vineet. I stay at the hotel for a week every month and it's a real pleasure to do so. Amongst the excellent staff, I came across some familiar faces: Taijulislam, Golam, Musa, Ayam, Alamin, Vishnu, Bahaa, Jasim, Naser and Abdullah on reception. The management team, too, have always been keen to help in any way to make my stays more comfortable: Mohammed, Sales Director, Musab Area GM and Thomas , the GM. If you haven't stayed at the Movenpick, believe me, you're missing out! Thanks to everyone for making my stays a "home from home" experience!
Pioneer282812727
15/01/2022 From Tripadvisor
"It was over the toper label "
I'm very happy with dinner seafood buffet ,the blue Resturent Movenpick hotel al khobar, Smile, Rectpect and potocally well come. Service and seafood taste from them is top notch, staff team did enough for us. Fast response and served on the table to make sure we were happy. It was over the toper service. I felt like we had a unique meal with the best personal possible. They were well, behaved, honest, and respectful. I Should need mentioned leading the bule Resturent hardly work Mr.