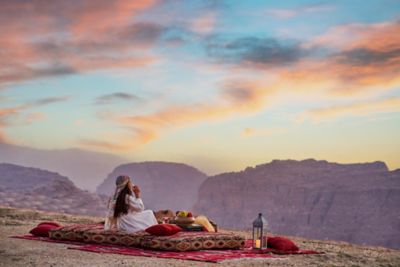 Mövenpick Nabatean Castle
Picturesque 5-star hotel with Rift Valley views in Petra, Jordan
Explore the magnificent Red Rose City of Petra from an elevated fortress-style hotel in the rolling hills of the captivating Rift Valley. Mövenpick Nabatean Castle 5-star Hotel is only a 10-minute drive from the historic site of Petra. Enjoy your stay in one of our 90 renovated hotel rooms and suites, with balconies and terraces that face out across the striking landscape.
After a day of discovery and exploration at Petra, relax in our heated indoor pool. In summer, we open the windows and offer access to the terrace. Relish sumptuous Jordanian specialities and international fare at the restaurant, bar and outdoor terraces.
We offer an array of meeting rooms for a variety of events including weddings, meetings and banquets in Petra. Our in-house event management team and catering services will work with you to plan every detail of your event. With spectacular views across the valley combined with the local ancient culture, Mövenpick Nabatean Castle Hotel makes for an unforgettable wedding and event venue.
Restaurants & Bars
The Place to Savour Life
We believe in indulgence done right. Take in the views as you savour international and Arabic cuisine at Al Madafa restaurant watch the sunset from Jebel Haroun terrace and enjoy an aperitif at Al Nadeem Bar & Terrace.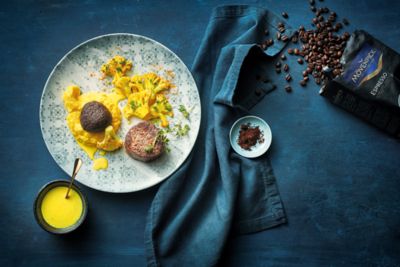 scroll up for previous option
Chocolate Hour
Tick-tock, it's mmm-o'clock at Movenpick Nabatean Castle. With all our luxury restaurant serving up 60 mouth-watering minutes of cocoa indulgence every afternoon, we will make sure that your day's a delicious one.
scroll to show detail options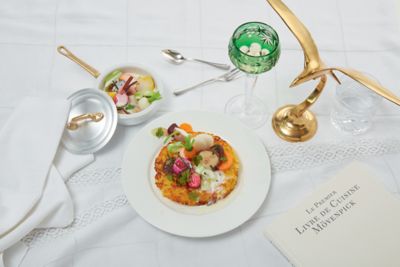 scroll up for previous option
Signature Flavours
Mövenpick Nabatean Castle combines signature dining with a spectacular mountain setting. Experience dishes like you've never tasted before, prepared with care and served from the heart in our 5 star restaurants.
scroll to show detail options
Facilities & Activities
Where Life Tastes Sweeter
Experience the good life in Petra at Mövenpick Nabatean Castle. Enjoy your stay in Jordan by heading to our pool, spend some time in our luxury spa, enjoy energising workouts, and get ready for immersive cultural experiences, we invite you to take it all in.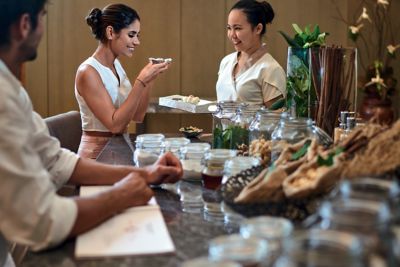 Meetings & Celebrations
Memorable Meetings & Sparkling Celebrations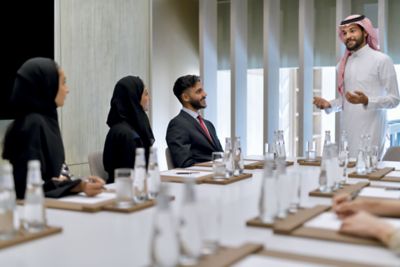 scroll up for previous option
Meetings that satisfy
With enticing meeting and event venues in Petra, offering a combination of wild nature and ancient culture, and a menu of professional services, the meeting solutions at Mövenpick Nabatean Castle are a recipe for success.
Find out more
scroll to show detail options
Practical Information
Practical Information
Reviews
luyseyal
22/09/2022 From Tripadvisor
Stayed overnight with wheelchair
Stayed there overnight after a visit to Petra. It had a good breakfast and was very wheelchair accessible. They were in the process of adding a second ramp into the building when we got there. Service was very responsive. Security was a little lax versus what we had experienced in Amman (luggage scanning, metal detector, and wanding for customers) but I wasn't personally concerned about it. The walls were a little thin and you could hear neighbors rummaging around.
RB68
05/09/2022 From Tripadvisor
Service absolutely excellent
The hotel has only just opened for the high season and as such was fairly quiet The service from all the staff from check in to dinner service to check out was 6 star. Staff going above and beyond to make us feel welcome - and we did ! The hotel was very clean and the views from the terrace beautiful. This hotel is slightly out of town and as such you have the most amazing views. Watching the sunset was wonderful. The breakfast was huge every taste catered for. We were leaving very early so the hotel kindly supplied breakfast boxes which we ate when we reached the Treasury within Petra. We saw quite a few of these red cardboard breakfast boxes carried in. The one negative I would make is that The pool is indoor and very cold. My error to check that the pool was not an outside pool. We wanted to spend the afternoon around a pool and it's not quite the same inside. This was totally my error ! The temperature was much too cold which made swimming unpleasant. Perhaps it will warm up as the season progresses ……..
mmajahr
08/05/2022 From Tripadvisor
Hotel was closed without previous notice!!!!
Disappointed. I book on-line thru ALL two weeks before and I received confirmation email of my booking. (two days before I got on my email that I can check in on line) When I reach hotel after 3 hours traveling from Amman to Petra security staff on entrance gate told me that hotel was closed. Without previous information or explanation they send me to Movenpick Resort Petra. With special reason I book Nabatean Castle so I didn't want to go somewhere else. Just apology from Movenpick Resort Petra was not enough for me.
318serdark
26/04/2022 From Tripadvisor
Nice hotel
I am very pleasure relating service of hotel . All personal so much friendly and helping . Also reception who Ahmad so much thank you👍. I hoping see you again . Foods, breakfast so nice . Cleanness the rooms and silent environmental is nice for rest of people.
shahs0na
22/04/2022 From Tripadvisor
Loved the place. Very quiet and relaxing
We had a great 3 Night stay at Nabatean castle. It's away from the main Petra town wadi musa, hence very quiet and relaxing. We had a great room with sunset view and enjoyed their hospitality as well as food.