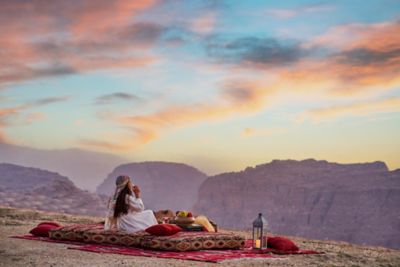 Mövenpick Nabatean Castle
Picturesque 5-star hotel with Rift Valley views in Petra, Jordan
Explore the magnificent Red Rose City of Petra from an elevated fortress-style hotel in the rolling hills of the captivating Rift Valley. Mövenpick Nabatean Castle 5-star Hotel is only a 10-minute drive from the historic site of Petra. Enjoy your stay in one of our 90 renovated hotel rooms and suites, with balconies and terraces that face out across the striking landscape.
After a day of discovery and exploration at Petra, relax in our heated indoor pool. In summer, we open the windows and offer access to the terrace. Relish sumptuous Jordanian specialities and international fare at the restaurant, bar and outdoor terraces.
We offer an array of meeting rooms for a variety of events including weddings, meetings and banquets in Petra. Our in-house event management team and catering services will work with you to plan every detail of your event. With spectacular views across the valley combined with the local ancient culture, Mövenpick Nabatean Castle Hotel makes for an unforgettable wedding and event venue.
Restaurants & Bars
The Place to Savour Life
We believe in indulgence done right. Take in the views as you savour international and Arabic cuisine at Al Madafa restaurant watch the sunset from Jebel Haroun terrace and enjoy an aperitif at Al Nadeem Bar & Terrace.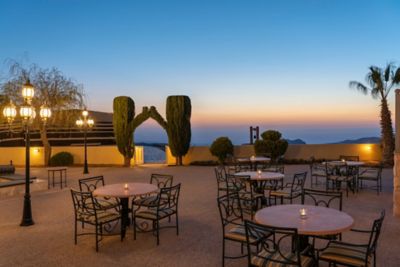 scroll up for previous option
Chocolate Hour
Tick-tock, it's mmm-o'clock at Movenpick Nabatean Castle. With all our luxury restaurant serving up 60 mouth-watering minutes of cocoa indulgence every afternoon, we will make sure that your day's a delicious one.
scroll to show detail options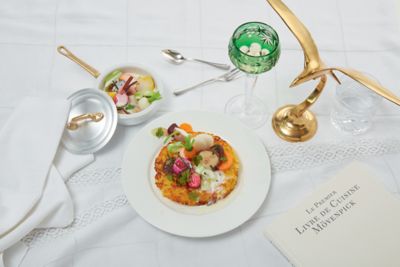 scroll up for previous option
Signature Flavours
Mövenpick Nabatean Castle combines signature dining with a spectacular mountain setting. Experience dishes like you've never tasted before, prepared with care and served from the heart in our 5 star restaurants.
scroll to show detail options
Facilities & Activities
Where Life Tastes Sweeter
Experience the good life in Petra at Mövenpick Nabatean Castle. Enjoy your stay in Jordan by heading to our pool, spend some time in our luxury spa, enjoy energising workouts, and get ready for immersive cultural experiences, we invite you to take it all in.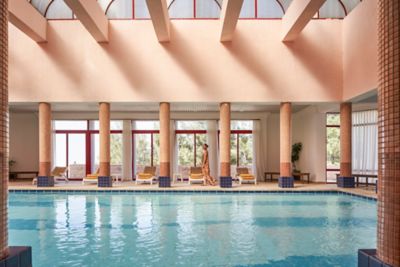 Meetings & Celebrations
Memorable Meetings & Sparkling Celebrations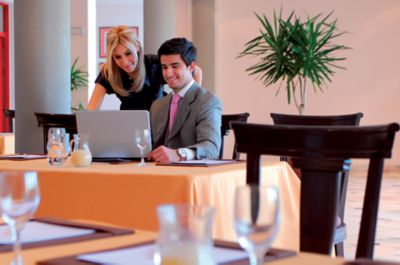 scroll up for previous option
Meetings that satisfy
With enticing meeting and event venues in Petra, offering a combination of wild nature and ancient culture, and a menu of professional services, the meeting solutions at Mövenpick Nabatean Castle are a recipe for success.
Find out more
scroll to show detail options
Practical Information
Practical Information
Reviews
Konstantinos K
26/11/2022 From Tripadvisor
Warm welcome
Very warm welcome from helpful staff. Well decorated lobby , large rooms and beds with balconies , excellent food in a rather small restaurant. The receptionists very polite and helpful. Heating swimming pool , gym but no sauna .
AlexJ262
04/11/2022 From Tripadvisor
A Stunning Location
I stayed here for one night this week and was only able to get a room as an ALL Gold Member as it was very busy. The hotel is located around 10 minutes drive from Petra/ Wadi Musa perched on a hillside. The building is beautiful and the views even more so- be sure to watch sunset from the terrace. All the staff- security, reception and the restaurant/bar- were really friendly and outgoing. I was upgraded to a suite on the 6th floor which was massive. The bed was exceptionally comfy and there was loads of storage space. Tea/coffee Inc a nespresso machine and free water were provided along with a welcome platter of fruit. The ensuite was small but had a good shower and the toiletries were lovely local Dead Sea products. Dinner is served as a buffet in the main restaurant and was a decent spread although not the beat quality, especially for the price. Although the dessert selection was amazing! I think you can order a la carte too which I would think is a better option. Breakfast, on the other hand, was really good and is served from 0630 to 1030 which is handy. The terrace bar, whilst pricey, is a really nice place to have a drink or two in the evening. There is a small indoor pool and gym which were OK The gift shop in the lobby has a few interesting things, but the staff are quite pushy- the man who sells sand bottles next to reception was extremely persistent too, but the sand bottles looked amazing so I bought a couple! I got the impression that the hotel caters mainly for group tours and I think the other Movenpick in Petra offers a more typical luxury experience, but that said I enjoyed my stay at Nabatean Castle and was especially impressed by the staff.
Thomas W
21/10/2022 From Tripadvisor
Excellent
The hotel is situated high above the surrounding area, and offers an incredible view from all rooms. The sunset was very nice over the mountains. Exclusive interior and very nice rooms, excellent beds. The desk manager was very helpful, and recommended that we left early to visit Petra. Very wise! Sometimes the service took some time and the indoor dining area was not very romantic. But all in all a great hotel.
NataliaTrips
15/10/2022 From Tripadvisor
A unique sunset view !
The Mövenpick Nabatean Castle offers an ideal location: on the heights of the city, far from the tourist hustle and bustle, yet just a 15-minute drive from Petra! The view is just amazing - a panoramic view of the entire Petra valley, right in front of the sunset - a unique sight! The rooms are spacious and beautiful! The best is to choose one facing the valley to have the magnificent colors of the sunset directly from your room!
begonyafb-f
08/10/2022 From Tripadvisor
Wonderful place and service.
I've been 2 nights and I just can say that we had a wonderful time there. The room, the service and the location after a full day in Petra is fantastic. Special thanks to Mr. Ibrahim H, who was all time taking care of my group at the restaurant. Always very helpful and thanks to him we could enjoy a wonderful sunset and a relaxed time at the swimming pool. I definitely will come back with more groups. As a tour leader is a pleasure be in hotels with that level of service. Thanks so much. Begoña Fernández