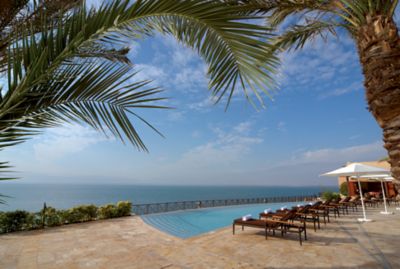 Mövenpick Resort & Spa Dead Sea
Mövenpick Resort & Spa Dead Sea
The luxury Mövenpick Resort & Spa Dead Sea is found in a traditional village setting nestled amongst lush gardens. The resort is set on the northern shores of the Dead Sea, at the lowest point on earth. With your well-being and balance in mind, this 5 star resort is an oasis of tranquillity.
Mövenpick Resort & Spa Dead Sea offers nine trendy restaurants and bars on the Dead Sea. Explore a delectable variety of cuisines catering to all tastes from laid back al fresco dining to our traditional Italian restaurant.
Explore the range of meeting and events venues here on the Dead Sea. The resort offers a large variety of facilities for private events to business meetings to your big day. Our professional team is here to help you plan and carry out your event at every step of the way.
Relax in our award-winning Arabian Dead Sea Zara Spa with breath-taking views of the healing waters. Offering world-class facilities on 6,000 square metres, you can be sure to experience ultimate spa luxury. A unique, revitalising and therapeutic experience awaits you.
Restaurants & Bars
The Place to Savour Life
At Mövenpick Resort & Spa Dead Sea, Wwe believe in indulgence done right, treating our guests to deliciously fresh cuisine, abundant treats and flavours all served with a generous portion of heartfelt care. Our 5 star hotel offers an array of dining options on the shores of the Dead Sea.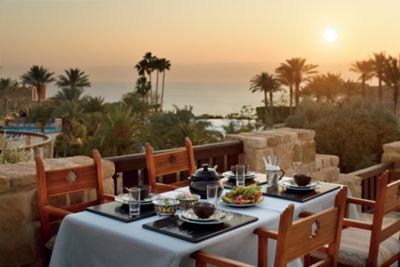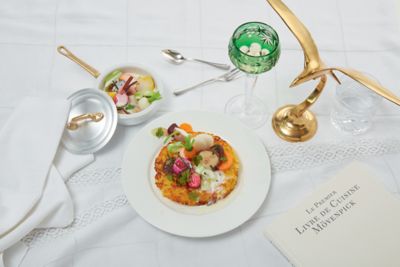 scroll up for previous option
Signature Flavours
Swiss dishes like you've never tasted before, prepared with care and served from the heart in our restaurants worldwide. Experience your taste of Switzerland at the 5 star Mövenpick Resort & Spa Dead Sea.
scroll to show detail options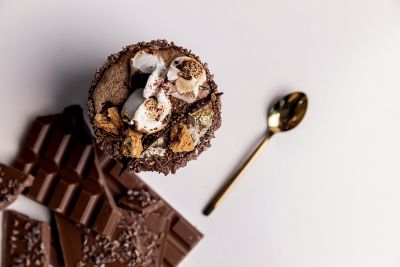 scroll up for previous option
Chocolate Hour
Tick-tock, it's mmm-o'clock at Mövenpick Resort & Spa Dead Sea. Enjoy 60 mouth-watering minutes of cocoa indulgence every afternoon, making sure your day's a delicious one during your stay with us.
scroll to show detail options
Facilities & Activities
Where Life Tastes Sweeter
Experience the good life on the shores of the Dead Sea in Jordan at Mövenpick Resort & Spa Dead Sea. From sunny pool days to indulgent spa time, energising workouts to immersive cultural experiences, we invite you to drink it all in.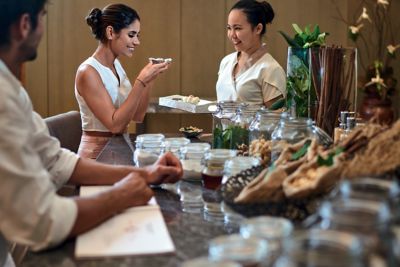 Meetings & Celebrations
Memorable Meetings & Sparkling Celebrations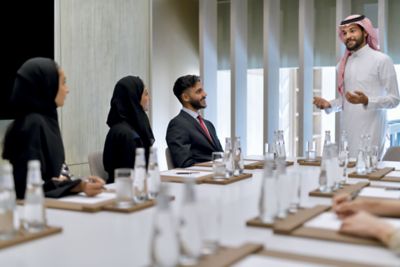 scroll up for previous option
Meetings that satisfy
With enticing meeting and event venues on the shores of the Dead Sea in Jordan and a menu of professional services, the meeting solutions at Mövenpick Resort & Spa Dead Sea are a recipe for success.
Find out more
scroll to show detail options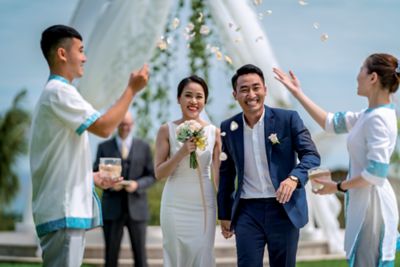 scroll up for previous option
Events bursting with flavour
With a touch of sugar, spice and everything nice, we'll help you celebrate life's rich moments.
Find out more
scroll to show detail options
Reviews
danab817
26/09/2022 From Tripadvisor
2 night stay
Beautiful hotel. We picked a suite and had one right on the end so we had a huge balcony. We were in the main building which is the furthest away from the beach, but it was about a 10 minute easy walk. You could also call for a golf cart if your mobility is limited. Buffet dinner and executive breakfast was great. Chocolate hour was also a nice touch. 2 beautiful pools were open while we were there. One for adults only which was a very good vibe. Would highly recommend staying here. If we ever were to come back it would be here again.
L8318IVgeorgeg
26/09/2022 From Tripadvisor
A nice hotel but probably a 4 star!
We visited here for a week in September. Hotel is clean , and rooms are very nice . More of a 4 star hotel, as the food is very average on the half board deal.The check in process is quite slow, and a number of times i needed to go to reception to change money etc. it was the same. Staff there where very polite and chatty. The hotel has a number of pools, some of them private - for specific room types , there is a family one and an adults only which we used most of the time as it was closer to the dead sea beach . Prices for UK visitors , as the exchange wasn't great, are expensive . A large beer £9, pepsi can £4, ice cream £7. I used the gym a number of times , but the equipment could do with an update and it was quite small.The access to the dead sea was down a number of steps , but the beach area there was for hotel guests only . Nightlife is limited to the area where there are a number of restaurants, which we didn't eat in as the half board only allows you to use the one in the main building. The evening meal on the half board was disappointing, limited choice , and food was luke warm some nights , not the choice you would expect in a 5 star. Breakfast was better , and you had 2 choices for this , we chose the adults one on the main floor adjacent to reception - where the choice was good , plus it was quite quiet. For most part of our week , the staff where very helpful and obliging. I did have one incident at the adult pool bar, as we where on half board and on check in nobody asked for a credit card swipe as we paid in advance . This is fine until you try to charge a drink to your room, this was confusing as the staff couldn't explain at first that this was a problem , just queried the room number several times . Anyway once sorted i offered to pay cash, i went for my wallet and on return to the bar the member of staff at the till accused me of shouting , now it was a Saturday and they have a DJ playing very loud music and unless you raise your voice they can't hear you , so i explained that but he wasn't having it , he just continued to tell me not to shout so i apologised if i offended him but he still continued to carry on telling me i shouted at him , i paid and walked off as it was very strange behaviour and i put it down to him having a bad day. We where here on a medical stay as my son has psoriasis, so we visited the medical centre by the adult pool where the dr was polite and efficient. He prescribed treatment for the 6 days , 388$ this included several head massages with oil , mud wraps and specific routine for dead sea and sunbathing. For the 6 days , this improved my sons condition by 50% and if we had longer it would have done more. In all , purely for the psoriasis improvement we would come again but maybe split it with another hotel maybe in the region or further around the dead sea . The hotel is about 50 mins by private taxi from Amman airport .
663sharifa
26/09/2022 From Tripadvisor
Most enjoyable stay
I had an amazing stay choosing to celebrate my wife's birthaday in this great resort , I managed to surprise my wife three times during the stay by the help of the amazing team of this hotel , express check in service and we enjoyed the pools and the tasty food in their retirements