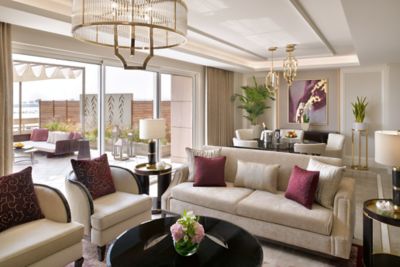 Mövenpick Hotel Bahrain
Welcome to the award-winning five-star Mövenpick Hotel Bahrain, located adjacent to Bahrain International Airport, with a magnificent view of the sprawling lagoon and less than 10 minutes away from downtown city centre of Manama, the capital of Kingdom of Bahrain.  
The hotel offers 97 luxury hotel rooms and 10 suites with state-of-art facilities and amenities. Our 5 star hotel went through a complete transformation; including restaurants and bars as well as rooms and suites.
Silk's restaurant is all day dining, offering international cuisine and theme nights. Gallery lounge is located in the high ceiling natural light glass lobby, serving French pastries, high tea and Swiss Mövenpick coffee and delights. While Xenia bar and lounge is offering exotic cocktails and bar food with live night entertainment daily. Mövenpick Hotel Bahrain is well known for its award-winning Friday Brunch.
The award-winning European Rimal spa, features 12 treatment rooms, including single treatment suites, one double female suite and two traditional Turkish hammam suites with their own steam rooms and heated wet tables. Rimal Spa is the only spa that offers non-surgical CACI Synergy machines in the Kingdom. All treatment rooms are designed to the highest standards and have private showers.  
Mövenpick Hotel Bahrain is a place to experience world-class luxury hospitality, blended with Arabian tradition and a touch of Swiss that makes our guests feel at home in one of the most attractive and friendly destinations in the Gulf Region.
Restaurants & Bars
The Place to Savour Life
Here at Mövenpick Hotel Bahrain, we believe in indulgence done right, treating our guests to deliciously fresh cuisine, abundant treats and live entertainment in our restaurants and bars.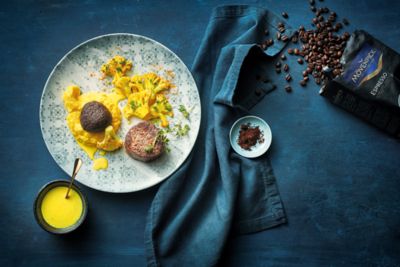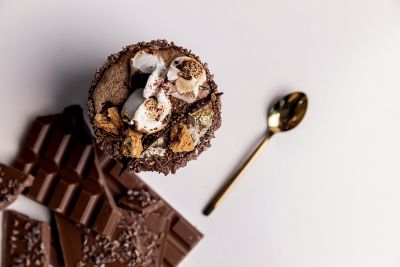 scroll up for previous option
Chocolate Hour
Tick-tock, it's mmm-o'clock at Mövenpick Hotel Bahrain, serving up 60 mouth-watering minutes of cocoa indulgence every afternoon, making sure your day's a delicious one.
scroll to show detail options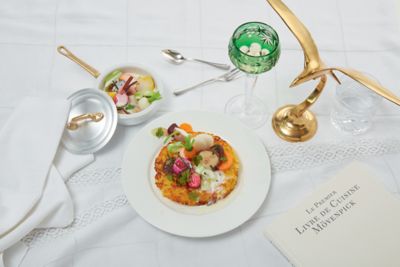 scroll up for previous option
Signature Flavours
Swiss dishes like you've never tasted before, prepared with care and served in a contemporary setting from the heart in our restaurants in Bahrain.
scroll to show detail options
Facilities & Activities
Where Life Tastes Sweeter
Help yourself to the good life at Mövenpick Hotel Bahrain. From sunny pool days to indulgent spa time, energising workouts to immersive cultural experiences, we invite you to take it all in.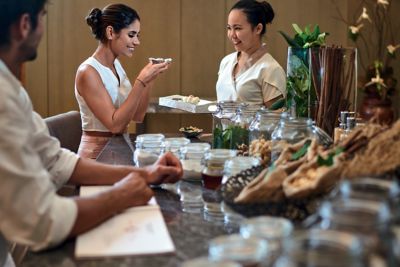 Meetings & Celebrations
Memorable Meetings & Sparkling Celebrations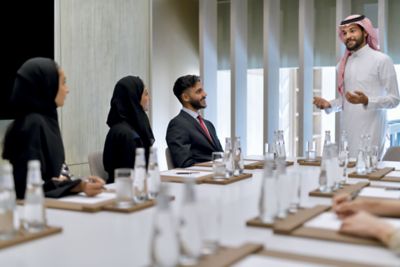 scroll up for previous option
Meetings that satisfy
With a selection of enticing meeting and events venues at this business hotel in Bahrain and a menu of professional services, our meetings solutions are a recipe for success.
Find out more
scroll to show detail options
Practical Information
Practical Information
Reviews
Departure65275085263
28/11/2022 From Tripadvisor
Unpleasant experience
Me and my colleagues are staying for 3 nights (Business Trip) My checked in experience are perfect and thanks for Mr. Anand. My room is perfect and bed is very comfortable (Rm. 327) However, I would like to raise my complaint (Discrimination ) with regards our bad experience this evening here in Movenpick Bahrain today November 28, 2022. We are planning to go to our friends house and we were at the pool bar waiting for our other colleague , since the pool have an FIFA live streaming, we also brought drinks as a gift to our friends (we are not drinking in the pool). Then suddenly, an employee approached us along with a security and told us rudely "THIS AREA IS ONLY FOR INHOUSE GUEST" while pointing his finger to us. He didn't even asked us if we are in-house guest or not. He just assumed the we are outsiders since we are FILIPINOS. I asked his name and he said "MY NAME IS RAKIM, DIRECTOR OF OPERATIONS". I went to the reception afterwards and he was there checking my profile in the system. I asked him that as a professional he should asked my room number first before he assumed that we are outsiders and he shouldn't approached us in a rude manner. He even mentioned that he will not apologize for his actions. I believed, as an employee of a luxury hotel and as a Director of operations he should be well experienced to deal with us in a professional manner. He even threatened me that he will send a complaint to my company. I hope this matter will reached to the management of the Hotel and hopefully it wont happen again.
Excursion16895856230
25/11/2022 From Tripadvisor
Brunch with friends
Excellent brunch. Ajay on the floor during brunch is phenomenal. Super helpful and friendly. Food is delicious and drink is plentiful. When you're being seated ask for Ajay ! Definitely recommend , good value and good fun and an enjoyable day out
NorthStar785738
18/11/2022 From Tripadvisor
Brunch
Excellent service. Lovely food. They have birthday cake. Lovely band. Floor advisor ajay :) he's lovely … we had a great time at table 33… I really like garlic bread and the beef and ice cream and the spring rolls
olivia7901
17/11/2022 From Tripadvisor
Great night at Xenia bar
Visited Movenpick for the first time ever because we followed one of the best waiters on the island who recently started there, Ajay. The food was incredible, so fresh and tasty. The cocktails were scrumptious and the service was faultless. Ajay, as always was the perfect host and we can't wait to go back to try out the seafood and the incredible food on offer.
FatimaM574
17/11/2022 From Tripadvisor
Xenia for great food and atmosphere
Great time at Xenia! Lovely vibe, weather and food. There was even live music. We were sat by the pool. The meat and sea food was very fresh and great cuts. We thoroughly enjoyed our time there thanks to the service. Thank you so much Ajay! If you want to have an exceptional time ask for him :)