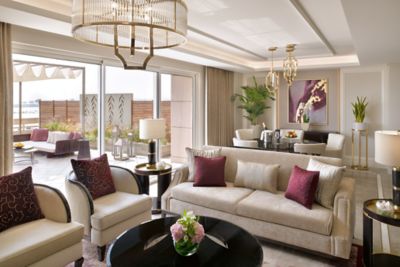 Restaurants & Bars
The Place to Savour Life
We believe in indulgence done right, treating our guests to deliciously fresh cuisine, abundant treats and flavours that are unmistakably Mövenpick, all served with a generous portion of heartfelt care.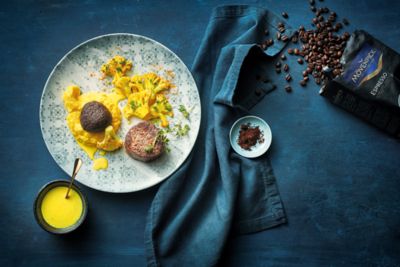 Facilities & Activities
Where Life Tastes Sweeter
Help yourself to the good life at Mövenpick. From sunny pool days to indulgent spa time, energising workouts to immersive cultural experiences, we invite you to drink it all in.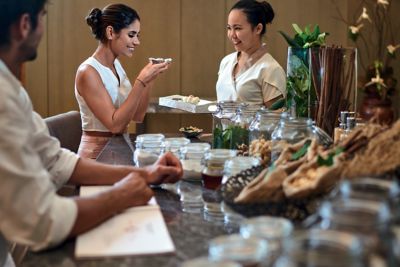 Meetings & Celebrations
Memorable Meetings & Sparkling Celebrations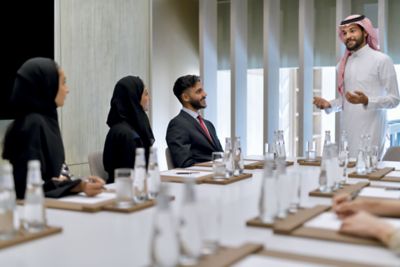 scroll up for previous option
Meetings that satisfy
With enticing venues and a menu of professional services, our meetings solutions are a recipe for success.
Find out more
scroll to show detail options
Practical Information
Practical Information
Reviews
suzebharrison
14/05/2022 From Tripadvisor
Friday Brunch
Firstly we were quoted the incorrect price so got a shock when we paid a lot more Than we expected. It's appears that we were quoted with military discount, across a party of 8 of us the price was significantly more than we were expecting. Check the price is my advice. Food-wise, there is a lot of choice and it's self service brunch with various stations for seafood, carvery, pasta, Asian, desserts and such. Vegans may struggle, was ok for vegetarians, doable. Absolutely loads of choice. Drink-wise is another story. The standard house choices for wine are not good, compounded by the fact none of it was served cold. Drink service is extremely slow. There was a service area near us, wine was just sat out on that, not chilled. Granted the place was full, but staffing may need to be increased. We repeatedly asked for drinks that didn't arrive, then were the told service has ceased. At this point having waited 45 mins for drinks that didn't arrive. It really got quite tedious and was very disappointing. After one of the staff finally acknowledged this we were brought 3 or 4 half pints of flat beer from another service area. The cocktails that were ordered at twice between 3.30 and 4 didn't arrive. The air con in the restaurant side is particularly cold , for me uncomfortably so, we asked for a small adjustment which didn't happen, but I understand you can't please everyone, take a cover-up is my suggestion. On the plus side there is enough for kids to see and do not to get bored. Face paint, balloons, henna all kept them entertained, as did the choices of food, they were happy which isn't easy to do. Adults on the other hand, less so. There is a seating area outside which was used for smokers, and those of us tired of being too cold, there is no access back into the building as it appears to be an emergency exit to this area, as we were seated by it I spent half of my afternoon up and down letting people back into the building. If everyone from our party was outside then we had to bang on the glass and disturb others to let us in. This has to rectified, it's ridiculous. Either do something about access or remove the smoking/seating area. I'd heard good things about this place, we may have been unlucky. It's gets 3/5 for having a decent selection of food, kids stuff and friendly staff. I found the whole experience very disappointing for the birthday celebration it was supposed to be, I personally wouldn't go back and couldn't recommend it. With regard to Covid - it was very much as we were pre-pandemic. It's all self service buffet style with chefs/staff at the various stations. Shame for the birthday girl, I felt awkward having organised it. Just one of those things I guess.
NorthStar47252773971
09/05/2022 From Tripadvisor
Great Seafood experience
I enjoyed an exellent Seafood night with a very large selection of high quality seafood dishes. From Sushi, wok to fried and grilled starters and main dishes. The Mövenpick restaurant serves this Seafood night every Monday. Highly recommended.
James C
06/05/2022 From Tripadvisor
Friday Brunch - Englishmans Review
Friday Brunch Literally can't fault the place. Staff were brilliant from start to finish.. 33.5BD (military discount) all you can eat and drink. Alcohol is decent too no watered down drinks. Santosh was class... What a guy Will definitely be back when in Bahrain
897hasanm
04/04/2022 From Tripadvisor
Stinging place to be
Hotel is very nice, classy and fancy, breakfast a bit poor, the pool was freezing, expensively, their check in and out was fast, special thx for mohamad at front desk, sure deserve a try, and definitely ill be back.
ihalawani
29/03/2022 From Tripadvisor
Nice Employees
I really enjoyed my stay, the hotel team were always smiling especially Ebtesam from the Reception and Mohammed Ibrahim from Housekeeping The location of the hotel is perfect and the lagoon view too. I recommend the hotel and will come back to stay soon