Mövenpick Hotel Berlin
Combine a touch of history with modern accommodation and personal service when staying at Mövenpick Hotel Berlin, which is accented with the unique design elements of Berlin's former Siemens building. Our 4-star hotel in Berlin is located near Potsdamer Platz in Berlin city centre, just 100 metres from the Anhalter Bahnhof S-Bahn train station and 25 minutes from Berlin Tegel Airport.
Stylish interiors complement modern technology in our 243 luxury hotel rooms and suites, with views over Berlin or our quiet courtyard. Unwind in the gym and sauna before enjoying freshly prepared seasonal produce in our glass-roofed restaurant and bar.
For your conferences and receptions in Berlin, our 12 event and meeting rooms including the historic Siemenssaal are welcoming venues for meetings and special occasions.
Explore our various offers to make your stay in Berlin an unforgettable experience.
Restaurants & Bars
The Place to Savour Life
We believe in indulgence done right at Mövenpick Hotel Berlin, treating our guests to deliciously Swiss classics, Mediterranean creations and regional specialities, all served with a generous portion of heartfelt care.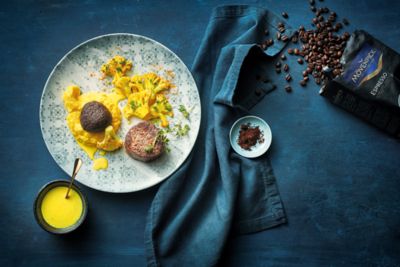 Meetings & Celebrations
Memorable Meetings & Sparkling Celebrations
scroll up for previous option
Meetings that satisfy
With enticing meeting & events venues in Berlin city centre and a menu of professional services, our meetings solutions are a recipe for success.
Find out more
scroll to show detail options
Reviews
baggiewhite62
01/12/2022 From Tripadvisor
Rogue charges on my credit card...
This review contains details of rogue transactions on my credit card and the hotel billing me for rooms that have already been paid. The text is a copy of the email I have sent to the hotel requesting an explanation, having been promised by the manager they would not be charged. I have also logged these transactions with my credit card company as disputed transactions. It's worth noting that there are other reviews on Trip Advisor that refer to rogue credit card charges, so this may not be the first time this has happened. "My daughter and I stayed at your hotel from Friday 25th November 2022 to Monday 28th November 2022 On arrival your receptionists took our credit card details to place a holding deposit on our cards for any room extras On my daughters card this was 1 EUR, for some strange reason on my card it was 301 EUR As we left reception we realised we had both been given the same room, where we returned and I was given another room and a further 1 EUR holding deposit was taken on my card. Over the next few days a further £103 (not sure of the EUR value) was taken on the 26th, £84 (not sure of the EUR value) on the 27th and £71 (not sure of the EUR value) on the 28th, all as pending transactions. By Sunday the 27th Nov I was getting concerned by these random amounts and was concerned that someone else was charging things to my room. I tried to speak to a receptionist on the Sunday, but she couldn't explain what was going on and suggested I speak to the manager Omar Diab the following day. I did not sleep well that night as I was worried about all these charges. I spoke to Omar prior to check out on Monday the 28th and he assured me the random values being charged to my card were normal and was the hotels way of checking each day that my credit card was still valid. I have never seen any other hotel do this in all the years I have travelled extensively as a business traveller, this is normally a one of amount of 1 or 50 EUR on check in, certainly not every day and certainly not random amounts that day by day are reducing my available balance on my credit card. He assured me that these pending transactions would disappear within 24 hours of check out, in reality it took 72 hours for this to happen, however, a couple of transactions remained... At check out he did confirm a mistake had been made re. the 301 EUR transaction though as this was the fee they needed to charge to Jet2 the holiday company we booked our holiday with as we had already paid for the accommodation to them. Omar showed me a bill for my room that contained the 301 EUR amount, but also had a different last 4 digits on the credit card to reassure me I would not be billed for it. I asked for a copy of that bill as evidence, as I was not reassured, but Omar refused to give me a copy. It is now 1st December and a 301 EUR transaction has been charged to my credit card on 28th Nov 2022 (not a pending transaction, but a full on charge to my card), in addition the pending transaction of 301 EUR for the 25th Nov 2022 is still showing as pending and a call to my credit card company has confirmed this is now approved and will be charged to my card, so I now have 602 EUR charged to my card for a room that was already prepaid to Jet2, this has also reduced my available credit on my card which is not good just before Christmas. I have been waiting to see how this played out before writing my Trip Advisor review as I wanted to give Omar the benefit of the doubt, to see if the transactions all disappeared from my card after checkout as he promised me. The worry, stress and discussions required re. these rogue transactions really spoiled my stay at the hotel and resulted in me not sleeping well during my stay due to the worry about these transactions. These transactions have now been flagged as disputed transactions with my credit card company and I will be supplying this email as evidence to them as part of the dispute, I will also send this to Jet2 holidays too as they are the company that transacted with your hotel for my booking, I'm sure they will want to know about any customer satisfaction issues.
Christine B
27/11/2022 From Tripadvisor
Great location, staff, and rooms
We stayed at the Mövenpick Hotel Berlin for one evening on a quick visit to Berlin. We picked this hotel due to its location (near Potsdamer Platz) and positive reviews. We loved our stay and would return on any other trip to Berlin. The front desk personnel were absolutely fabulous. While checking us in, I mentioned that we had a car and needed to find a spot to park. The hotel has a nearby garage that they offer a discount for parking, but parking is also free on the street right outside. Michelle, the front desk staff who checked us in, came outside to direct us where to park, even running down the street to hold a parking spot until we were able to park on the street. She was the absolute best. The room was clean, had heated floors in the bathroom, and high ceilings. We did not partake in the breakfast, sauna, or gym, but all looked nice. 100% would stay here again due to its location, welcoming staff, and clean rooms.
Explore198461
18/10/2022 From Tripadvisor
Pillow nightmare
We had booked this hotel for 6 night stay in September, for the Berlin marathon. From moment we arrived, the vibe was bad - after long flights from Australia reception staff were very uninterested and unwelcoming. The hotel hallways and rooms looked tired and very dated, and carpets were filthy. After checking into our room we then found we had only a single extremely thin pillow each. The room had a 'pillow menu' so we requested 2 additional pillows to our room. We also found our safe locked from previous guests, and ensuite basin to be blocked, which was also reported to staff. After about an hour we followed up on these issues - they said they had 'run out' of pillows, but were trying to find some, and had called maintenance regarding our blocked basin and locked safe. After still no response, we called again, they said we were on a waiting list of about 30 guests for a second pillow...I called them back and said this was ridiculous and how could a hotel run out of pillows? They confirmed they called maintenance about basin, but said they had no idea when they would attend, as it was Friday evening. They then un apologetically delivered 2 tiny 'cushions' wrapped in pillow cases to our room, which we later identified as being pinched from their sofas in reception lobby! Clearly no one was coming about our blocked basin, nor were they providing any reassurance, so after some effort I managed to free up the blockage myself. On second day we decided the hotel was unsatisfactory and requested we cancel last 3 nights of our stay due to the issues above. Again, reception staff were unhelpful, stating we had a 'non-refundable booking' and said we would need to wait until Monday to discuss with manager. We met with manager on Monday, she stated she had no knowledge of the pillow situation at hotel over the weekend, and that none of these issues had been reported to her prior. She subsequently confirmed our issues with reception staff and only then then agreed to cancel and refund last 3 nights of our stay. On the positive side - breakfast was good. According to our travel agent, this was a good hotel pre-covid, but seems with the disruption and change of staff since, they have completely dropped the ball, and coped very poorly with a busy period during the marathon - overall a very disappointing stay, and regrettably for Movenpick, we were very glad to be 'Moven' on after 3 nights too many...
fabiola c
11/09/2022 From Tripadvisor
Old, dusty, in need of urgent renovation. Completely misleading rating. To be avoided!
I wasted my first day in Berlin being upgraded from room to room, after I complained that i booked a room with a king bed at a hotel from a well known chain, that claims to be a 4 star hotel, but in reality would hardly deserve 2 stars. I ended at suite 508. The standard/classic rooms were tiny, dark and disgusting, walls had black marks, doors had gouges, carpets were old, stained and dusty and the same can be said about the curtains. There was dust in ventilation shafts too. No room had a king bed. In all rooms, including the suite, the furniture was poor, without taste, walls had black stains, bathroom countertops had hard stains of lime. and tiles of the suite bathroom as well. Linen and duvet at the suite were old, torn, to the extent that feathers would come out… The restaurant/bar staff looked surprised with my request for having a club sandwich delivered at my room at the day of my arrival, after running up and down the hotel in different rooms. Most restaurant staff did not understand English well. Unfortunately i had no chance or time to leave the hotel immediately and for searching another place to be, because i was attending a large international conference, where i had to spent full days, followed by a social program, and due to several other big conferences going on in Berlin, many hotels were fully booked. I would rate Movenpick Berlin as terrible, if not for the fact that two ladies at the reception did what they could to make things better and breakfast was decent, but I certainly do not recommend a stay there, and note that this is the opinion of a frequent and experienced traveller.
Pedro E
29/08/2022 From Tripadvisor
4 star hotel - 2,5 star service
1 night stay - and obviously for a 4-star hotel the room and breakfast was worth the price. However, it is the small things that stand out and make me come back again. Not coming back to this hotel because: Check- in took 20min. I arrived early afternoon - early check in not possible (which I understand), due to fully booked. Though returning in the evening, there was no room available initially. Took a while to work it out. Also, requested an iron/ironing board the following morning, though this was a challenge not solved for the hotel. After promising it would come, after stating that it was in the room, after promising it would no for sure come, it finally came out that all have been taken by other guests and non available. It is a small thing - though this matters competing at top tier level. The service; what solution do you provide the guest. It makes you stand out among your competitors. With check out the front desk did not ask anything about the stay - just whether I had pre-paid the room. In all - staff front desk need some training on customer service, they represent the brand, the 4 star. Clearly they really do no care.
Frequently asked questions
Mövenpick Hotel Berlin is in a central yet quiet location near Potsdamer Platz, right next to S-Bahn stop Anhalter Bahnhof.
The address of Mövenpick Hotel Berlin is:
Schöneberger Straße 3,
10963,
Berlin,
Germany
There is a number of popular attractions nearby the Mövenpick Hotel Berlin including Potsdamer Platz with a variety of dining and entertainment options as well as historically famous Checkpoint Charlie and Brandenburger Tor. 
Within walking distance, you will also find the Mall of Berlin for countless shopping opportunities as well as Berlin's largest park, the Tiergarten, for outdoor sports and relaxation.
Mövenpick Hotel Berlin first opened its doors on 29 March 2004.
Mövenpick Hotel Berlin features 243 rooms, 12 meeting rooms available for conferences as well as private events, a 24/7 fitness room with an adjacent sauna, bicycles for rent as well as a charging station for electric vehicles.