Mövenpick Hotel Berlin
Combine a touch of history with modern accommodation and personal service when staying at Mövenpick Hotel Berlin, which is accented with the unique design elements of Berlin's former Siemens building. Our 4-star hotel in Berlin is located near Potsdamer Platz in Berlin city centre, just 100 metres from the Anhalter Bahnhof S-Bahn train station and 25 minutes from Berlin Tegel Airport.
Stylish interiors complement modern technology in our 243 luxury hotel rooms and suites, with views over Berlin or our quiet courtyard. Unwind in the gym and sauna before enjoying freshly prepared seasonal produce in our glass-roofed restaurant and bar.
For your conferences and receptions in Berlin, our 12 event and meeting rooms including the historic Siemenssaal are welcoming venues for meetings and special occasions.
Explore our various offers tomake your stay in Berlin an unforgettable experience.
Restaurants & Bars
The Place to Savour Life
We believe in indulgence done right at Mövenpick Hotel Berlin, treating our guests to deliciously Swiss classics, Mediterranean creations and regional specialities, all served with a generous portion of heartfelt care.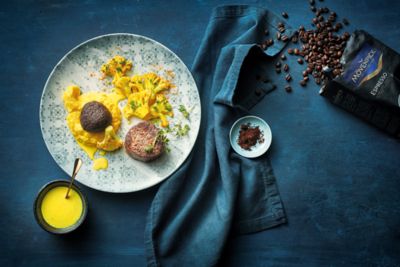 Meetings & Celebrations
Memorable Meetings & Sparkling Celebrations
scroll up for previous option
Meetings that satisfy
With enticing meeting & events venues in Berlin city centre and a menu of professional services, our meetings solutions are a recipe for success.
Find out more
scroll to show detail options
Practical Information
Practical Information
Reviews
DPG-GlobeTrotter
14/07/2022 From Tripadvisor
Comfortable stay - but more proactivity is needed for those that participate in the Accor membership
As a gold member, I was never proactively offered any of my benefit services - i instead had to ask. To improve the customer experience, I would suggest making it a more proactive offering. Overall, the hotel is excellent and is in a great location for sightseeing. Comfortable stay!
583pernilleb
13/04/2022 From Tripadvisor
Best breakfast - great location
Great location for seeing all of Berlin on foot; Western centrum and Eastern centrum are both easily reached by foot. Great staff and luxiorious rooms! And the most amazing breakfast in town! Make sure to have an omelette freshly made
MichelS206
18/12/2021 From Tripadvisor
Nice Hotel but poor service
The hotel is nice and nicely located. But a few things do not add up even if it's COVID period. Let me list those: - No Bar or restaurant before 6pm - When asking 3 times for someone to fix the heating in the room no one shows up - When asking the reception what's the phone number for room service, they gove you the number but do not offer to transfer the call ... - When apparently paying an AMEX and doing quick check-out does not work anymore. Hence I had to transfer the money and i'm still waiting for my final invoice ... - Cleaning in the room done suboptimaly
Kenneth G
04/11/2021 From Tripadvisor
GOOD HOTEL CLOSE TO POTSDAMER PLATZ
Did a short stay in this hotel with my wife. This is a good, classic hotel not to far from Potsdamer Platz. Our room was spotlessly clean. Noisy air condition. Small pillows. When it comes to loyalty elite recognition, the Accor drink vouchers were only handed out after I asked for them. No welcome gift was delivered to the room either. Professional service in the hotel bar. But all in all a good hotel experience.
szmah
24/10/2021 From Tripadvisor
average hotel
Its a good Location , very close to the train station. The hotel is a bit old , the carpet etc. seems old too. Usually short staffed, but that seems like a common thing in Germany, the front desk staff seem to help with supplying any house keeping requests. All in all pretty average experience.