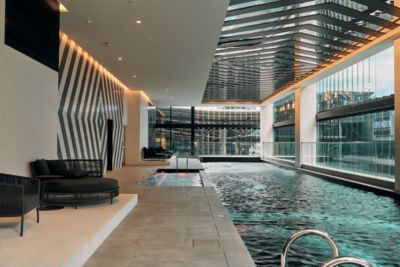 Mövenpick Hotel Melbourne On Spencer
Art meets design in the world's most exciting city
Welcome to Mövenpick Hotel Melbourne on Spencer – Accor's 2nd Mövenpick hotel in Australia. Forming the 'podium' of Melbourne's iconic Premier Tower, hotel's 172 luxury hotel rooms and suites cover floors 1 to 6. The 5-star Mövenpick Hotel Melbourne on Spencer delivers a hotel experience that blurs the lines between art and design to create unforgettable moments.
An ode to Melbourne's vibrant arts scene, our 5 star hotel showcases a collection of works from Melbourne's best photographers including Steve Scalone and Sean Mcdonald alongside world class dining experiences and Mövenpick's famous daily 'Chocolate Hour'.
HOTEL EXTRAS
Outdoor swimming pool, hot tub & sauna open till 10pm
24-hour gym with Technogym exercise equipment
Miss Mi modern Asian restaurant, winner of Good Food Chef's Hat award. Open for lunch and dinner
An easy stroll to Marvel Stadium, outlet shopping centres and the Southbank promenade
Located in the free tram zone & close to Southern Cross Station & Sky Bus terminal
Restaurants & Bars
The Place to Savour Life
At Mövenpick Hotel Melbourne on Spencer we believe in indulgence done right, treating our guests to deliciously fresh cuisine, abundant treats and flavours that are unmistakably Mövenpick, all served with a generous portion of heartfelt care. Explore Mövenpick Café on Spencer, Breakfast at Mövenpick Melbourne and Miss Mi Restaurant & Bar.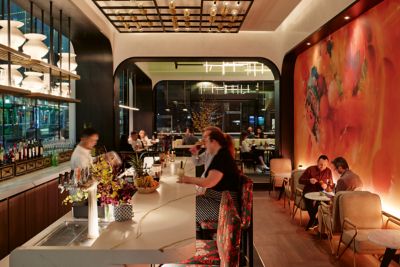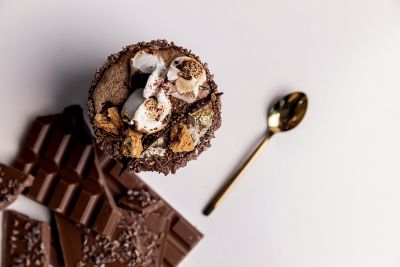 scroll up for previous option
Chocolate Hour
Tick-tock, it's mmm-o'clock, with all our hotels and resorts serving up 60 mouth-watering minutes of cocoa indulgence every afternoon, making sure your day's a delicious one. Join us for Chocolate Hour at Mövenpick Hotel Melbourne on Spencer from 4.30pm to 5.30pm daily. Served in the hotel lobby, indulge in our chef's daily chocolate-themed creations.
scroll to show detail options
Facilities & Activities
Where Life Tastes Sweeter
Help yourself to the good life at Mövenpick. From sunny pool days to relaxing in the sauna, energising workouts to immersive local experiences, we invite you to drink it all in.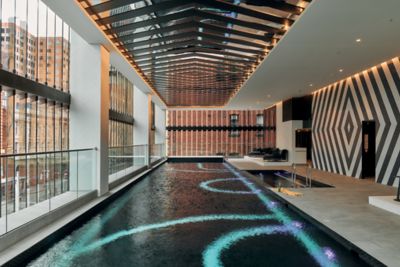 Practical Information
Practical Information
Reviews
Thomas D
20/09/2022 From Tripadvisor
Below average only
Staff was neither friendly nor unfriendly. The hotel is located in a huge skyscraper, named Premier Tower, but the rooms occupy floor 1 to 6 only. So regretfully I had no chance of a good view of the city. And the room they gave me was quite tiny to be honest. I don't know yet if I would return.
OnAir287512
25/08/2022 From Tripadvisor
Location, staff, food
We had a fantastic couple of days staying at Movenpick Melbourne, the location brilliant, trains, free trams and walking. So handy to everything. The staff were excellent, so helpful and friendly. Enjoyed our meals especially chocolate hour. Thanks you for a lovely birthday treat.
schenaeds119988
31/07/2022 From Tripadvisor
5 out of 5
We travel to Melbourne a lot and this will be the hotel we will always be staying at. The location is absolutely perfect, the hotel itself is new and clean and such a comfy bed, and staff are very warm and welcoming. The lobby is lovely and inviting, and the chocolate hour is a lovely way to spend the afternoon. Highly recommend this hotel.
Companion442102
29/07/2022 From Tripadvisor
Not a 5 star
Basically, if you're looking for that something special, when it comes to quality customer service and the little touches you expect from a 5 star property, then you will certainly be disappointed. Save your money and fine a another 4 star hotel almost half the price with the same quality. But if you want to have that special experience then find another hotel that can actually deliver on the finer details.
acampbell103
19/07/2022 From Tripadvisor
Convenient location
We stayed here for three nights to visit some family, dine out and shop. The location of this hotel is fantastic. Ideal if catching the Skybus to/from airport! We caught the tram straight up Bourke St to the mall (free tram zone), but were also able to cross the road and hop on a train out to visit family. The rooms aren't overly big (we stayed in a Superior King Room) but the bathroom was relatively spacious with a large walk-in shower. Bed very comfortable and TV allowed for streaming from phone/device. We had some Movenpick Rocky Road as a welcome gift which was a nice touch - maybe as Accor Members? Chocolate hour was pretty causal, some nice treats which other hotels don't offer. We used the pool and spa a couple of times. Open air, so it was a tad chilly getting out - but a great pool, albeit a bit too shallow for my liking (about waist deep). Overall we were really happy with this hotel and would stay again, especially for the convenience of location!
Frequently asked questions
BREAKFAST is served buffet style 7 days a week at Miss Mi Restaurant for $39 per adult and $17.50 per child 12 years and under. Breakfast opening hours are 7am to 10am, Monday to Friday and 7am to 11am on weekends and public holidays.
PARKING can be added to your reservation for $45 per car, per day. Please contact our team by emailing HB6L9@movenpick.com or calling +61 3 9600 5400 for more information.