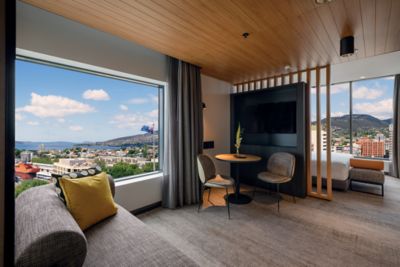 The 1st Mövenpick in Australia located in Hobart city centre
Located in the heart of picturesque Hobart, the 4-star Movenpick Hotel Hobart is a place to savour life and create unforgettable moments. As the 3rd tallest building in Hobart, you can soak up the best views in town. The hotel's 221 elegant rooms and suites offer unique Tasmanian inspired design and spectacular harbour and city views.
Don't miss the hotel's famous free daily 'Chocolate Hour' plus free Mövenpick ice cream for children 12 years and under. Conditions apply.
The temptation to explore this historical city beckons. This small but lively city is the perfect holiday destination for couples and families alike. Discover why Lonely Planet has called Hobart one of the top 10 destinations to visit, with award winning restaurants and bars, galleries and specialty shops just outside your door.
Restaurants & Bars
The Place to Savour Life
At Mövenpick Hotel Hobart we believe in indulgence done right, treating our guests to deliciously fresh cuisine, abundant treats and flavours that are unmistakably Mövenpick, all served with a generous portion of heartfelt care. Surrounded by a number of bars and restaurants, you'll be spoilt for choice.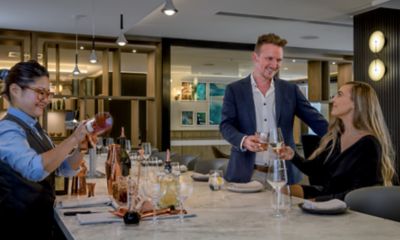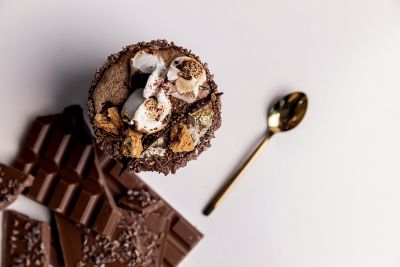 scroll up for previous option
Chocolate Hour
Tick-tock, it's mmm-o'clock, with Mövenpick Hotel Hobart serving up 60 mouth-watering minutes of cocoa indulgence every afternoon, making sure your day's a delicious one. Join us for Chocolate Hour at the 4-star Mövenpick Hotel Hobart.
scroll to show detail options
Facilities & Activities
Where Life Tastes Sweeter
Help yourself to the good life at Mövenpick Hotel Hobart. From exploring Hobart's historic city centre to indulgent spa time, soaking up the view or an energising workout, we invite you to drink it all in.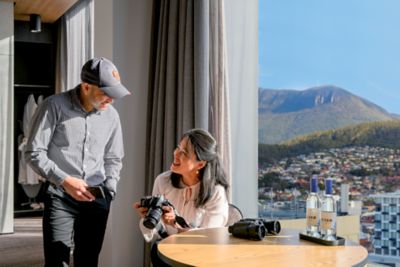 Meetings & Celebrations
Memorable Meetings & Sparkling Celebrations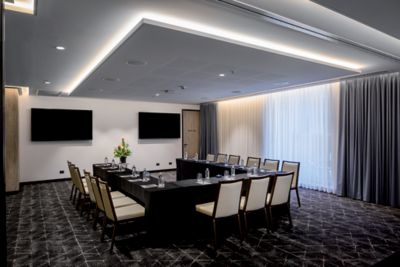 scroll up for previous option
Meetings that satisfy
With enticing venues and a menu of professional services, our meetings solutions at Mövenpick Hotel Hobart are a recipe for success.
Find out more
scroll to show detail options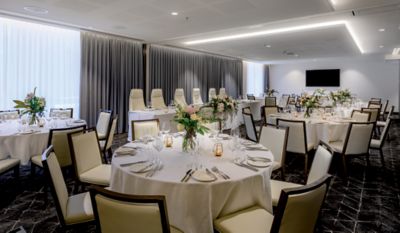 scroll up for previous option
Events bursting with flavour
With a touch of sugar, spice and everything nice, at Mövenpick Hotel Hobart we'll help you celebrate life's rich moments.
Find out more
scroll to show detail options
Practical Information
Practical Information
Reviews
G_gal12
25/09/2022 From Tripadvisor
You should pick!
The staff here are amazing! They are so friendly and accommodating. It was fairly obvious that there were a few newbies, but I could hardly fault them. Chocolate hour is a bit of a letdown, but still a nice addition. It's worth popping in for if you are close, but don't structure your day around it. I was very impressed with the breakfast that was included - most days I also grabbed a take away coffee to set me off for the day (this was also included). The room didn't have a view. BUT, I was travelling with my mother and as such our 'twin' beds were both queen size. The facilities are limited, so if you were travelling here with the intention to lounge around the hotel I wouldn't advise it. But with so much to offer in the surrounding area I doubt it is the intention of many visits. Would stay here again - it's so close to everything!
Fiona H
23/09/2022 From Tripadvisor
Perfect location
Visited Hobart for a holiday and to celebrate a special anniversary. Found this to be a really central location, about 5-10mins walk to all we needed - restaurants, the waterfront, shops, the markets, tour pick up points. Staff were always smiling and friendly, loved the chocolate hour on the days we happened to be there at the right time. Room was well appointed and comfortable, I was able to arrange a different pillow via housekeeping's pillow menu. Loved the large bath towels, rainfall shower head and decent hairdryer in the bathroom. Liked we could sync our iPad to the tv to watch from our Netflix/Foxtel accounts. Our view was lovely, had requested a river view. Nice to have a decent size fridge we could put our drinks in. Appreciated the bottle of sparkling wine and glasses with a message from the front desk for our anniversary. Our only suggestion would be to have more clothes storage - drawers ( they'd fit under the tv) unless other size rooms do have them. Staying somewhere for 6 nights I like to unpack things other than just those to hang up. We'd happily stay again, my parents have also now booked a weeks stay in a couple of months. Thanks for a wonderful stay.
299MD
13/09/2022 From Tripadvisor
Central location, friendly & helpful staff
Lovely hotel, modern & centrally located to the waterfront areas, shopping & restaurants. Stayed 5 nights. Free WiFi. Appreciated TV streaming from our phones/devices allowing more viewing flexibility. Very comfortable room, spacious bathroom and enjoyed a magnificent view of the harbour from the 16th floor. Restaurant is good with a great selection of food at fairly reasonable prices. Not a budget option, but made an excellent base while exploring Hobart & surrounds.
kellierose72
13/09/2022 From Tripadvisor
Lovely hotel that won't disappoint!
Great location, friendly staff, clean/new facilities. Located at the end of the Elizabeth Street Mall this classy hotel has lovely spacious rooms with high end fittings and large screen TV that offers the most recent technology. The reception is manned 24/7 with lovely staff who are always smiling and eager to please. Located on the 2nd level is a small gym that offers all you need to stay in touch with your daily regime, available for use 24/7.
Robyn E
26/08/2022 From Tripadvisor
Wonderful stay in a central location
Wonderful friendly staff. Thoroughly enjoyed the Chocolate hour in the lobby (twice during our stay). Had dinner in the restaurant, enjoyed our meals paired with a local sauvignon blanc. Centrally located to the Mall, Cat & Fiddle arcade, Salamanca area, the waterfront, other dining options. We went across the road and caught a local Metro bus to MONA. Walked downhill to catch the tourist bus to kunanyi / Mt Wellington and on our final day for the SkyBus to the airport.
Frequently asked questions
PARKING is available for $35 per car, per day. Access to our valet parking drop-off and pick-up area is located immediately outside the hotel on Elizabeth St Bus Mall. Please disregard "No entry" signage. Local vehicle access is permitted.
BREAKFAST is à la carte and served at Tesoro Restaurant 7 days a week, 6.30am to 10am.