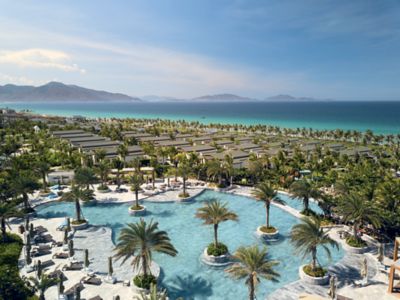 Mövenpick Resort Cam Ranh
Stylish Luxury Resort in Cam Ranh
A stylishly modern family resort which is ideal for discerning holidaymakers and corporate guests alike. Mövenpick Resort Cam Ranh offers the latest luxury comforts and exceptional service in well-appointed rooms, individual pool villas and apartments. The large gardens around the resort add tropical colour and warmth to the space creating the perfect events venue for intimate wedding celebrations, dinners, and parties. The 5 star resort offers views across the 17km long white sand beach, considered one of the jewels of Vietnam's vast coastline.
Guests at Mövenpick Resort Cam Ranh can expect culinary delights across our four food and beverage outlets including restaurants, bars and a club on the beach. We offer a range of cuisines to suit everyone's tastes from international and local delights to Bavarian and Swiss specialties. 
The wide variety of facilities within the resort satisfies every taste and need to suit the whole family, as a self-contained destination located directly on the beach in Cam Ranh, Vietnam. Explore the Swiss Village, our entertainment complex offering fun activities for the whole family. Relax and energise in our fitness centre with state-of-the-art equipment or join our yoga classes. Enjoy a revitalising spa treatment at Serenity Spa and relax in our foot reflexology area or experience zone.
Restaurants & Bars
The Place to Savour Life
We believe in indulgence done right, treating our guests to local fresh cuisine, mouth-watering treats and enticing flavours with an assortment of delecatable dining offers available at Mövenpick Resort Cam Ranh for the whole family to enjoy.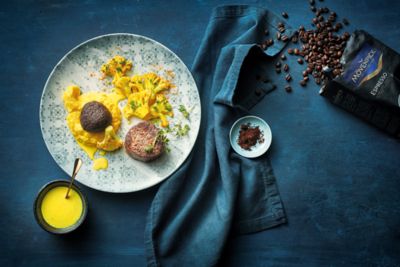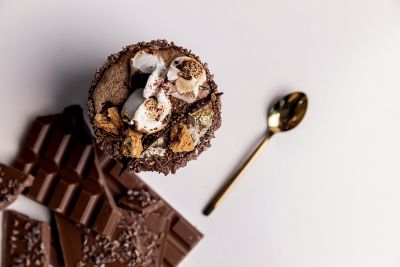 scroll up for previous option
scroll to show detail options
Facilities & Activities
Where Life Tastes Sweeter
Help yourself to the good life at Mövenpick Resort Cam Rahn. From sunny beach days with the family to indulgent spa time at Serenity Spa, energising workouts to yoga classes, we invite you to take it all in.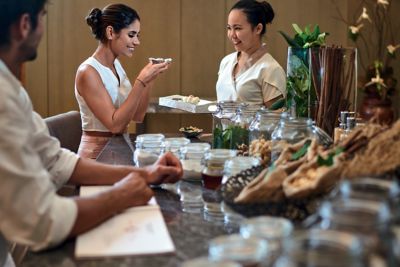 Meetings & Celebrations
Memorable Meetings & Sparkling Celebrations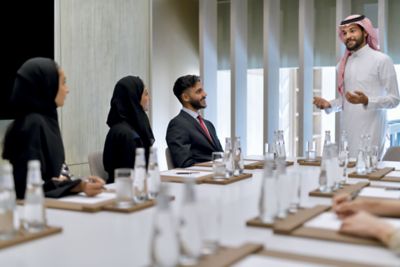 scroll up for previous option
Meetings that satisfy
Events large and small are perfectly hosted at Mövenpick Resort Cam Ranh. Three multi-function rooms offer varied spaces for meetings to group dinners. in Cam Rahn With enticing venues and a menu of professional services, our meetings solutions are a recipe for success.
Find out more
scroll to show detail options
Practical Information
Practical Information
Reviews
phúc n
01/08/2022 From Tripadvisor
Service was horrible!
Honestly, if you have money to travel and enjoy, you should choose a resort that supports quick and early check-in, from 12-1pm is the best. you paid for the service but you'll still be lying around waiting in the lobby. Although I asked to check-in early because we have children on this trips, it was really tiring. At 3:30 pm, when the room was taken, it was just finished cleaning, and the bag of bed sheets and pillows was left in front of the house. No matter how comfortable the room is, how many utilities there are, but check-in after 3pm to 12pm tomorrow, check out tomorrow , except for 8 hours to sleep, only 12-13 hours to rest... The price is for you to know for 1 villa... Not like the advertised price of bait
Thuy2122
24/07/2022 From Tripadvisor
Great place to stay for family
Movenpick Cam Ranh is very suitable for families as it can satisfy the needs of all family members -kids, adults and elderly. Location is great, and all staff of the resort showed the best of their hospitability. Every day is like a festival. Our sincere thanks to the staff of the resort who have made our stay most enjoyable. I only have one suggestion for the restaurant. We have several full board days, there was variety of food and they are changed everyday. The food there were very delicious. But I found that there were not many food choices for children as most of them are spicy for Northern kids. If possible, the resort should consider adding a more "friendly" food corner for kids.
Cheese-Maja
15/07/2022 From Tripadvisor
Excellent Hotel, Excellent people work in.
Excellent hotel. Close to the airport. Clean beach Excellent people work there. I want to highlight the beach safety people who are doing a great job. It's a European hotel chain and they need more influence in European food for western guests. The variety of cheeses is limited, as is the bread. Chamomile and ginger tea are missing. The beach beds have 30 degrees slope toward the beach. It is not pleasant for lying down and sitting. Thank you very much for your hospitality. I will definitely come again.
tranquan2408
10/07/2022 From Tripadvisor
Nice location, but poor food, cleanliness not good
The elevator got bad smell, smelling like old and wet wood. Sofa dirty. Seafood at restaurant is poor. I don't feel like I'm staying at the seaside. Hotel owns a very nice location and well-designed..
tuyetquach
07/07/2022 From Tripadvisor
Best resort for family
My family spent 3 days here and we had a wonderful summer trip. Beach is clean, nice sea view from room, delicious food, staffs are young but very friendly and helpful. My kid likes kid buffet, water park and other activities, especially chocolate hour.