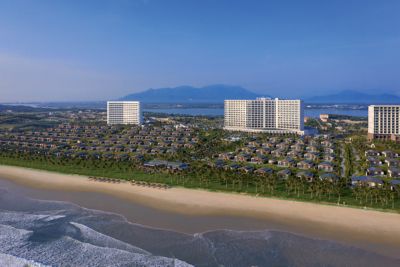 Mövenpick Resort Cam Ranh
Luxury Beach Resort in Cam Ranh
Nestled amid lush tropical gardens on a 17km stretch of white sandy beach, Mövenpick Resort Cam Ranh offers well-appointed rooms, individual pool villas, and apartments, all with a direct sea view to the turquoise Long Beach. With 4 dining outlets offering culinary delights together with a wide variety of facilities, the resort satisfies every taste and demand from a whole family to business guests as a self-contained destination located directly on the beach.
Boasting activities and attractions for all ages, from the adventurous Rope Park, rock climbing walls and water parks to the Little Birds, to a spa and Swiss Village - the all-in-one entertainment complex, not to mention the surrounding attractions, the resort is known as Cam Ranh's premier beachfront escape for laid-back families and business groups looking to relax, bond, and have fun over delicious food and distinctive activities.
Restaurants & Bars
The Place to Savour Life
We believe in indulgence done right, treating our guests to local fresh cuisine, mouth-watering treats and enticing flavours with an assortment of delecatable dining offers available at Mövenpick Resort Cam Ranh for the whole family to enjoy.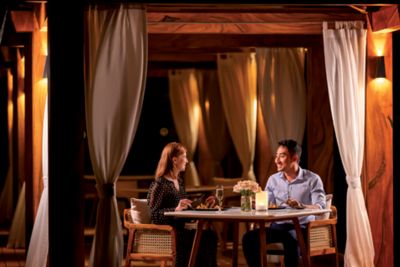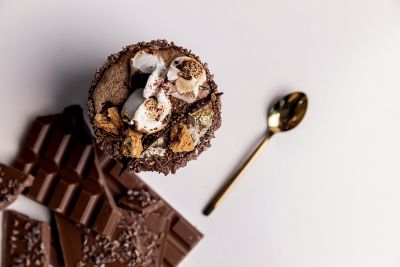 scroll up for previous option
Chocolate Hour
Tick-tock, it's mmm-o'clock., Indulge in 60 mouth-watering minutes of cocoa indulgence every afternoon at Mövenpick Resort Cam Ranh. with our complimentary bite-sized chocolate treats served during The Mövenpick Chocolate Hour from 4.00 pm to 5.00 pm.
scroll to show detail options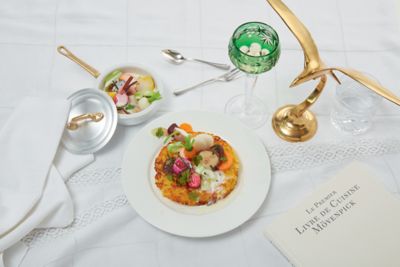 scroll up for previous option
Signature Flavours
Swiss dishes like you've never tasted before. Head to Chubeli beer house, a modern Munich-style beer restaurant, offering Bavarian and Swiss specialties that are, prepared with care and served from the heart.
scroll to show detail options
Facilities & Activities
Where Life Tastes Sweeter
Help yourself to the good life at Mövenpick Resort Cam Rahn. From sunny beach days with the family to indulgent spa time at Serenity Spa, energising workouts to yoga classes, we invite you to take it all in.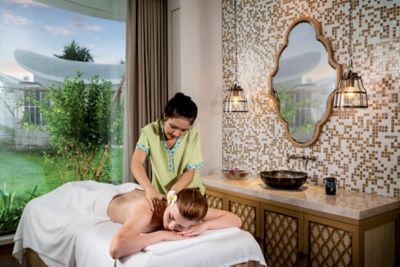 Meetings & Celebrations
Memorable Meetings & Sparkling Celebrations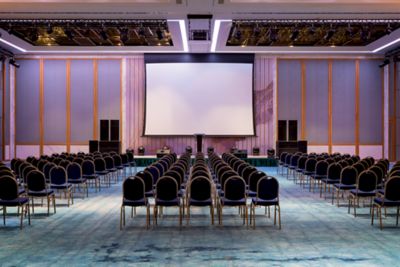 scroll up for previous option
Meetings that satisfy
Events large and small are perfectly hosted at Mövenpick Resort Cam Ranh. Three multi-function rooms offer varied spaces for meetings to group dinners. in Cam Rahn With enticing venues and a menu of professional services, our meetings solutions are a recipe for success.
Find out more
scroll to show detail options
Practical Information
Practical Information
Reviews
toant582
26/01/2023 From Tripadvisor
Poor facilities and services Managed by Accor for real?
Poor facilities and services Managed by Accor for real? Let's find out why I booked 2 connected rooms for 10 Adults. C914-915; C1114-C1115 --- 1. Check-in Online already on Accor Apps, but still need to do it again + No welcome drinks as offer on booking 2. C1115: Doors have problems that cannot be fixed right away. I asked Reception to check. After a while they asked my family to ask receptionist to change room > Obviously, there are no responsibility here. 3. C914-915: I have to call for 4 times for missing Kettles in BOTH rooms. Same time, I asked for Iron (features included), but I didn't see it until I left. What a "nice" service! 4. C915: I returned room at 10PM, I didn't see the sofabed which already asked since I arrived > wait for another hour to have bed to sleep. 5. C915: Same time 10PM - TV is not working, NO internet/wifi. After calling the receptionist and related department to check, I received the answer "I have to wait until someone on some other departments come, coz they already went home???". The worst answer that I wanna listen, I may need to change room coz they don't know that it can be fixed or not AT MIDNIGHT? 6. Positive points: At least they have many activities, the Spa and Restaurants Staff are still under managed. There are many minors issues here. But I saw there are big problems with the management team here.
Lanzone D
24/01/2023 From Tripadvisor
Great value, Mong was the best
This establishment gets a trifecta: great location - great values and very good customer service. 5 mins away from the airport, the resort has a private bleach and two pools. We have been staying here during the local's Tet Holiday and the resort has so many traditional activities. Very impressed with the band who played their traditional musical instruments. We ate both Tropicana and the main restaurant and all was good, service with smiles. Shout out to Mong, one of the best manager I have met. He was so energy, hard working and take care of customer. The resort might not be top-notch here but with the price we payed, all we got is valued. Keep up the good work and don't be bothered by bad reviews. People hates what they don't understand. Thank you Mong and thank you Movenpick for a lovely stay.
Neroli S
20/01/2023 From Tripadvisor
Beach front hotel, great ocean view
Friendly staffs, great view, delicious food, chocolate hours, various outdoor pool facilities, swiss village, cross to the airport, welcome drinks, easy access to the beach, ocean view, beautiful balcony, 45-minutes to the city, clean room!
petrakM6426IW
17/01/2023 From Tripadvisor
Poor experience!!
I took a flight one time from Hong Kong to Singapore and due to some technical issues we had to make a landing in Vietnam instead. I stayed in Movenpick and the facilities were terrible. The building seemed old and my room door was not working. The worst was that the AC was not working at all. Thanks to Alex, he tried really hard to help me settle in. He kindly drove me around with the EV, he even helped me charge my phone as my charger was not compatible with the plugs here. If I come back any time in the near future I hope the resort can improve its facilities before having my business again.
J W
16/01/2023 From Tripadvisor
Excellent Hotel, Excellent people work in.
I spent three enjoyable nights at the 1-bedroom villa with a private pool. Thank you to Mr. Tu at the front desk, who has taken excellent care of me since the day I arrived. The bed is extremely comfortable, and the rooms are spacious and well-equipped. Breakfast is very good. I love the clubhouse, which has great facilities for those who love sports (tennis, badminton, table tennis, etc., to mention a few). Also, climbing and cycling are possible on this estate, beside, of course, the beautiful private beach. A fantastic resort for families as well, highly recommended! We'll talk again soon!