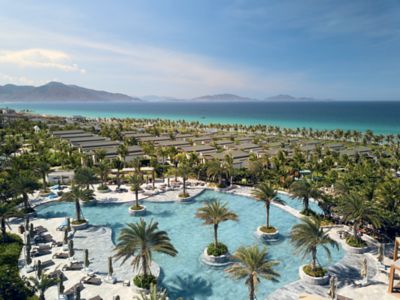 Mövenpick Resort Cam Ranh
Restaurants & Bars
The Place to Savour Life
We believe in indulgence done right, treating our guests to deliciously fresh cuisine, abundant treats and flavours that are unmistakably Mövenpick, all served with a generous portion of heartfelt care.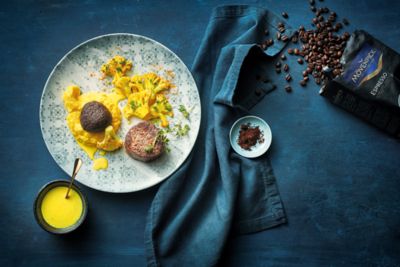 Facilities & Activities
Where Life Tastes Sweeter
Help yourself to the good life at Mövenpick. From sunny pool days to indulgent spa time, energising workouts to immersive cultural experiences, we invite you to drink it all in.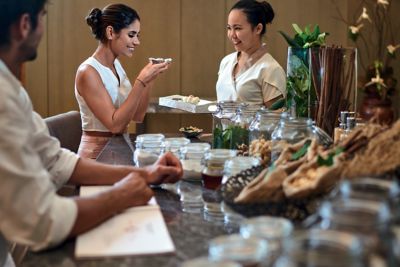 Meetings & Celebrations
Memorable Meetings & Sparkling Celebrations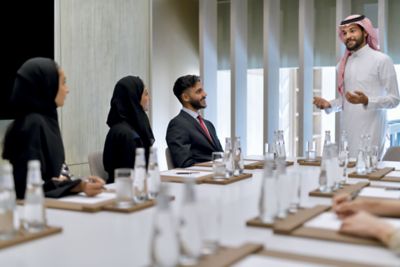 scroll up for previous option
Meetings that satisfy
With enticing venues and a menu of professional services, our meetings solutions are a recipe for success.
Find out more
scroll to show detail options
Practical Information
Practical Information
Reviews
Excursion55859038967
04/05/2022 From Tripadvisor
Best place ever
We had the best time here, as a family we felt very welcome right from the start, with friendly excellent service. Andrea and Vicky and the rest of the staff are incredible hosts presented a wide variety of perfectly displayed and tasty food for each buffet breakfast. 5 stars go to Andrea and the team. Service of the rooms were faultless and we had everything we would ask for. The activities here with the beautiful pools and pool service made our days with 3 active children a holiday to remember forever. The beach was clean, and we enjoyed relaxing here a few times over our stay. Everywhere we went, the staff were so friendly and kind and we will definitely come back. Thank you for a wonderful stay!!
VoT139
14/04/2022 From Tripadvisor
Beautiful resort
Beautiful landscape with nice beach There are many water slides for kids and juniors Good foods of buffet specially Cake and bread But its so terrible foods of a la carte of Beach Restaurant You love the beach, you must go there
Altas1979
12/04/2022 From Tripadvisor
Good resort but you should carry a bbq machine, rice cooker, kitchenwares, some loaves of breads with you.
Stayed at beach front private pool villa 270 m2.. 5 nights with my family; me, my wife and 3 kids. There's a visible lack of management in this hotel. Even it was out of season and no guest was check-in around; it took 30 mins to reach at our resort. I only recommend this hotel to those who travel with their kids. Have nice activities and water park that my kids loved enjoying there. BUT; there's nowhere to eat around. Closest restaurant takes 30 mins by taxi. So, you are obliged to eat tasteless Tropicana cuisines, I could hardly bear it first 3 dinners and my last 2 nights I preferred not to eat. I don't complain it was pricey or small portions in the dishes (however those feedbacks totally correct) but at least must have an average taste and quality food and quality service which should be given for the guests. Breakfasts were average too. After my kids are totally exhausted of playing water parks, luckily we continued our holiday at Sheraton Nha Trang. It was the best decision made during holiday rush.
Sun Kyu Y
10/04/2022 From Tripadvisor
1박 40만원 가까이 지불하고 경험한 끔찍한 서비스수준과 마인드.
Today I checked-in and this is first time I left a review as soon as checked-in caused by terrible experience with this resort. I stay at seaview 2 bedroom villa type for 3nights with almost 22million VND. the price is not cheap, actually quite expensive but I paid expecting great memory with my family but I can know later I am wrong the service is not great as much as I paid. briefly, first of all, almost people who work in here can't speak in english well. even in front desk. so you must be patient to communicate with them, specially when you face some issue. today, I made lot of call to front desk to solve just few of issues. in those calling, my feeling am getting worst. second, only visible area are clean. when I open a washing machine installed in villa, I was so surprised with stink of sweat and urine from inside of washing machine. it caused by decayed clothes inside of washing machine. I think nobody of housekeeper checked it and also room manager of this resort also don't care of detail room condition. at least if room manager checked inside of room condition, this issue can be prevented in advance before it give unpleasant impression to new guest. one more dirty condition is plate, bowl and pot I requested. I request it via email in advance, but not ready when i arrived at here (it can be so far), so I requested it again and someone delivered it to me but dirty (It was so dirty that it came out black when I rubbed it with my finger) last one, reservation PIC gave me wrong information. there is no microwave in this room type at final. but when I asked if there is a microwave in the kitchen of this villa, the reservation PIC said "this room type already have set up microwave for you", so I bought some food for it. but there is no microwave. at the end after long & several calling with front desk, I can know they made a mistake but resort PIC just say "there is no microwave and if you want to make some food hot, we can send a buggy to help you" instead of sorry for the mistake. after argument with angry, they can start to say sorry. 오늘 정말 불쾌한 경험을 정말 많이 했네요. 그래서 체크인하자마자 후기를 남깁니다. 기본적으로 여긴 프론트데스크를 포함해서 영어를 잘못합니다. 혹시라도 문제가 있어 해결하시려면 상당한 인내가 필요합니다.(방에 세탁기가 있어서 세제(detergent)는 어딨냐고 물었는데 못알아 듣더라구요.) 우선 보이는 곳만 청결해요. 세탁기 안에서 오줌과 땀이 섞인듯한 썩은 악취가 나서 보니, 이전에 숙박한 분이 빨래하고 까먹고 놓고 간게 안에서 썩고 있었어요. 청소하는 분들이야 대충하고 갔다고해도 룸매니저는 이런게없도록 사전에 꼼꼼히 챙겨야 하는데, 여긴 룸매니저가 없는것 같아요. 나중에 청소하는 분이 와서 썩은 옷빼내시고 세탁기 안쪽을 걸레로 닦고 가려고하더군요. 이렇게한다고 그 썩은 냄새가 사라지나요? 뭐라하니 세탁코스를 눌러 물로만 세탁기를 돌리더군요. 이걸로 냄새가 안빠진다고 세탁기 세척제가져다가 해야한다고 하니 그제서야 뭔가 가져와서 하더군요.(이모든 커뮤니케이션 영어로 못알아들어 번역기 씀) 1박에 40만원가까운 돈을 냈는데, 이런 서비스수준일거라 상상도 못했네요. 세탁기뿐만아니라 빌라 주방에서 쓰려고 주문한 냄비와 접시, 그룻도 손가락으로 문질러보면 까맣게 묻어나올정도로 더러운걸 그냥 가져다가 주더군요. 뭐라고 하니 다시 가져가서 깨끗한걸로 다시가져왔구요. 그뒤에 전기주전자 쓰려고 물부으니 뭔가 하얀것들이 물위로 떠오르고..아 정말 이런것들이 너무 불쾌하게 만드네요. 이것말구도 몇가지 더 있는데, 너무 길어지는것같아 여기서 줄이렵니다. 구글에 후기보니 몇달전에도 비슷한 컴플레인이 있었던데, 여전히 이런거 보니 이런경험하고 누가 여기 다시 오고싶을까 싶습니다.
Tran_Tri_Hai
18/03/2022 From Tripadvisor
Crazy Policy from Management and Poor Quality of Villa
I have spent a trip at Movenpick Cam Ranh and I had chance to experience "a crazy policy" from Management. The villa provides a kitchen area but without any bowl, spoon or chopsticks. I have asked for bowl and chopsticks for kid food and was advised that they will charge fee for such requirement ??!! The staff confirms this is the policy from Management. What a crazy policy!!! On the quality of Villa, the electric had issue more than 10 times but without any action from the hotel given it was reported several times. Movenpick Cam Ranh should not be recommended for any visit and experience. Very bad !!!