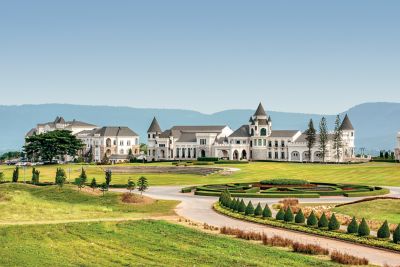 Mövenpick Resort Khao Yai
Mövenpick Resort Khao Yai
Settled amidst one of the world's most fascinating geological and ecological locations Mövenpick Resort Khao Yai offers the perfect hideaway. Experience the true national beauty of Khao Yai, the fresh mountain air, spectacular forest views and the expansive gardens with fresh flower essences during your stay in our 4 star hotel.
Overlooking the Links-style golf course, the landscape presents that sense of peace for a truly meditational and emotional uplift, coupled with the sound of birds of numerous species welcoming the morning hew of the spectacular sunrise. Our luxury resort is the perfect place to exspace to in Khao Yai.
Mövenpick Resort Khao Yai is an incredibly beautiful, romantic resort with details incorporating elements from the astounding tranquillity of nature set in a true Tuscan inspired house and hotel blocks with a year round average temperature of 23C.
Restaurants & Bars
The Place to Savour Life
Indulge at Mövenpick Resort Khao Yai with deliciously fresh cuisine, abundant treats and flavours that are unmistakably Mövenpick. Discover this for yourself during your stay with us in Khao Yai.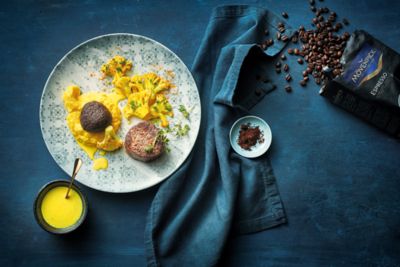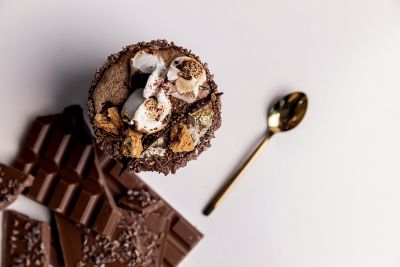 scroll up for previous option
Chocolate Hour
Tick-tock, it's mmm-o'clock, at our luxury resort in Khao Yais serving up 60 mouth-watering minutes of cocoa indulgence every afternoon. Make the most of your stay in our 4 star hotel by making your day a delicious one.
scroll to show detail options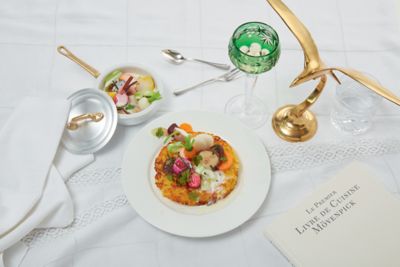 scroll up for previous option
Signature Flavours
Swiss dishes like you've never tasted before, prepared with care and served from the heart in our main all-day dining restaurant and green cafe.
scroll to show detail options
Facilities & Activities
Where Life Tastes Sweeter
Help yourself to the good life at Mövenpick Resort Khao Yai. Enjoy delectable dining in a romantic setting with golf course views.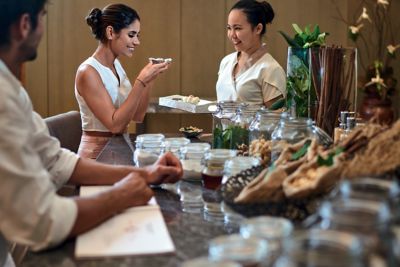 Meetings & Celebrations
Memorable Meetings & Sparkling Celebrations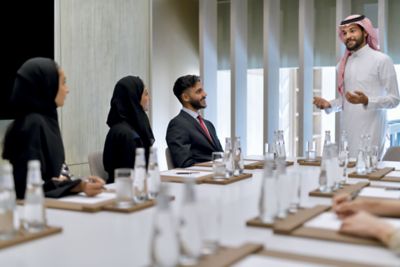 scroll up for previous option
Meetings that satisfy
With enticing venues and a menu of professional services, our meetings solutions perfect for your next meeting or event in Khao Yai.
Find out more
scroll to show detail options
Practical Information
Practical Information
Reviews
SureshM_12
15/09/2022 From Tripadvisor
Beautiful hotel
The property is very beautiful and picturesque. Lot of places for picture taking. The rooms are very spacious , big balcony and nice view. Their breakfast was quite good and the chef served us special Indian vegetarian dishes on request . Enjoyed the swimming pool and the restaurant Flavors had good variety of food , service and quality was excellent. Enjoyed our 2 nights stay .
weiyi19
14/08/2022 From Tripadvisor
Amazing Resort in a Beautiful Fairy Tale Setting
Was initially hesitant to stay here after reading some reviews but this was the only choice for die hard Accor fans. However, no regrets choosing Movenpick and will definitely return on my next holiday to Khao Yai. Welcome experience was amazing. Starts with a very quick complimentary rapid covid test that took no more than 5 mins at the main gate which was reassuring and appreciated. Good to know the management prioritises safety for everyone at the resort. The drive from the main gate to the lobby was so scenic and surreal. Not sure why other guests are complaining when it is good for everybody. Efficient check in and was personally greeted by Mr Benoit on a Sunday afternoon. Everyone we met at the reception, restaurants and housekeepers were attentive and welcoming. The Ozone suite was HUGE and views overlooking the lawn and mountains in the distance were stunning. Wide variety of dishes for both breakfast and dinner at the restaurant.
chiml660
07/07/2022 From Tripadvisor
Don't
This property has the best Covid protocol I ever seen in Thailand. You are greeted with ATK done by hazmat suited professional. In July 2022. The Villa we had has the following 1. TV with 50% channel with no signals 2. Batteries left at the Villa premises (we had toddlers) 3. 25% light switch is faulty 4. Faucet water has white murky settlements and rotten smell. 5. Personally I recon the servicing staff has very minimal training, maybe is because of two years of lock downs.
Chatjuta L
20/06/2022 From Tripadvisor
ATK for what! Worst arrival experience
We arrived and have to do the ATK test which take so long and it is very ridiculous arrival experiences. Thailand is now opening the country to welcome guests and now most of resorts in Thailand stop even asking even for Vaccine passport but this hotel is asking guests to do ATK! We have to wait so long and so disappointed with the kind of service. Staff is rude and ignorant. I feel so piss off upon check in
MaBar2013
18/06/2022 From Tripadvisor
after the first marvellous weekend we decided to book next trip soonest possibel
We had wonderful days in the fresh breeze of «My Ozone Valley» and the comfortable room with nice view. Staff were friendly and courteous from bellboys and reception and in all restaurant facilities, most of them speaking english. Perfect hospitality. Food and beverage: Try the original Mövenpick Icecream at Castleton Café Garden Pavillion or the authentic english Afternoon Tea with scones and clotted cream. The «Flavours of Khao Yai» culinary team with Chef Jacky just created a new menu (you can get it on QRcode or printed) and prepares a wide range of delicious creations from around the globe very special is the Zurich style veal with rösti potatoes. And yes they really know the difference between hash browns and the very special delicious swiss original «Röschti». Another highlight is the «Birchermuesli» another famous swiss dish. On 2nd floor and terrace is the italian restaurant «sapori cucina» where you find special dishes from the italian mountain and ski resort area Ponte di Legno, Brescia Valtellina where famous italian wines come from as well. I never saw in thailand before, my favorite was the dark flower mais dish «polenta tarangna» italian chef Antonio cooked best and authentic. The resort has only one disadvantage being fully booked most of the weekends so you have to hurry getting a room and decide eariest possibel or have the superbe experience during the week. We evaluate the resort now for a special event celebration.