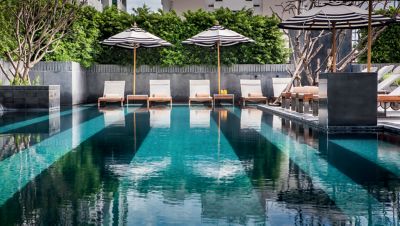 Mövenpick Hotel Sukhumvit 15 Bangkok
Mövenpick Hotel Sukhumvit 15 Bangkok
Mövenpick Hotel Sukhumvit 15 Bangkok is perfectly situated near the heart of Bangkok where the best eating, drinking and shopping options are. Guests of our 5-star resort will be centrally located and have access to everything Bangkok is famous for.
Mövenpick Hotel Sukhumvit 15 Bangkok is located on Sukhumvit Road and is renowned for its shopping hubs, like the Terminal 21 Shopping Mall and the glitzy EmQuartier. The bustling thoroughfare is also loaded with an endless array of dining options, from fine ethnic dining restaurants to excellent street food. This is also Bangkok's biggest bar district with the entertainment area of Nana, club-happening Soi 11, craft beer pubs and plenty of standalone bars close to the hotel.
Mövenpick Hotel Sukhumvit 15 Bangkok sits down a quiet side street, just a short stroll away from all the action and the hotel is connected to the rest of the bustling city via both the BTS Skytrain and MRT Subway, both of which have stations at the Asok Interchange hub, just a five-minute walk away. For those who don't want to walk, our 5-star resort makes it even easier with a free round-the-clock Tuk-Tuk shuttle service as well. Whether it be a short journey around the neighbourhood or excursions further afield to the Grand Palace or Chao Phraya River, the central location and easy and convenient public transport connections make this luxury resort the perfect choice.
With 363 stylish modern luxury hotel rooms and suites, guests can enjoy European elegance with plenty of refined flairs. Enjoy in-room comforts such as 46" LED TV's and walk-in rain showers. The gorgeous rooftop swimming pool and Rainforest Rooftop Bar complete a totally relaxing package, making it easy to escape the busy city in this 5-star resort.
Both business and leisure travellers are well catered to here at Mövenpick Hotel Sukhumvit 15 Bangkok with extensive meeting and conference facilities as well as casual-fine dining at Lelawadee Restaurant. Here we serve both authentic Thai cuisine, European and Asian favourites and a sumptuous international buffet breakfast. For views of the Bangkok skyline, head up to the Rainforest Rooftop Bar where you can sip classic cocktails and take in panoramic city views.
Restaurants & Bars
The Place to Savour Life
At Mövenpick Hotel Sukhumvit 15 Bangkok we believe in indulgence done right, treating our guests to deliciously fresh cuisine, abundant treats and an array of exciting flavours that are unmistakably Mövenpick.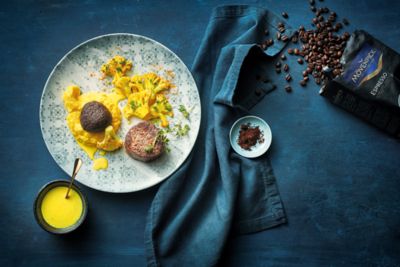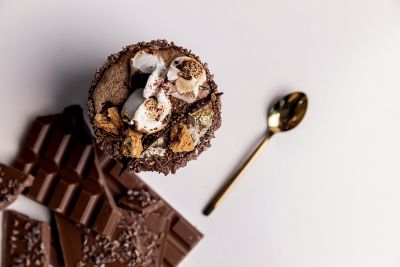 scroll up for previous option
Chocolate Hour
Tick-tock, it's chocolate o'clock at Mövenpick Hotel Sukhumvit 15 Bangkok, serving up 60 mouth-watering minutes of complimentary bite-sized chocolate creations every afternoon, making sure your day's a delicious one.
scroll to show detail options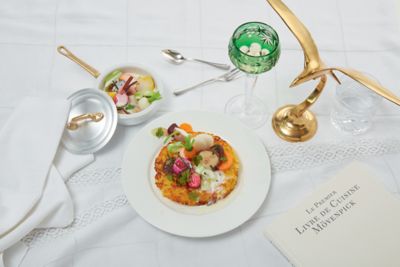 scroll up for previous option
Signature Flavours
Enjoy a variety of authentic Thai and Swiss dishes like you've never tasted before at Mövenpick Hotel Sukhumvit 15 Bangkok. All offering exciting flavours and prepared with care by our innovative culinary chefs.
scroll to show detail options
Facilities & Activities
Where Life Tastes Sweeter
Help yourself to the good life at Mövenpick Hotel Sukhumvit 15 Bangkok. From relaxing under the warm Bangkok sun at our rooftop pool to energising workouts and immersive cultural experiences, we invite you to experience it all at our luxury hotel in Bangkok.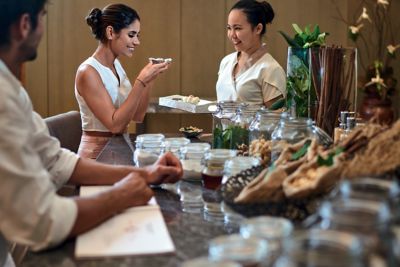 Meetings & Celebrations
Memorable Meetings & Sparkling Celebrations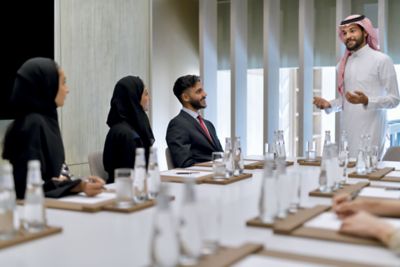 scroll up for previous option
Meetings that satisfy
With enticing meeting and event venues and a menu of professional services, our meeting solutions at Mövenpick Hotel Sukhumvit 15 Bangkok are a recipe for success, ensuring everything is perfect right down to the last detail.
Find out more
scroll to show detail options
Practical Information
Practical Information
Reviews
793jemt
24/09/2022 From Tripadvisor
Remarkable Service
Had a great stay here. Num provided splendid service during our stay and even shuttling us off timing in the hotel's tuktuk. This is something we did not expect and caught us by surprise. What a Splendid way to make our day!
kailingkual
16/09/2022 From Tripadvisor
Excellent service at Movenpicks Hotel
We stay at Movenpicks Hotel for 4 nights and everything is good so far. Especially Mr. Num - Concierge, he is so kind and helpful, helps us a lot and ride us to BTS on Tuktuk. Also there was Ms. Orn Palida- The intern, she took us the whole way to Jodd fair because we didnt know how to get there. She is really take care of us and we appreciate that. Oh and their Housekeeper is nice, too. I definitely would come back for there service.
Clarkiejan71
12/09/2022 From Tripadvisor
So many positives. Excellent Hotel
We emailed and were lucky to have rooms made available. The Movenpick Bangkok has caring staff and the loveliest Manager in Mr Mohamad. At breakfast we enjoyed Tum's company as he spoiled our 5 year old with Lolly pops and the next day special pancakes with Nutella and strawberries and blueberries. We have the executive package so get lots of privileges included. The fitness centre has lots of equipment. The pool area gets sunshine. Really impressed with the location and the tuk tuk that takes us places included. We will be back.
joeyf184
07/09/2022 From Tripadvisor
Super Thanks to (Boy, Keng and Tom)
The location and the staff and the breakfast and also the rooftop was amazing and we had the best time ever ! The room didn't have napkins. That's the only issue we had ! And we asked them to do late check out and they let us ! And big appreciation for Boy who made our stay better
christianrP8083BK
02/09/2022 From Tripadvisor
Tuk Tuk driver Num is the best!!
Complementary Tuk Tuk Service to Terminal 21 every half hour. Talk to Num the Tuk Tuk driver. He is extraordinarily helpful and knows everything about the area. Outstandingly friendly and knowledgeable! We had a great time with him and got loads of fantastic tips for eating and drinking. Thanks Num!