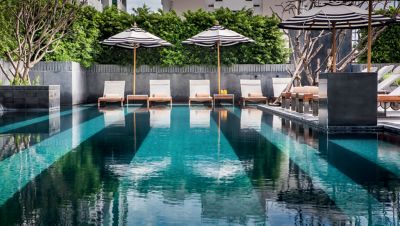 Mövenpick Hotel Sukhumvit 15 Bangkok
Restaurants & Bars
The Place to Savour Life
We believe in indulgence done right, treating our guests to deliciously fresh cuisine, abundant treats and flavours that are unmistakably Mövenpick, all served with a generous portion of heartfelt care.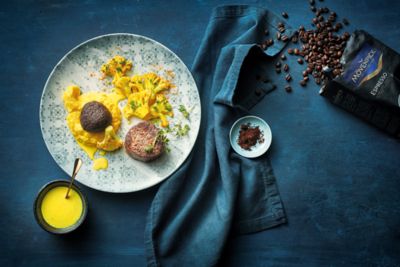 Facilities & Activities
Where Life Tastes Sweeter
Help yourself to the good life at Mövenpick. From sunny pool days to indulgent spa time, energising workouts to immersive cultural experiences, we invite you to drink it all in.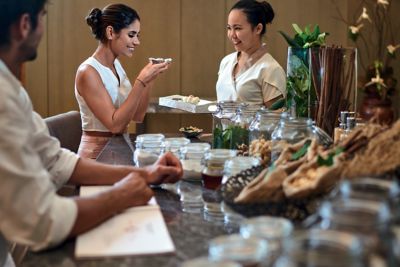 Meetings & Celebrations
Memorable Meetings & Sparkling Celebrations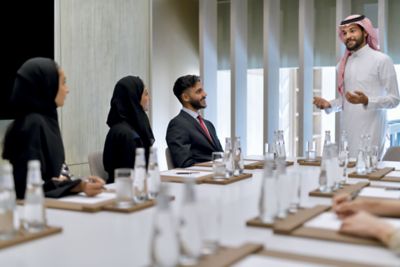 scroll up for previous option
Meetings that satisfy
With enticing venues and a menu of professional services, our meetings solutions are a recipe for success.
Find out more
scroll to show detail options
Practical Information
Practical Information
Reviews
Najmulehsan
19/05/2022 From Tripadvisor
Rooms are basic and breakfast is poor
We recently stayed at Movenpick Sukhumvit 15. While the room left a lot to be desired, breakfast was really poor. The spread is nominal, very small amounts of fruits were served and each day we had to request many times for its replenishment (which sometimes came and sometimes didn't). Tables are not cleared soon enough and although we were told that coffee will be served at our table, every morning we had to request for it at least 2 to 3 times before it came, that too absolutely cold. After 2 nights we moved out to another hotel.
khuns2022
16/05/2022 From Tripadvisor
Mr Khun San Lin Pwint
I have met and well served by a friendly Nate for my dinner at the restaurant. Delicious and cleanliness of food, hospitality of staff. Well-spend my dinner time. I do really enjoy my stay at Movenpick Sukhumvit.
334marksa
16/05/2022 From Tripadvisor
Excellent service staff
Movenpick Sukhumvit 15 is a good stay hotel if to be honest and the staff is very friendly and helpful in all ways. I would like to give credits to Miss. Chatchada and her team on assistance and service.
SAUD A
11/05/2022 From Tripadvisor
زيارتي لبانكوك
Thanks to brother MAN, and brother Mohammed for their good reception, the staff is beautiful, the rooms are clean, the location is very excellent, and breakfast was beautiful and varied, and there is no inconvenience in the rooms, honestly, your first option in Bangkok, I recommend it to families
Cruiser603924
10/05/2022 From Tripadvisor
Wonderful Hotel, Amazing Location
Located on Sukhumvit 15, Movenpick is a high-quality hotel to stay during a trip to Bangkok. The rooms are modern, the TV is big, WI-FI is fast, the location is prime, food is delicious and the staff are hospitable. What more can you ask for? This hotel is perfect for short or long term stay. Sukhumvit 15 is a quiet street but is right in the heart of everything you need. Walking distance to grocery stores, shopping malls, restaurants, cafes and nightlife. 100% I will stay at Movenpick the next time I am in Bangkok.