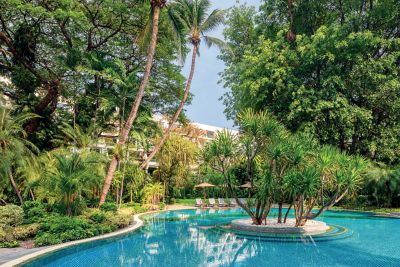 Mövenpick BDMS Wellness Resort Bangkok
Your urban garden sanctuary in the heart of Bangkok
Mövenpick BDMS Wellness Resort Bangkok offers a perfect harmony of comfort and recuperation for guests seeking a restful escape while still in the heart of Bangkok, Asia's most popular city destination. Surrounded by 1.2 acres of lush tropical gardens, Mövenpick BDMS Wellness Resort Bangkok's 211 well-furnished guestrooms and suites are perfect for families or couples seeking urban renewal.

All rooms are designed with space in mind, offering private balcony access and featuring wellness equipment such as sleep therapy speakers and yoga mats. Guests can indulge in culinary delights that are health-focused yet utterly delicious at the resort's different outlets. A welcoming outdoor pool set amidst stunning heritage gardens encourages guests to linger and unwind.
Restaurants & Bars
The Place to Savour Life
We believe in indulgence done right, treating our guests to deliciously fresh cuisine, abundant treats and flavours that are unmistakably Mövenpick, all served with a generous portion of heartfelt care.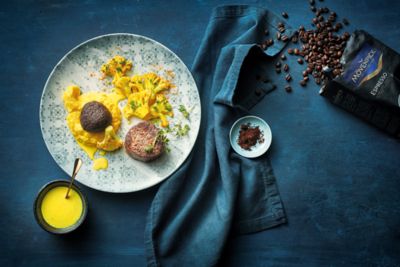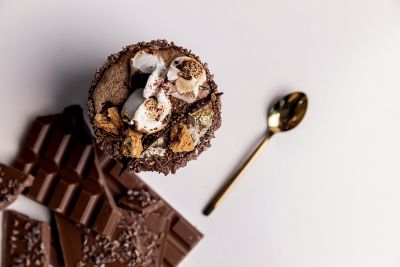 scroll up for previous option
Chocolate Hour
Tick-tock, it's mmm-o'clock, with all our hotels and resorts serving up 60 mouth-watering minutes of cocoa indulgence every afternoon, making sure your day's a delicious one.
scroll to show detail options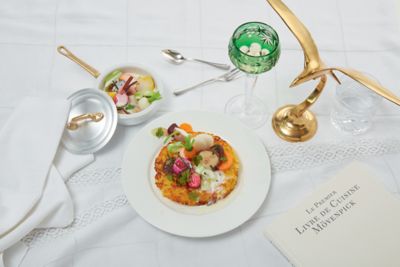 scroll up for previous option
Signature Flavours
Swiss dishes like you've never tasted before, prepared with care and served from the heart in our restaurants worldwide.
scroll to show detail options
Facilities & Activities
Where Life Tastes Sweeter
Help yourself to the good life at Mövenpick. From sunny pool days to indulgent spa time, energising workouts to immersive cultural experiences, we invite you to drink it all in.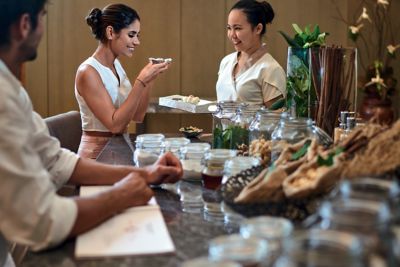 Meetings & Celebrations
Memorable Meetings & Sparkling Celebrations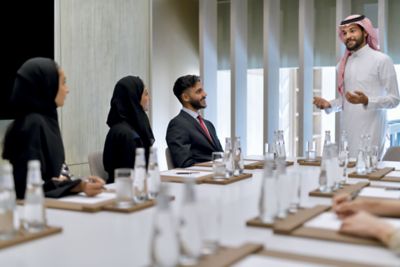 scroll up for previous option
Meetings that satisfy
With enticing venues and a menu of professional services, our meetings solutions are a recipe for success.
Find out more
scroll to show detail options
Practical Information
Practical Information
Reviews
shadgerami
17/11/2021 From Tripadvisor
Off the beating path
One of the SHA+ hotels during the Covid and a mandetory 7 days stay at exactive suite could have been better as the suite was very plain and cold with the rug coverd up in plastic and very impersonal. No outlet by the beds and tables for lugages. The staff however was very nice and accomidating. The location also not good with no shops around.
905suea
16/11/2021 From Tripadvisor
ASQ quarantine stay - fabulous!
I was very lucky to be able to have my 7 days quarantine in this lovely hotel and wouldn't hesitate to stay again - but preferably not in quarantine! From the airport pick up to leaving at the end of the week I could not fault how well I was looked after with every need catered for. The service was excellent. Thankyou Movenpick. I would highly recommend :)
koosris
05/11/2021 From Tripadvisor
One day quarantine
Apart from the plastic floor that would need a renewal, the stay was good. However, waiting 24h to get the PCR test result is clearly not acceptable, knowing that media reported durations between 4 hours and 20 hours… so, fine tune this and you will be remain my first choice for entering Thailand and spend one night.
10July2020
23/09/2021 From Tripadvisor
Very impressed with the service, even just talking on the phone....."Just Brilliant"
From direct experience that happened to me, There was a sale of dining tickets of the hotel which was held at Siam Paragon on March 6, 2020, I have purchased all 4 dining tickets at a special price of only 2,997 baht, but due to the severe COVID-19 situation, the hotel is willing to extend the vouchers over and over again. until indefinitely. Every time there is a call to inquire about the extend of the vouchers. The staff gave the answer very efficiently. very neat by talking I have tried to inquire with the hotel staff very often. But still, the questions were answered with a very gentle tone until the last time The hotel staff named Khun Kannitha called me directly. She told me that the hotel is very happy to reimburse customers. It also suggested that the hotel is happy to send staff to collect dining cards directly from customers. At that time I'm not comfortable at all. Until on September 20, 2021, I contacted the hotel again. This time, Khun Pitchaya called me back and said that The hotel will be happy to send staff to collect the dining cards at home. After less than 15 minutes, the grab came to collect the documents. Today, September 23, 2021, I received the money into the account according to the bank documents delivered to the hotel. September 23, 2021 around 16.00 hours, the accounting officer. Khun Phakkhaphat called to inform that the hotel has already transferred the money into the account. Throughout the event since I bought the dining tickets on the day of the event at Siam Paragon until today, Even though I didn't come to use the service at the hotel's restaurant at all, I have to say that I'm very impressed with the service. Thank you to all the staff involved.....
JamesDorset
05/09/2021 From Tripadvisor
ASQ 14 day stay
This is the second quarantine stay I have had at the hotel. My first stay was excellent and so I chose the same venue for my latest quarantine. The experience was as good as the first stay - large, well-decorated, quiet and clean room, a balcony big enough for a chair, a bath, and really good food with a nice choice for each meal.