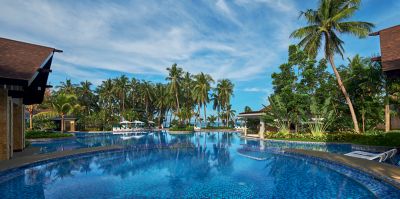 Mövenpick Resort & Spa Boracay
Mövenpick Resort & Spa Boracay
Discover one of the world's most beautiful islands and experience an unforgettable beach holiday in the Philippines. Mövenpick Resort & Spa Boracay offers an indulgent paradise in the Philippines, nestled on the northern tip of Boracay Island in Punta Bunga Cove. Our luxury resort is located only 90 minutes away from Caticlan Airport. 
Set amongst a lush tropical landscape and an exceptional private beach with turquoise blue waters, this upscale destination offers you a chance to escape into indulgence as you enjoy the immense multi-level pool, serene wellness centre and spa, water sports activities and excursions. Kids will also enjoy their stay at our resort with our kid's club and playground area. 
Enjoy free Wi-Fi and welcome amenities in our 312 contemporary hotel rooms and suites boasting breathtaking views of our tropical paradise. Seven diverse restaurants and bars offer International, Korean, Japanese, Italian and pub food, while Sol Marina Beach Club is the place to party in the company of international DJs and performers. 
Weddings, meetings and special events can be hosted in our dedicated venues. If you're a couple or family seeking a combination of entertainment, adventure and relaxation on the beachfront, Mövenpick Resort & Spa Boracay has everything imaginable for your tropical island holiday.
Restaurants & Bars
The Place to Savour Life
We believe in indulgence done right. We are proud to treat our guests to deliciously fresh cuisine, abundant treats and flavours through exquisite entertainment and culinary delights at our seven dining outlets to guarantee a joyful stay in the Philippines.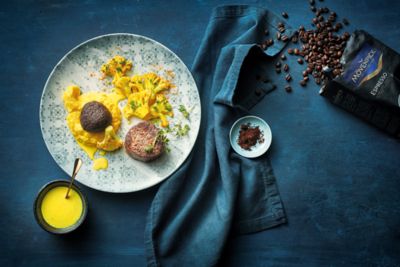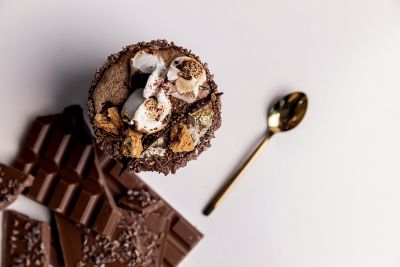 scroll up for previous option
Chocolate Hour
Tick-tock, it's chocolate o'clock at Mövenpick Resort & Spa Boracay, serving up 60 minutes of complimentary chocolate indulgence every afternoon with special creations during the famous Movenpick Chocolate Hour.
scroll to show detail options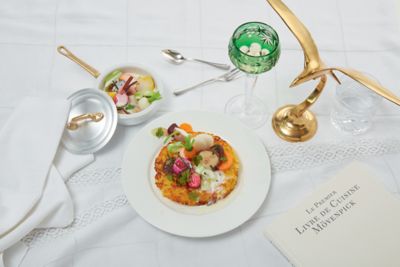 scroll up for previous option
Signature Flavours
Discover exquisite dining and Swiss dishes like you've never tasted before. Enjoy delicious recipes prepared with care and served from the heart in our seven luxury restaurants.
scroll to show detail options
Facilities & Activities
Where Life Tastes Sweeter
Help yourself to the good life at Mövenpick Resort & Spa Boracay. From family beach days to indulgent 5 star spa time in the Philippines, and energising workouts in our 24 hour gym, we invite you to take it all in.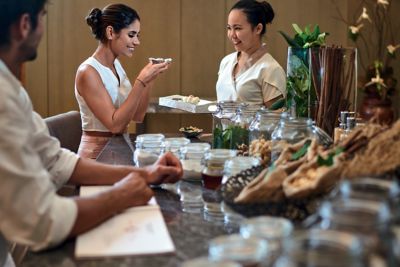 Meetings & Celebrations
Memorable Meetings & Sparkling Celebrations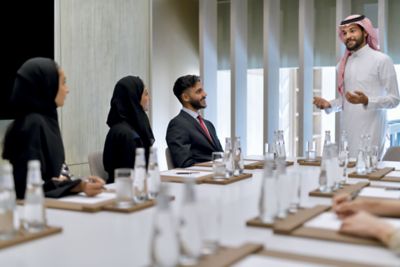 scroll up for previous option
Meetings that satisfy
Host your next meeting in the Philippines at Mövenpick Resort & Spa Boracay, with enticing state-of-the-art meeting venues and a wide menu of professional services, our meeting solutions are the perfect recipe for success. Contact our team today.
Find out more
scroll to show detail options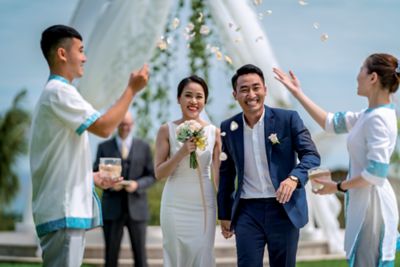 scroll up for previous option
Events bursting with flavour
With a touch of sugar, spice and everything nice, we'll help you celebrate life's rich moments.
Find out more
scroll to show detail options
Practical Information
Practical Information
Reviews
Merivic Victori... L
05/12/2022 From Tripadvisor
Perfect getaway
I love being pampered and Movenpick was the right venue to make an awesome vacation. The staff were friendly and accommodating. The food is sumptuous and has variety. The pool is huge and can accommodate families, couples and solo travelers. We spend our dinner outdoors while being serenaded by a live band (duo) every single night. We even had an early kayak prior to our buffet breakfast and were assisted by the lifeguard and security team. The chocolate hour is heavenly and an indulgence hard to resist. You can't go wrong with Movenpick and we will surely be back.
28plament
03/12/2022 From Tripadvisor
One of the best places in Boracay. Amazing experience. Totally recommended!
One of the best places in Boracay. Amazing experience. We stayed with a group of 24 people for a week and the stuff totally looked after us. Everyone was so kind and caring ,especially Richard from the beach bar, Raymond, Kyra from the front office and the manager Jenevic. Can't explain how sweet and gentle the whole stuff is. The stay at Movenpick Boracay was delightful and satisfying. Totally recommended!
Companion29099084001
02/12/2022 From Tripadvisor
Wonderful stay at Movenpick Resort and Spa
We really had a great time! The resort is serene but not boring as there are plenty of activities. The beach front view from the hotel is fantastic and there aren't many people roaming around. The pool is quite big and the crowd is not rowdy. Food is yummy. Staff service is superb. Every one is ready to help and well trained. Truly world class and worth every penny. Will definitely go back for a longer stay as 3 days and 2 nights are not enough. Hats off to the management and every staff and crew of Movenpick Resort!
joyjoysnake
02/12/2022 From Tripadvisor
Birthday celebration
I celebrated my birthday in this resort. All the staff were very courteous and kind. There was a birthday setup with a slice of cake. The cake was so delicious that i almost ate it all. Luckily my wife was able to have 2 bites. I will definitely come back and celebrate all my birthdays here. Johan, francis, maria, ruth and all the staff were very helpful. Especially the guard at the gate.
Binmaley Christ... M
02/12/2022 From Tripadvisor
The best movenpick experience
World class amenities with fresh air given by numerous trees surrounding the whole property. Very accommodating and polite staffs that will greet you from time to time. Sumptuous buffet breakfast experience and very peaceful beachfront swimming experience. Will definitely go back here.