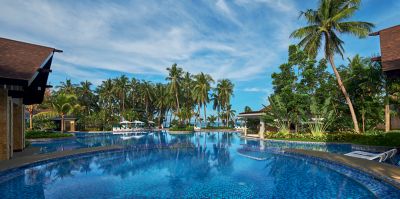 Mövenpick Resort & Spa Boracay
Restaurants & Bars
The Place to Savour Life
We believe in indulgence done right, treating our guests to deliciously fresh cuisine, abundant treats and flavours that are unmistakably Mövenpick, all served with a generous portion of heartfelt care.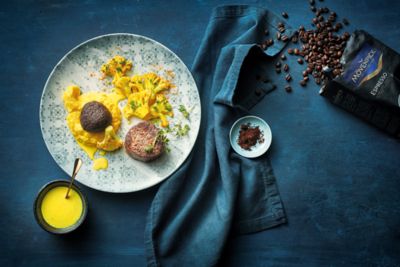 Facilities & Activities
Where Life Tastes Sweeter
Help yourself to the good life at Mövenpick. From sunny pool days to indulgent spa time, energising workouts to immersive cultural experiences, we invite you to drink it all in.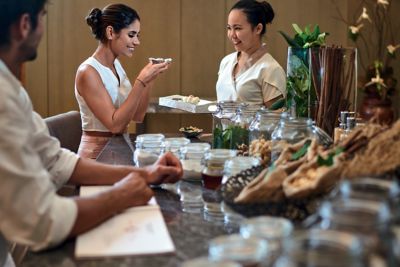 Meetings & Celebrations
Memorable Meetings & Sparkling Celebrations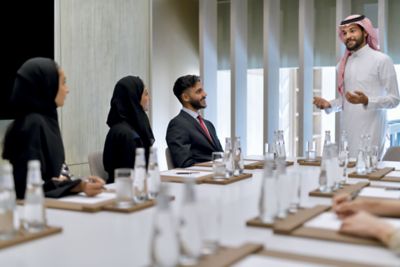 scroll up for previous option
Meetings that satisfy
With enticing venues and a menu of professional services, our meetings solutions are a recipe for success.
Find out more
scroll to show detail options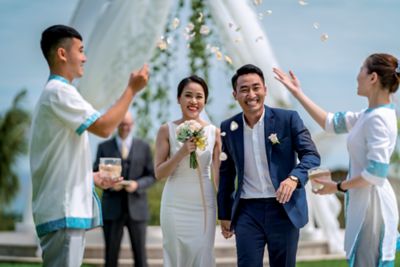 scroll up for previous option
Events bursting with flavour
With a touch of sugar, spice and everything nice, we'll help you celebrate life's rich moments.
Find out more
scroll to show detail options
Practical Information
Practical Information
Reviews
vmflorence
29/07/2022 From Tripadvisor
Family Trip
The hotel rooms are okay. Joy the Market place manager was excellent so as her staff. We loved the pool and the chocolate hour. Beachfront is the best. We had lots of fun during our stay, hotel is clean and accessible for my wheelchair bound mother. We had the best family time together.,,.we would have wanted all our rooms next to each other and that would have been lovely. Really nice and cool place... pool is biggest in boracay.
SDongJJun
27/07/2022 From Tripadvisor
Thank to your kindness
Best hotel in Boracay! I think the best view in Boracay. employees offer are best and so quitly. Room condition is nice on me We decide trip here again. I want good weather next year See you next year👍
Puhup_Verma
27/07/2022 From Tripadvisor
SOL MARINA VILLA
As a family of 4 Shangri La Circle JADE members , the property right next door was our choice by default. In fact , ticking off Shangri La Boracay from our 'list' was the very reason we planned a trip to this island in the first place. But as our arrival date came closer , we were shocked to see Shangri La's insistence to implement weirdly strict cancellation policies on even loyalists like ourselves. This seems unreasonable in today's COVID-19 times , when countries keep changing entry regulations , and booking non-refundable hefty rates is a gamble. In came the Movenpick. Having never stayed in a property of this chain before , we were a bit sceptical. A quick search on the website for the highest room category showed up the SOL MARINA VILLA , which looked perfect for us. The best part - A very liberal cancellation policy , which makes it apt for international tourists like ourselves. One of the first reasons to switch from Shangri La to Movenpick was the latter's timely replies to Emails. Shangri La took almost a week to respond to any Email sent , and we had to resort to calls for even basic information. On the other hand , Movenpick's replies came back within hours. On arrival at Caticlan , we were greeted by their airport representative , followed by a sequence of private car - private boat - private car transfers. The entire process is quick & well coordinated , and was the same way even when we returned back on our day of departure. Shangri La surprisingly does win in this aspect , as it provides complimentary transfers to all its guests. Movenpick can certainly extend the same courtesy to its SOL MARINA VILLA guests , especially when someone is staying 3 nights or more. Once we reached the hotel , we lined up like any regular guest at the reception. When our turn came , and our details were cross checked , a senior manager was called , and she gladly escorted us to our villa and even gave a tour of the same. While everything was perfect , I did expect a slightly more 'personal' touch , where the staff would have already been expecting our arrival at the porch , escorted us directly to the villa , and completed all the formalities in the villa itself. On a side note , I did not expect the hotel to charge the ENTIRE AMOUNT of my stay while I was sitting at Delhi airport ( enroute Philippines ) , rather than a token authorization amount OR the last-minute cancellation penalty ( i.e. 1 night ). I often set the transaction limits on my card very low ( to prevent fraud ) , and had temporarily increased it just hours before. In case I hadn't , and the payment wouldn't have gone through while we were airborne , I believe I would have reached the resort and discovered my booking's been cancelled. Coming to the SOL MARINA VILLA - it is perfect in every sense. The first thing you come across is the swimming pool & adjacent jacuzzi. This is surrounded by lush greenery , which honestly could have been 'restructured' in a way to provide a better glimpse of the beach below. Once you're inside the villa , you'll come across the huge living room , a big dining table and a kitchenette. On either side , there are 2 rooms ( 1 King & 1 Twin ) with en-suite bathrooms. The entire villa is well furnished & we couldn't find any flaw worth mentioning. Be careful to lock / check all the sliding doors , as we did get a visit from a troop of monkeys. For F&B options , we would like to declare the clear-cut winner - BREZZA. Amazing Italian food , with the most delicious pizzas we've had in a long time. The 'Sol Marina Beach Club' is a good alternative as well. Breakfast does need urgent attention though. The vibe of the entire place is cafeteria-ish , although the courteous staff does compensate for all the flaws. The 'Chocolate Hour' might be a good gesture , but is avoidable. The Movenpick Resort & Spa Boracay , and the SOL MARINA VILLA specifically are a wonderful option for travellers seeking a premium product on this island. We would be recommending it to our friends back home in India.
maryjoya471
25/07/2022 From Tripadvisor
Beatiful hotel, very good staff
Beautiful ambience. Accomodating staff. Very relaxing. Room is great. Hope to have shuttle service atleast once every hour. The last time i check the shuttle leaves 11am and the next trip is 4pm. Despite that, definitely coming back soon.
337melvinr
24/07/2022 From Tripadvisor
The best Boracay experience ever!
Movenpick provides the best facilities at the most reasonable price. Best beachfront experience. Their wide beachfront provides the best beach sports activities. Excellent service and the friendliest staff. Away from all the soliciting of stations 1-3. You will still get that beautiful Boracay sunset.