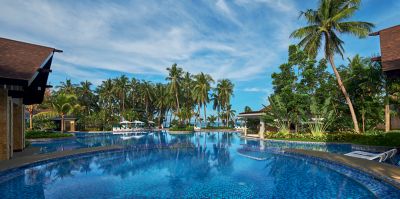 Mövenpick Resort & Spa Boracay
Restaurants & Bars
The Place to Savour Life
We believe in indulgence done right, treating our guests to deliciously fresh cuisine, abundant treats and flavours that are unmistakably Mövenpick, all served with a generous portion of heartfelt care.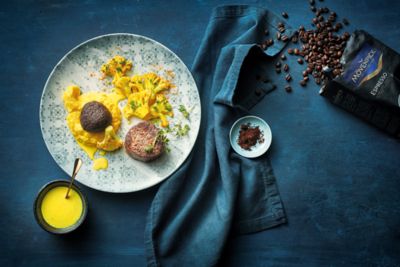 Facilities & Activities
Where Life Tastes Sweeter
Help yourself to the good life at Mövenpick. From sunny pool days to indulgent spa time, energising workouts to immersive cultural experiences, we invite you to drink it all in.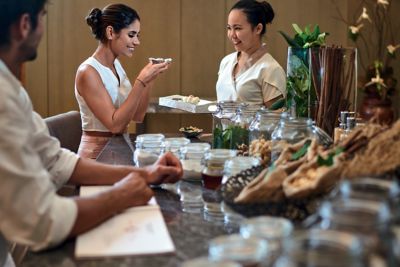 Meetings & Celebrations
Memorable Meetings & Sparkling Celebrations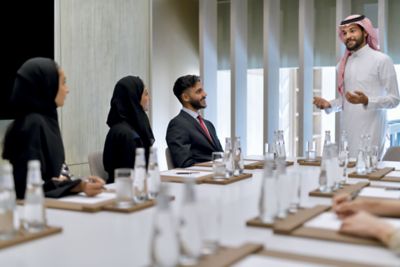 scroll up for previous option
Meetings that satisfy
With enticing venues and a menu of professional services, our meetings solutions are a recipe for success.
Find out more
scroll to show detail options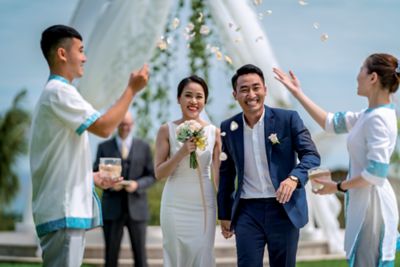 scroll up for previous option
Events bursting with flavour
With a touch of sugar, spice and everything nice, we'll help you celebrate life's rich moments.
Find out more
scroll to show detail options
Practical Information
Practical Information
Reviews
896ggm
16/08/2022 From Tripadvisor
A wonderful safe place to relax and have fun!
My family had a great time. The hotel is so spotless! Even the pool looks squeaky clean. We enjoyed swimming at the beach as well as in the beautiful pool. There are lots of lounge chairs more than enough for everyone wanting to relax in a shaded area while watching over the kids or just to simply enjoy the view. We indulged during the chocolate hour, endless delicious sweets and the best part is it's free! A must try too is the Lechon Kawali at The Market Resto 👍 Thanks to all the friendly and accommodating staff at Move N Pick Boracay for making our stay extra special!
Eurodisney30Jan
15/08/2022 From Tripadvisor
Ruth, you are the BEST.
We were met and greeted by the BEST recepionist Miss Ruth who was very kind and helpful to show us an ocean view room and when She sensed our bad reaction to the blocked ocen view by trees, She asked us to wait for 15 minutes to show us another room which was an ubgraded catigory to the room we picked. The new room is an ocean and pool suite which we loved. Thank you Ruth for making our stay memorable, you are the nicest, perfect staff and a great asset to any hotel chain. Breakfast was average and needs improvment. Shutle bus to D mall runs 5 times a day but the road is rough. The swimming pool is the best and the beach is powdery soft sands. Thanks to ALL staff in the Movenpick Boracay.
jacobobinguar
15/08/2022 From Tripadvisor
Amazing Experience
It was a worry-free vacation. Everything was taken cared of. We went there to celebrate by daughter's 7th birthday and everything went so well, just like how I imagined them. An early dinner/picnic along the beach facing the sunset. Sumptuous meal + a great service. I told the hotel about my daughter's birthday needs (cake + picnic setup at around 1pm in the afternoon, and the celebration will be at around 5pm, they were able to give the cake and setup that we wanted. Kudos to the Food and Beverage team (especially to Din) for wonderful experience. Would also like to commend the people in the Sol Marina bar, they're very friendly. I also appreciate the lifeguards, it makes my job as parent less worrying, having a 2nd eye on the beach and on the pool is a big help. The breakfast is also nice. and our room was clean. I would request for room cleaning like every day and they are really thorough with cleaning. The only thing that I wish could be improved is the transfer. It would be better if there is a direct speedboat transfer from Caticlan to the resort without land travel in Boracay. The land travel is quite stressful since the roads in Boracay are not so okay. Overall, food, service, accommodation, location are really nice. We'll be back for sure.
Wanderer55556654927
13/08/2022 From Tripadvisor
A long over due date with my roommate.
Its a nice place to relax and unwind. Far from the madding crowd. The hotel has an exclusive beach front and a wide pool at various depth. It has 2 restaurant and coffee shop. Coffee and chocolate are free between 3-4 pm. You can avail with their transport from the airport to the hotel with no hassle at reasonable price. Food is okay. They have a clinic to attend to your medical needs. They have a shuttle bus to and from the hotel and downtown area.
phycasty
08/08/2022 From Tripadvisor
Amazing
We had the bestest time. The staff were very accommodating, over and beyond. The cleanliness and safety measures are perfect. Riri of Brezza and Sam of Frontdesk were really great. The place is beautiful.