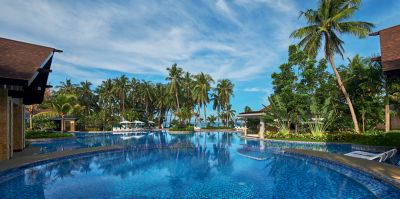 Mövenpick Resort & Spa Boracay
Restaurants & Bars
The Place to Savour Life
We believe in indulgence done right, treating our guests to deliciously fresh cuisine, abundant treats and flavours that are unmistakably Mövenpick, all served with a generous portion of heartfelt care.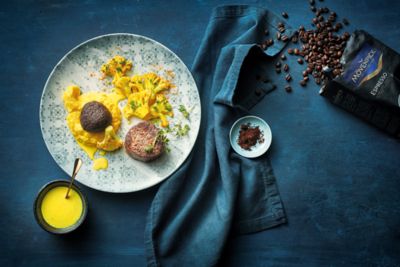 Facilities & Activities
Where Life Tastes Sweeter
Help yourself to the good life at Mövenpick. From sunny pool days to indulgent spa time, energising workouts to immersive cultural experiences, we invite you to drink it all in.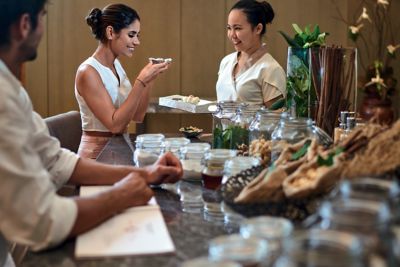 Meetings & Celebrations
Memorable Meetings & Sparkling Celebrations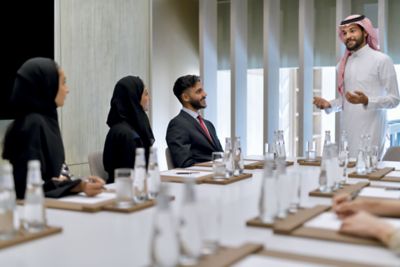 scroll up for previous option
Meetings that satisfy
With enticing venues and a menu of professional services, our meetings solutions are a recipe for success.
Find out more
scroll to show detail options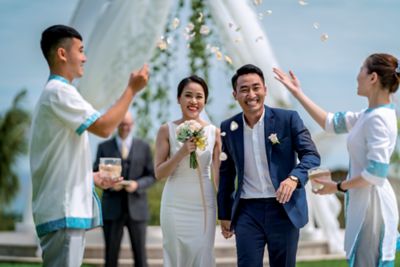 scroll up for previous option
Events bursting with flavour
With a touch of sugar, spice and everything nice, we'll help you celebrate life's rich moments.
Find out more
scroll to show detail options
Practical Information
Practical Information
Reviews
Peter G
04/07/2022 From Tripadvisor
BORACAY ESCAPADE 2022 POST PANDEMIC
It was indeed a great experience staying at Movenpick Boracay last June 27-29, 2022. upon arrival at the island, Vince the representative from the hotel assisted us from the arrival gate, to the port transfers, to the van transfers and to the property. He was courteous and accommodating. He made sure that we were treated nicely. And was given special attention. At the concierge, we had a smooth check-in and they assisted us until we reached our rooms. We were impressed with the suite. It was spacious and very clean. We we greeted with a bottle of red wine and some pastries. the bed was made with swan decorations and petals. It made us extremely happy that the hotel did not forget that we were celebrating our anniversary. It gave us a sense of welcoming. We were pleased. During our stay we enjoyed the chocolate hour and our time at the pool as well as at the beach. The facilities were modern and in style. We love the ambiance. It was serene. The beach front was amazing as it is private for in-house guests. We felt secured. The food was also great. We had our buffet breakfast at the Market. The food variations was satisfying. The staffs were attentive and diligent. We also ordered pizza from Breeza and it was also delicious. We had a great time at Movenpick Boracay and we highly recommend this hotel for families and group of friends. We had the best vacation in the Philippines and we will surely be back. We had fun! Thank you for the wonderful experience.
jeremyjessley
03/07/2022 From Tripadvisor
Great place for a peaceful relaxing retreat
What we love about Movenpick? - the Family Room was great value for money accommodations. - the pool was lovely. We spent our whole stay pretty much just lounging in the pool. - the beach was great! Ok, the sand was not as powdery as the ones in stations 1,2 and 3. But it good enough to enjoy. It was not rocky and the water was really clean and clear. - peaceful. If you want to run away from the crowded stations in Boracay this is one of the place to consider. What could be improved from our point of view? - food choices. Staying for 4 days there, we felt the menu lacked variety. If it wasn't for convenience we would've ate in other places. There was just not enough to choose from. Plus prices are on the high side which is fine knowing that it's a lucury resort, but we wished there were more options. Breakfast though was good. And the Chocolate Hour was a nice afternoon treat. - service was hit or miss. There were great staff and then there were seemingly inexperienced one. Then at times food comes out a bit slow. But overall, the mishaps were not a big deal, service was still good. Would we come back? Yep, for sure! Station 0 is definitely a nice area for laid back and peaceful retreat for anyone looking to escape the city.
DauphinJonas
03/07/2022 From Tripadvisor
A quiet gem in Station 0
Given the chance again to visit Boracay , this resort will be on top of my list. The well trained staff is the true gem of this resort. The room is basic and comfortable , I would prefer that they provide more drinking water to the guests though. The facilities in the resort are good and just a few steps away. The shuttle service to the town center is a great perk. Food selection for breakfast and dinner is great. Their pizza is great! The swimming pool is huge ! The beach front of the resort is the best among those in Station 0. The chocolate buffet is a nice touch the kids and the not young at heart will love. If you want a quiet hideaway in Boracay, Movenpick for it's price range is the best. Keep up the good work. 😊
19Thomas84
01/07/2022 From Tripadvisor
5 Stars
This resort restored my faith in customer service. All the staff were amazing right from when we arrived at the airport to returning us back. The facilities are well maintained and it's a wonderful relaxing environment.... will definitely return
rhexs
26/06/2022 From Tripadvisor
Best Family Resort in boracay
When going to boracay for a family trip, the hotel delivers the needed and so much more. My review is short but i wanted to just commend the resort for its facilities, the rooms (premium suite is a must), the location and most of all the warmth of ALL of the staff. One of the best family hotels in Boracay. Truly a must (trust someone who has visited so many times).