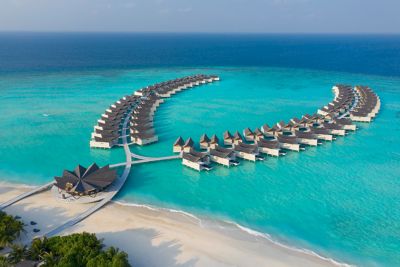 Mövenpick Resort Kuredhivaru Maldives
Indulge in our sweetest moments
Restaurants & Bars
The Place to Savour Life
We believe in indulgence done right, treating our guests to deliciously fresh cuisine, abundant treats and flavours that are unmistakably Mövenpick, all served with a generous portion of heartfelt care.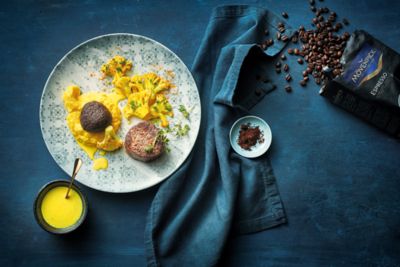 Facilities & Activities
Where Life Tastes Sweeter
Help yourself to the good life at Mövenpick. From sunny pool days to indulgent spa time, energising workouts to immersive cultural experiences, we invite you to drink it all in.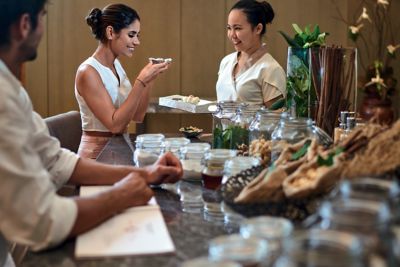 Meetings & Celebrations
Memorable Meetings & Sparkling Celebrations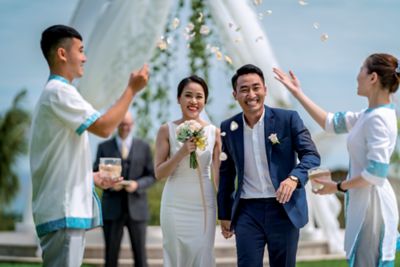 scroll up for previous option
Events bursting with flavour
With a touch of sugar, spice and everything nice, we'll help you celebrate life's rich moments.
Find out more
scroll to show detail options
Reviews
Meshal_kw
03/07/2022 From Tripadvisor
Holiday
We had a short trip with ahmad the water sport guy and donia she took us in a tour around the resort and she helped us alot and she managed for us the spa date and the photographer date ( +rep donia )
IdaPorsager
03/07/2022 From Tripadvisor
Exceeding expectations
We chose Mövenpick as our honeymoon destination in the Maldives and were simply blown away by the experience. We visited in June during the rainy season, which means that we experinced rain showers roughly every second day. This was however not a problem as the rain persists for less than an hour and then you are gaurenteed good weather the rest of the day. The rainy season also means slighty more wind and waves and thus less visibility in the water when snorkeling or diving. It is however not that bad and we would happily return during the rainy season another time. The resort is 45 min from Male airport by seaplane, which was arranged by the resort. We were greated at the airport by helpfull Mövenpick staff, who helped us check in at the seaplane and offered lounge access while waiting for the seanplanes. Arriving at the resort, we were greated by the resort manager and shortly after introduced to our fantastic island host, Ishaal. Ishaal drove us arround the island and explained about the three restaurants and all the available activities before taking us to our over water villa. The villa was amazing and we had a beautiful view of the lagune. The island offers three restaurants and you can freely choose between them as you'd like. The main restaurant is large and offers different cuisines everyday, then there is a Japanese inspired gourmet restaurant and finally a beach club like restaurant. We enjoy food and tried almost everything these restaurants had to offer and were positively surprised by the quality, freshness and especially the fish. All staff at the restaurants were friendly and we didn't experience the stress that typically (and naturally) can be in restaurants, meaning that all meals were a relaxing experience. All guests can borrow snorkeling gear for free and we ended up snorkeling several times a day, which is a must given the beutiful house reef the resort has to offer. We met several rays, sea turtles, small friendly sharks and dosens of beautiful fish. We also joined the dolphine and sea turtle tour one morning, which is a must since you will most likely see dolphines but for sure see several sea turtles. We brought long sleved UV protective t-shirts to protect against the sun but these also turned out handy as protection against the unavoidable plankton, which will otherwise irritate your skin. The trip was well arranged and the guide was friendly and higly engaged in finding good spots for snorkeling. The island also offers an airconditioned fitness center with treadmills, bikes, a stair climber, hand weights and several fitness equipment, all of it sufficient for a good workout. The resort offers all kinds of activities and one of the activities we joined was a garden walk with the island gardener. He showed us the production taking place on the island and given our big interest in cooking it was fun to see many of the ingredients we use back home growing on the island. The gardener even asked us to come back the day after as he would prepare a surprise. The surprise was the opening and tasting of three types of coconuts; one salty, one sweet and one that was sprouting. The last one was a new and very interesting and special experince for us. The resort offers many more activities and you can easily get the time to pass. Some activities are free and the ones that are not seemed fair in price. Our overall experience was 10 out of 10 and we would definitely consider comming back in the future. A special thanks goes out to the extremely friendly staff - among others: Joy, Shiaam, Asad, David, Shome, Fazal and the diving instructor Alif. Thank you for making this the best vacation ever!
Scenic57506079597
01/07/2022 From Tripadvisor
تجربة خياليه wonderful experience
Fantastic experience with Mövenpick Maldives..and thanks to the employee Donia. She was very helpful or she was with us from the beginning of the trip to the end. And the place is wonderful, clean, beautiful views, and restaurants are amazing by really delicious dishes.. Especially the Japanese restaurant was very wonderful thanks also to the excellent chef ..I advise everyone to go there and enjoy and ask for Dunya by name so that you can make a wonderful schedule for your trip.. I will miss you 💔
Dijana K
27/06/2022 From Tripadvisor
Love you Mövenpick!
This resort is the best I have ever been! Loved our stay in the underwater villas, ambience, staff, food - everything was lovely! The best place to have a relaxing, luxury holiday. Recommend having a breakfast on the pool- as this is one of a kind experience 🥰
nikinagyniki
27/06/2022 From Tripadvisor
One of the best places in the Maldives!
I had such an amazing time at Mövenpick, I honestly couldn't find anything wrong with my stay there, except that it should have been a lot longer! The villas are amazing, very pretty, very spacious and very private. The staff is super kind and helpful. It's an adorable island, I can't wait to return!
Frequently asked questions
Mövenpick Resort Kuredhivaru Maldives is located 45 minutes north of Male International Velana Airport, in the Noonu atoll.
The address for Mövenpick Resort Kuredhivaru Maldives is:
Mövenpick Resort Kuredhivaru Maldives
Kuredhivaru Island, Maldives
20026 Noonu Atoll
Maldives
Mövenpick Resort Kuredhivaru Maldives first opened in November 2018.
Mövenpick Resort Kuredhivaru Maldives offers a number of activities for guests to enjoy, such as:
Canoeing
Catamaran sailing
Water skiing
Fun tube
Wakeboarding
Jet ski tour
Jet blade session
Parasailing
Banana boat
Windsurfing
Windsurfing lessons
Sailing lessons
Snorkelling lessons
Sunset cruise
Starlit cruise
Snorkelling tour
Dolphin and turtle cruise
Snorkelling with mantas
Scuba diving and PADI courses
Tennis
Yoga
Fitness activities
Kids program
Volleyball
Cooking lessons
Wellbeing experiences
Mövenpick Chocolate Hour
Cocktail party
Floating breakfast
Borderless dining
Some of the property amenities at Mövenpick Resort Kuredhivaru Maldives:
Spa
Fine dining venues
Fitness centre
Water sports and dive centre
Pools in all the villas
Coffee machines
Infinity sunset pool
Clinic
Yoga sala
Yoga overwater deck
Pool service
Tennis courts
Volleyball court
Kids' club