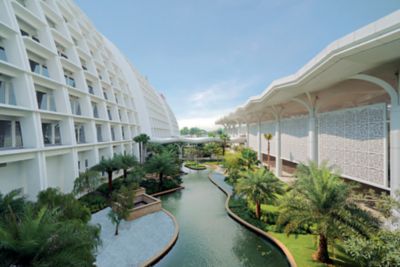 Mövenpick Hotel And Convention Centre Klia
Mövenpick Hotel And Convention Centre Klia
Stay at Mövenpick Hotel & Convention Centre KLIA, our contemporary Kuala Lumpur hotel with Islamic design influences, just 10 minutes to the Kuala Lumpur International Airport (KLIA), 7 minutes to the Sepang International Circuit and 5 minutes to Mitsui Premium Outlet Park. Our 332 luxury hotel rooms at Mövenpick Hotel & Convention Centre KLIA offer great views of the lush gardens of Sepang District and complimentary Wi-Fi. Daily airport transfers are available at specific times. Kindly contact the hotel for the latest schedule.
Our family-friendly hotel in Kuala Lumpur offers something for everyone with a Kids club and outdoor play area to keep the little ones entertained. Discover a range of spa & wellness facilities at Mövenpick Hotel & Convention Centre KLIA.
Take a quick dip in our enchanting swimming pool after a long day of meetings or either sightseeing or enjoy a workout in the well-equipped gym. Savour great food from Malaysia and the wider region in our five restaurants and lounges in Kuala Lumpur. The convention centre and meeting rooms make this upscale Sepang hotel ideal for business meetings and all kinds of events.
Restaurants & Bars
The Place to Savour Life
We believe in indulgence done right at this luxury hotel in Kuala Lumpur, treating our guests to deliciously fresh cuisine, abundant treats and Malaysian flavours that are unmistakably Mövenpick, all served with a generous portion of heartfelt care in all our restaurants.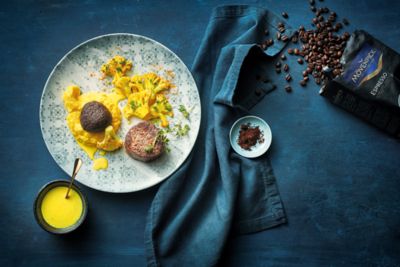 Facilities & Activities
Where Life Tastes Sweeter
Help yourself to the good life at Mövenpick Hotel And Convention Centre Klia. Enjoy immersive cultural experiences in our five dining outlets, we invite you to take it all in.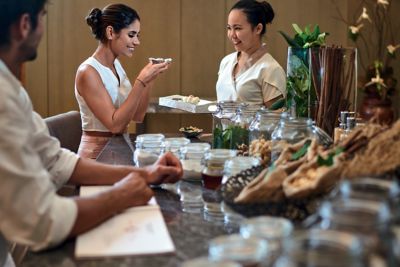 Meetings & Celebrations
Memorable Meetings & Sparkling Celebrations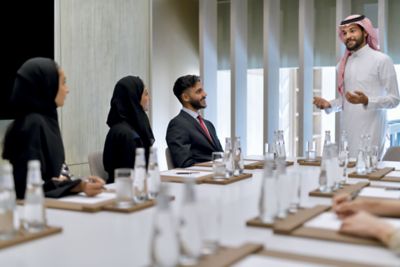 scroll up for previous option
Meetings that satisfy
With 13 enticing venues in KL and a menu of professional services, our meetings solutions are perfect to host small or larger events.
Find out more
scroll to show detail options
Practical Information
Practical Information
Reviews
lowyingying29
16/08/2022 From Tripadvisor
Overall satisfied
Not bad I would say. It's clean and comfy but one of the lights were broken and became a night light instead lol… The breakfast area was WAY TOO CROWDED considering the pandemic. Nevertheless nasi lemak was good.
sasikumarrajapan
28/07/2022 From Tripadvisor
Short & Pleasant staycation at Movenpick KLIA
Great team that had made our stay a very pleasant and full of surprises. The family, especially the kids had a good time throughout the stay. Thanks to the Movenpick team that took the extra effort to prepare the welcome treats and the balloons for the kids. We appreciate the though to upgrade our room. Thanks.
Af1kah
14/07/2022 From Tripadvisor
Bussiness travel
Very accomodating staff The entire staff especially front desk duty Miss Amy were very welcoming and went to great lengths to fulfill all my needs,.. She was so helpful when I needed help during the checkin in process and again after the checked out process and gave good tips about visiting the area . A truly nice and beautiful building and close to the airport. Everything worth with the price. Will come again next time.😘💕💕
Mateusz W
13/07/2022 From Tripadvisor
unexpectable very good stay
i am diamond member Accor Plus , i have huge expirience in traveling and im very happy about stay in this Hotel. I was read lot of negative comments about this Hotel and i wonder who and what for wrote it, becouse i is not true. Maybe someone do not like that can not drink alkohol here, but You should have respect to culture and religion to country where you are, except of that in this Hotel is extremly nice and helpful team - everywhere- at front desk, bar, restaurants , swimming pool ... Very tasty and quality products at breakfast . ideal Hotel to rest before and after fly , or just to stay and enjoy Hotel , especially with kids ...at swimming pool , play grounds, tennis court. very good value of quality to price, menagement of Hotel care a lot about loyal Accor members , what for my personal thanks for menagement.
VersatileThinker
20/06/2022 From Tripadvisor
A short time stay
We stayed here during Ramadan due to send my family to KLIA. Booking made through a call to the hotel, smooth and convenient. We arrived late at around 10:00pm however we were greeted with a smile by the bellman at the door and later on the friendly front desk staff at the reception counter. The room is clean, big enough for me and my family. We had our early breakfast since it's a fasting month and the food was delicious and the spread was great! Overall, the staff had done a excellent job, friendly and always helpful even in the restaurant. Pity, we only stayed there for no more than 8 hours. We'll come again for sure.