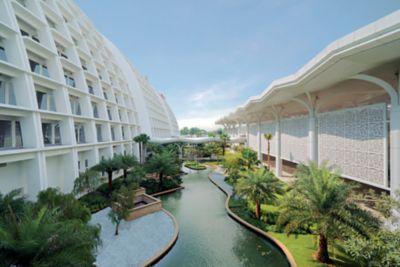 Mövenpick Hotel And Convention Centre Klia
Restaurants & Bars
The Place to Savour Life
We believe in indulgence done right, treating our guests to deliciously fresh cuisine, abundant treats and flavours that are unmistakably Mövenpick, all served with a generous portion of heartfelt care.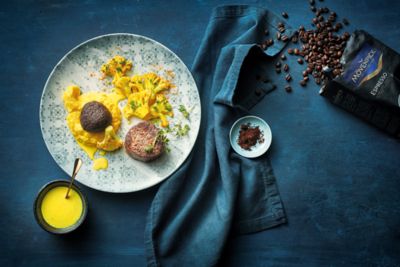 Facilities & Activities
Where Life Tastes Sweeter
Help yourself to the good life at Mövenpick. From sunny pool days to indulgent spa time, energising workouts to immersive cultural experiences, we invite you to drink it all in.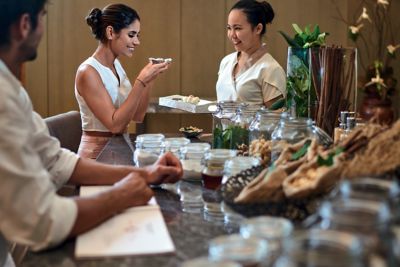 Meetings & Celebrations
Memorable Meetings & Sparkling Celebrations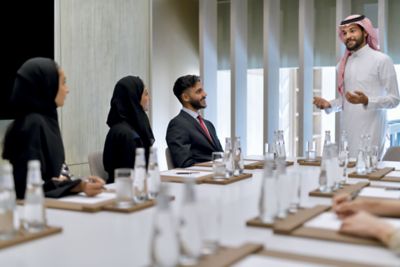 scroll up for previous option
Meetings that satisfy
With enticing venues and a menu of professional services, our meetings solutions are a recipe for success.
Find out more
scroll to show detail options
Practical Information
Practical Information
Reviews
VersatileThinker
20/06/2022 From Tripadvisor
A short time stay
We stayed here during Ramadan due to send my family to KLIA. Booking made through a call to the hotel, smooth and convenient. We arrived late at around 10:00pm however we were greeted with a smile by the bellman at the door and later on the friendly front desk staff at the reception counter. The room is clean, big enough for me and my family. We had our early breakfast since it's a fasting month and the food was delicious and the spread was great! Overall, the staff had done a excellent job, friendly and always helpful even in the restaurant. Pity, we only stayed there for no more than 8 hours. We'll come again for sure.
AjuDien
16/06/2022 From Tripadvisor
Thank you Movenpick
Room 4211 was very clean, the bed and pillows are really comfortable. All the staff is very nice, helpful and welcoming us especially one of your staff named Shafirul very kind & very helpful providing all the details needed during our stay at Movenpick. Definitely will come back again.
uzyn11ixi
07/06/2022 From Tripadvisor
Unique Architecture with matching quality
Location of the hotel is great for those travelling into Shah Alam or PJ from the North-South Highway. Nice rooms with clean facilities, good for family. A uniquely designed building with instagrammable family potraits. Outdoor parking may cause some inconvenience when it is raining.
Lenn831
07/06/2022 From Tripadvisor
Good hotel not so good shuttle service
I consider this the 2nd best hotel for overnight stay near KL international airport. Our room (king bed) was quite luxurious and had pretty much all you need for an overnight stay: electric kettle, tea and coffee bags/sachets, complimentary water, fridge, toiletries, bath robes, etc. TV had several popular news channels. A safe is provided. The bathroom had separate toilet and shower facilities. The shower stall was very large. Very clean throughout. Individual room air conditioning control panel. One minor blemish - one of the hooks in the bathroom was not properly installed and it kept falling off whenever you removed your the towel. There was not much of a view outside the hotel. A major police station is just outside and not much else. Shuttle service is poor in terms of frequency. On the website, it states it's every 2 hours but there's no service between 8 am and 12 pm. Also, the website doesn't state that you have to reserve the service. When we arrived at the airport at 10 pm, we waited at the pickup point. After waiting a while, we called the number listed on their website and no one picked up the phone. We tried several times. We ended taking Grab to the hotel. We brought this up when we checked in but only got an apology - no explanation why no one answered the phone prominently listed on their website. We also wanted to get a later shuttle than the one at 8 am, but the guy at the reception was totally inflexible. Fortunately, his lady colleague who was nearby heard and offered to make the necessary arrangement for an 8:45 am shuttle. All in all, a nice, quiet hotel but shuttle service, which is an important consideration for an airport hotel, needs to be improved.
Thomas D
01/06/2022 From Tripadvisor
It could be even worse.
Recently I booked this Movenpick hotel for a short overnight stay only, as I had to wait for my flight connection. The staff was very friendly. I booked a Deluxe room and it was huge or even too huge. And it was clean and some parts were modernly designed. Only the towels in the bathroom were either old or of low quality, as some of them pulled fringes. I was missing USB ports and more power outlets in general. And the WiFi was a mess! It was so slow and unstable, that you hardly could watch a YouTube video or even sometimes open a regular page. Or it malfunctioned completely. The airport shuttle is kind of ridiculous. It is supposed to run every two hours only. I booked a ride for 06:00 am in the morning and had to wait a certain time until somebody in his private car showed up. Maybe they booked a Grab car or similar… I have no idea.