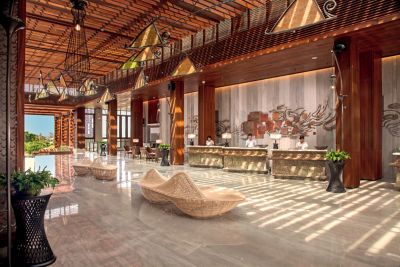 Restaurants & Bars
The Place to Savour Life
We believe in indulgence done right, treating our guests to deliciously fresh cuisine, abundant treats and flavours that are unmistakably Mövenpick, all served with a generous portion of heartfelt care.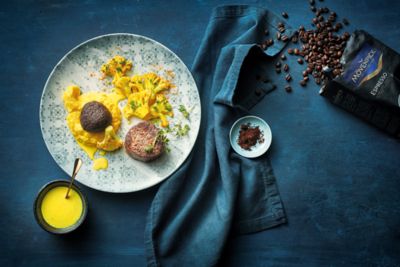 Facilities & Activities
Where Life Tastes Sweeter
Help yourself to the good life at Mövenpick. From sunny pool days to indulgent spa time, energising workouts to immersive cultural experiences, we invite you to drink it all in.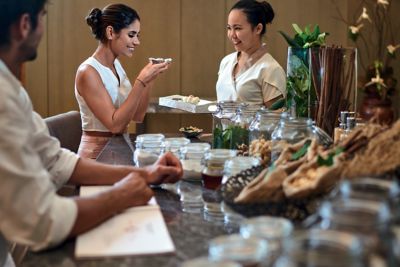 Meetings & Celebrations
Memorable Meetings & Sparkling Celebrations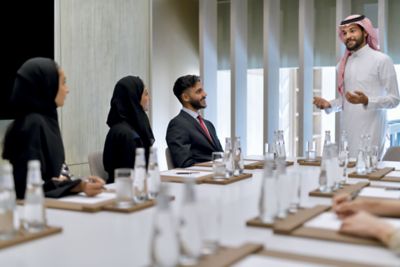 scroll up for previous option
Meetings that satisfy
With enticing venues and a menu of professional services, our meetings solutions are a recipe for success.
Find out more
scroll to show detail options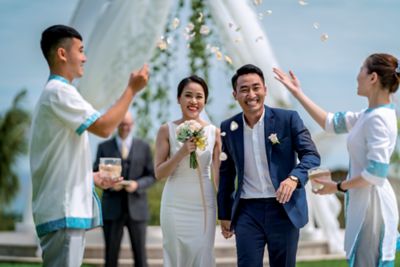 scroll up for previous option
Events bursting with flavour
With a touch of sugar, spice and everything nice, we'll help you celebrate life's rich moments.
Find out more
scroll to show detail options
Practical Information
Practical Information
Reviews
310mikhael
25/05/2022 From Tripadvisor
Good for family with kids
Finally tried this hotel after several time planning to stay but ended up canceling our stay. This is grand hotel with a beautiful design. Property wise : 1. Grand lobby heading to ocean, very well designed, 2. We book junior suite room, spacious room, well design with small dining table and sofa, dressing room. Bathroom was spacious and bright, good amenities. Unfortunately our room has musty odor, i believe this room hasnt been used for quite long time during pandemic. I understand their situations but it has to be improved. 3. Facility. Huge swimming pool, many cabana can be used based on first come first serve. Kids pool also huge and entertainibf, water slides, and some other facility. Beach is 200-300 meter away, access to beach is open from 07.00 to 19.00. Its punlic beach so not so enjoyable. 4. Breakfast provides wide array of menu, we enjoy it alot. Hotel are located in eatery and small shopping complex, i believe this complex managed by the hotel. Found this eatery help alot for guest who dont want to go outside, especially there ate nothing to do in Jimbaran area. I basically enjoy our stay and will come back when visiting Bali.
iburenac
24/05/2022 From Tripadvisor
Holiday
Pelayanan very good. Fasilitas nice. View very good. Best hotel in bali . Good deal.sangat puas tinggal di movenpick....thank you to bu mila Hope will be back again Kamarnya bagus sekali Dan mkanannya enak
Jacinta T
21/05/2022 From Tripadvisor
Everything great apart from balcony view from room
Customer service was fantastic, staff went out of their way to accomodate our needs. Pool area amazing, room clean and very comfortable. WiFi average. Disappointed with our room what we thought we were getting and what we got was completely different. We booked a King size garden view room however view from balcony ended up a cover of grey stones as you can see by the photos not a garden view at all. We do enjoy use of a balcony so was unpleasant. As a first year Accor plus member and especially with limited use due to pandemic I did expect more.
Apple S
20/05/2022 From Tripadvisor
Incredible Stay in Suite
We stayed in the suite at the Movenpick which did not disappoint! The place was extremely spacious and gorgeous! We had a private pool and even a floating breakfast. The resort has so many amazing activities; fitness room, bicycles, chocolate hour, kids club , yoga and you can even learn about the Balinese culture such as their making offering. Oh and the Spa!!! The massage was absolutely amazing. I was very impressed by the service and food! All the staff were so friendly! I can not recommend more. Thank you to all the team at Movenpick for making our stay unforgettable.
V496BWsarahc
20/05/2022 From Tripadvisor
Great hotel and friendly staff
We had a great (although too short) stay at Movenpick. The staff were very friendly and helpful. The pool was great - so nice to be able to float around into the lap pool, or the beach pool, or the pool bar area. The floating bean bags were a big hit. The kids liked the kids club, although are probably a bit old for it now as they were quite happy in the pool. The breakfast buffet was awesome, especially the juices. My only complaint would be that I found the light switches in the bedroom confusing, we were in the split level family room and I couldn't really work them out. A bit shout out to Robi from the night shift house keeping, who helped us when our kid was sick, THANKS!