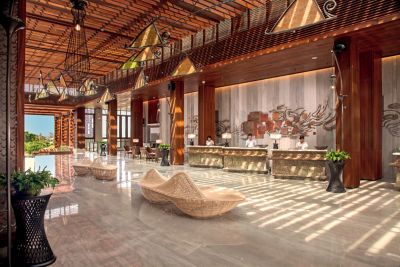 Restaurants & Bars
The Place to Savour Life
We believe in indulgence done right, treating our guests to deliciously fresh cuisine, abundant treats and flavours that are unmistakably Mövenpick, all served with a generous portion of heartfelt care.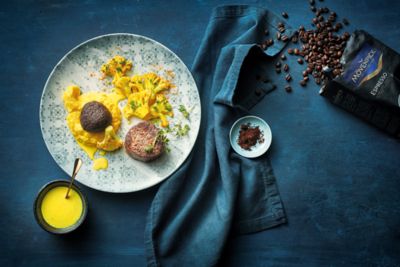 Facilities & Activities
Where Life Tastes Sweeter
Help yourself to the good life at Mövenpick. From sunny pool days to indulgent spa time, energising workouts to immersive cultural experiences, we invite you to drink it all in.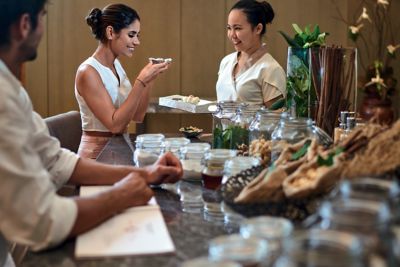 Meetings & Celebrations
Memorable Meetings & Sparkling Celebrations
scroll up for previous option
Meetings that satisfy
With enticing venues and a menu of professional services, our meetings solutions are a recipe for success.
Find out more
scroll to show detail options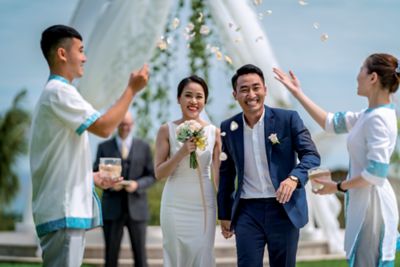 scroll up for previous option
Events bursting with flavour
With a touch of sugar, spice and everything nice, we'll help you celebrate life's rich moments.
Find out more
scroll to show detail options
Practical Information
Practical Information
Reviews
Fernando R
04/07/2022 From Tripadvisor
My detailed review after a 45-night stay
After staying for 45 days at Mövenpick Bali, here's my detailed list of pros and cons that I hope will answer most questions that potential guests may have before booking a stay, as well as some suggestions for improving the experience: Pros: +Price for what you receive is very fair, the equation is definitely well balanced. +Location is good, walking distance to Jimbaran Beach and connected to Samasta Mall which has several good restaurants and bars. +Service in general is very friendly and helpful, had zero issues with anyone from the hotel staff during my long stay. +Free Chocolate Hour at 4pm every day, like all the other Mövenpick hotels, is definitely a plus. +If you have kids, this hotel is definitely catering to your satisfaction (if you don't have kids, you'll find your answers in the cons part of my review). Families with children will absolutely love this hotel! +Huge swimming pool area with many options of where to lay down whether you prefer shade or sun. +Room was very comfortable. Good bed and good pillows. Shower and bathtub were good too. Everything inside the room was fine, which is very important for a nice stay. +They have a decent gym for hotel standards. It was definitely a plus for me. Can do a basic training session there without any problems. It's a plus. +The spa was fantastic! Brand new, beautiful, clean, and service was amazing. We had a wonderful couples massage, probably the best one we had in Bali. Super recommended, it was one of the highlights of our experience. +Loved the part of the swimming pool area with sand as if it was a beach. Very creative concept. Many people liked it too! +They have bikes for rental, you can take them to the beach and local village for a nice ride. It was a very pleasant experience! +They have very interesting cultural activities that you can book. We learned how to make traditional offerings, and also how to write in Balinese calligraphy. It was very nice! Cons: -It seemed more like a "kids dominated" hotel than a "kid friendly" hotel. Its not the place to go if you're a couple looking for a relaxing atmosphere. You don't have a minute of peace with all the running and screaming everywhere, and the local families tend to let their kids go absolutely wild without any concept of civility and respect to the other guests. -Breakfast was a let down. Extremely noisy and chaotic, and you end up spending two hours there because service is so slow. It literally took us on average 30 minutes every day just to receive our hot coffee lattes. Communication was also very bad, everyone had an extremely basic understanding of English, so lots of confusion ordering something and receiving something else. -There are many options for food and drink. However, it's the exact same menu everywhere. Nothing changes from place to place. For a 3-4 days stay, it's not a problem. But when you're staying longer, it's quite frustrating to have no other options. -Room cleaning service was very unreliable. No clear pattern, a different kind of service each day. One day they didn't replace towels, the other day no toilet paper, the other day we got 8 bottles of water (awesome), and on the next only 2 bottles (oh no). Every day there was something different happening on this front. -There are so many events from outsiders happening at the hotel, which is bad for guests. There was something every week, with dozens of outside people inside the hotel walking around. -Security personnel was rather useless. The same security people couldn't remember you from 10 minutes ago when you passed by them, but I could remember all their faces without any problem, which means that I was safer with myself than with them. Also they always asked the room number, and I figured out that whatever number you said to them was good enough, so there was absolutely no security happening there whatsoever. Still, they keep asking you for the room number anyway, which is bothersome if there's no use to it. -They still have this archaic thing of asking you to block some security deposit on check in. You don't have the option to pay as you go, which is quite strange. I had to wire them money via bank transfer three times. Each time, the amount they received was different than the amount that left my bank account - always to the downside. Each time they had a different explanation as to why I sent $200 and they only received and added to my bill $180. It was like a mysterious and random tax each time, no one could explain it to me. When they blamed my bank for it, I had the proofs to show them that there was nothing wrong with my side of things. As mysteriously as the magical charges, they decided to refund me of all the disappeared money from my wire transfers, which was as strange as the charges themselves. I still have no idea what happened there: at one point it was a matter of currency conversion, then it was a matter of bank charges, then it was my bank charges (nope), and then after fighting about it there were no charges at all and they gave me the money back. -Food quality consistency was not there. We had the same menu for 45 days, so we ordered everything there was to order many times. Things varied a lot. One day the tomato soup was a cold soup with big chunks of tomato inside. Next day it was a hot creamy soup with avocado pieces on the side. Same happened with the desserts as well - the cheesecake was completely different from one day to the next. The mie goreng kept changing as well: one day I had 3 chicken skewers, next day only 2. One day with egg on the side, next day with eggs mixed with the noodles. -WiFi had many problems. Many days it wasn't working at all, and complaining didn't help with anything. For us who are digital nomads, it was a big issue. -Maybe they're doing special discount prices for weekend staycation. I'm not sure if that's the case. But anyway, on weekends the hotel was hellish - so many people everywhere, hundreds of kids, noise… it was so crazy and out of control! -Inflation in Indonesia is at 3,50%. However, in the middle of our stay, the whole menu went up exactly 15% in price. From one day to another. In addition to that increase, you still pay the additional service tax on top of that, so it's hard to comprehend. My suggestions and recommendations: -The "kid dominated" thing must end. You'll lose so many guests like me who are traveling as a couple to have a relaxing time. There must be some sorts of control: book room with kids in one building and rooms without kids in the other building, for example. Also, there's a reason why the original architects of the hotel built the kids pool with their toys on one extreme of the hotel and the olympic pool on the far other extreme - kids will play on their area, and adults will stay on their area. The way it is now, kids dominate everywhere and you have no peace anywhere. -Everyone needs a better training of English. Communication was worse at Mövenpick Bali than in the other five star hotels we've been to in Bali. -Different menus in different restaurants. There's no sense in having different places to enjoy food and drinks when they're all the same. -Food consistency. A dish can't be different each day depending on who's inside the kitchen. Everyone needs a better training inside the kitchen. -Real security or no security at all. I'm not bothered by having no security at all, but I understand that some gringos are. So perhaps having real security people would be an improvement for most guests. -People from outside events must be confined to the 3rd floor only, where the event is happening. They can't be roaming around the hotel freely like that, and if they're entering the hotel from the 3rd floor entrance (as they should), there's no need for them to use the elevator to go anywhere, which was a problem for us with the elevator always full with event people exploring the hotel. -If you're doing special promotions for weekend staycations, please stop this because the hotel gets crazy and out of control and people who are looking for a genuine Movenpick experience feel cheated.
lenz86
01/07/2022 From Tripadvisor
Family and kids heaven!
We stay at interconnecting classic room, very comfortable, kids enjoy this room and enjoy swimming at the huge pools playing sand, playing slide...Kids also having so much fun at the kidsclub and didnt want to stop... We also have dinner at Anarasa restaurant and the food was great, laksa, burger, pizza, all great! Definitely will come back stay at Movenpick with all families..
Crouching Tiger H
29/06/2022 From Tripadvisor
Under staff
Check in yesterday for 3 nights, and we soon realize that this hotel really understaff. they were really overwhelmed by a sudden overflow guests after 2 years COVID. Our curtain have stains here and there, ants come on and off the table, problem with the bidet (spent 2 hours to fix- the staff said they took another bidet from other room to fix mine). This hotel let their guests use the back door to go to the beach (5-10mins walk) but they close it at 7pm. No one remind us and no sign saying this. So when we got back from our dinner at the beach, the gate was locked. No security guard that gate. And the worst part is no sign telling us how to get back to the hotel. Plus road was so dark. We end up asking people who passing by for direction.. In the morning at the gym, I have problem to find the power button of the treadmill and asking the staff nearby. But he doesn't know and promised to find someone know and he never come back. 15mins and a new staff come inside but apparently he's not what i was waiting for so can't fixed the problem either. But this one at least try to contact someone and power button solved. But when I asked for something else he said it's not my job so I don't know and promised came with another guy. And as you can guess he never came back...day 1..
987debbyd
29/06/2022 From Tripadvisor
Marvelous Movenpick
Mövenpick is the best hotel we have stayed during our 5 weeks vacation in Bali. Swift service at the front desk area, from reception until security team at the lobby. Easy check-in - check out process. We were greeted by name from most of the team members!! Idk how they did this 😍 Fantastic Food and Beverage teams from the breakfast rooms , in room dining and the Pool bar Crew. The swimming pool is one of the best family friendly pool in Bali according to my opinion. Its has toddler friendly slides, another kids pool right on the front of the kids club for the baby/ kids below 3 years, it also has pool with sands, its has long pool that fits for those whose like to do lap. And it also the only hotel who has Pool Guard on duties. It made us so as less worried as parents and can enjoyed our time at the pool. One of our toddlers were sick during our stay and the hotel team took care of us. The concierge team delivered the medicine that I bought via online app - Go Shop- right to the room without asking me to collect it by myself , the housekeeping gave us extra towel - so we can set it up on the bed, the inroom dining team delivered most of our kids meals swiftly after we ordered because we cant go anywhere. Kudos 🙌 The hotel not only perfect for our kids,but also for me and my husband. KATHA the lobby bar has impressive gin selections that we don't find it at another hotels we stayed at. We are truly enjoyed our free kids evening at Katha. The Spa / massage treatments is one of the best so far. The calming ambiance of the treatment room, relaxing yet powerful massage and the selection of oils was very good. In most of the hotels we were stayed, we can felt the post covid transition period. From services until the building/hotels conditions itself. We were definitely not noticed or experienced that in Movenpick. It was a perfect stay. I would like to thanks Astri and Alfian that has gone above ans beyond during our stay in the hotel.
Neil E
28/06/2022 From Tripadvisor
First class stay. First class service. First class food
First class stay. The hotel is excellent with very clean and well styled rooms. Alfie the loyalty manager is just amazing, always amongst the guests, talking and listening and making everyones stay the best possible. Alfie is a real credit to the Accor group . The chef Jeremy's cuisine is delicious top restaurant standard, great food choice, fantastic taste along with immaculate presentation. We stayed 5 nights and had dinner in the restaurant 4 times as on the first night we were blown away by the flavours and quality.