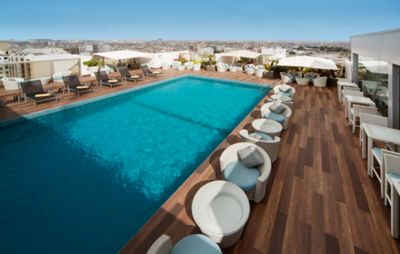 Restaurants & Bars
The Place to Savour Life
We believe in indulgence done right, treating our guests to deliciously fresh cuisine, abundant treats and flavours that are unmistakably Mövenpick, all served with a generous portion of heartfelt care.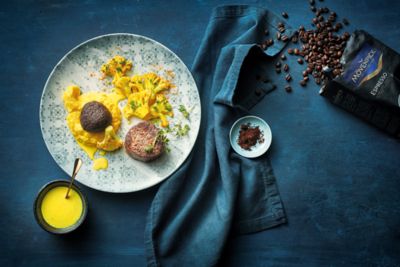 Facilities & Activities
Where Life Tastes Sweeter
Help yourself to the good life at Mövenpick. From sunny pool days to indulgent spa time, energising workouts to immersive cultural experiences, we invite you to drink it all in.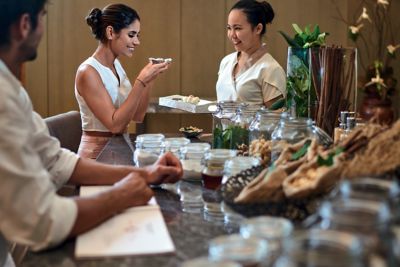 Meetings & Celebrations
Memorable Meetings & Sparkling Celebrations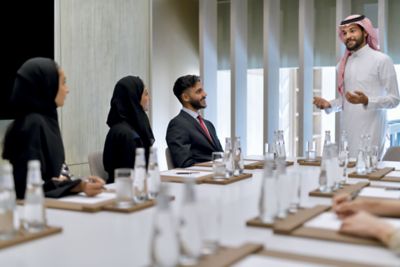 scroll up for previous option
Meetings that satisfy
With enticing venues and a menu of professional services, our meetings solutions are a recipe for success.
Find out more
scroll to show detail options
Reviews
Mike D
28/05/2022 From Tripadvisor
A Good Choice
Arrived early at this hotel but dealt with by a very friendly, and professional receptionist called Fatima Alki . She was welcoming and sorted my room very quickly. The hotel had a nice feel about and my room was modern, clean and well equipped. I ate in the 16th floor restaurant and had an excellent meal and would happily eat their again. The hotel is ideally located near a tram stop ( to save westerners being taken advantage by less than honest taxi drivers) Overall a really good visit started by being dealt with by Faima who continued to provide great service throughout. A credit to Movenpick Hotel
chionyerem
26/05/2022 From Tripadvisor
A Great Place to Stay
It was a great experience here. The hotel staff were wonderful. The staff especially at the lounge on the rooftop were warm, friendly and attentive to our needs. It's definitely one of the best choices for your stay in Casablanca.
ZINEBSAHMI
26/05/2022 From Tripadvisor
AMAZING
The staff was very friendly. They did a good recommandation for all the activities we chose. And the activities turned out amazing. The hotel was clean. The room and bathroom were clean as well. I would highly recommend this hotel.
DAVIDTATSCHL
24/05/2022 From Tripadvisor
Stay at Mövenpick Casablanca
Exeptionally friendly and helpful staff in all regards. Quiet in the upper floors. Also the cozy pool bar on the roof top invites for small meetings. Good and central location especially for Business trips in the area.
608hindn
24/05/2022 From Tripadvisor
Beautiful place
Awesome place the view is splendid rooftop amazing service and food quality the room is very spacious the housekeeping lady Rachida is wonderful huge smile she made my day Breakfast needs improvement but not bad at all
Frequently asked questions
Mövenpick Hotel Casablanca is ideally located in the business district of Casablanca, close to the Old Medina.
Mövenpick Hotel Casablanca is in the heart of the city centre.
Mövenpick Hotel Casablanca's address is:
Rond Point Hassan II, 
20070, 
Casablanca, 
Morocco
Mövenpick Hotel Casablanca is conveniently located close to popular attractions including:
10 minute walk to the shopping district, Maarif
10 minute drive to the historical site, Hassan II Mosque
10 minute drive to the Old Medina and The Bazar
Few steps away is the financial district with head offices of Banks 
Mövenpick Hotel Casablanca has been providing guests with a 5-star hotel experience since 2014.