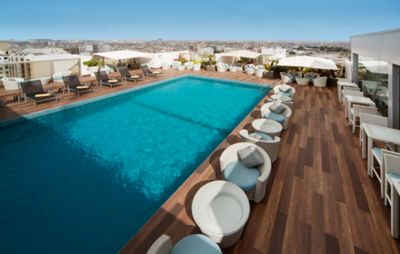 5 Star Hotel Casablanca
The Mövenpick Hotel Casablanca is centrally located within the business district of Casablanca and only a short distance from the Old Medina. The hotel is also easily reachable from both Casablanca Mohamed VI Airport and Casablanca Voyageurs Train Station. Because your arrival is an important point for a successful stay, our hotel offers a Fast Track service as well as Fast Track and VIP transfer package (inside the airport). The service is paid.
Explore a wide variety of conference and meeting spaces are also available in the hotel for events of up to 200 people. From small meetings , to conferences to weddings our hotel offers professional event planners to ensure your event runs smoothly.
Mövenpick Hotel Casablanca offers variety of restaurants to fit the culinary needs of all guests. Our restaurants are open seven days a week. Explore the Casablanca Café, Rooftop Le 16ème and Graffiti. All of them provide international cuisine.
Restaurants & Bars
The Place to Savour Life
We believe in indulgence done right, treating our guests to deliciously fresh cuisine, abundant treats and flavours that are unmistakably Mövenpick, all served with a generous portion of heartfelt care.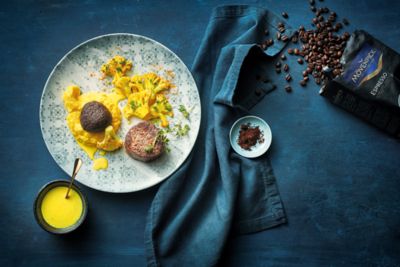 Facilities & Activities
Where Life Tastes Sweeter
Help yourself to the good life at Mövenpick. From sunny pool days to indulgent spa time, energising workouts to immersive cultural experiences, we invite you to drink it all in.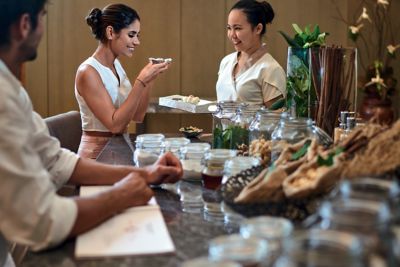 Meetings & Celebrations
Memorable Meetings & Sparkling Celebrations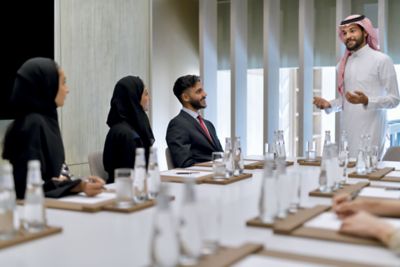 scroll up for previous option
Meetings that satisfy
With enticing venues and a menu of professional services, our meetings solutions are a recipe for success.
Find out more
scroll to show detail options
Reviews
ShameerN
10/08/2022 From Tripadvisor
Great restaurant at Movenpick Casablanca
Essafa was the head waiter provided amazing service. We really enjoyed the atmosphere. The staff was very helpful and spoke English which made it easy. Food was good quality. Would highly recommend to visits.
Rrrrave
26/07/2022 From Tripadvisor
Wonderful Day-to-Day Staff lifting up average hotel
My husband and I stayed at the Movenpick Casablanca for several weeks. Here is my opinion: Pro: - The large majority of staff is excellent, they made the hotel feel like home! 5* In the morning we were greeted with a big smile by the wonderful Murat, and after a couple of days when we got to know everyone, our espressi even were brought without having to say a word - thanks again, this was much appreciated. A special thanks also goes out to Salma & Hassan at the 16eme, who welcomed us every evening with a genuine warm smile. I would go so far to say Salma is a born hostess: she has a wonderful mix of enthusiasm and class and everyone she talks to is simply a bit happier afterwards. Thank you both for making us feel so welcome! Finally, Alaaeddin, who absolutely saved the day. I couldn't thank him enough for his efforts - above and beyond! - The space at the top floor pool is nice and cozy and the shisha for rent was also a very nice touch. - Our room was spacious & the cleaner Ghizlane did not only do an excellent job but was also a very very nice person. Con: - If you are sensitive to noise, this hotel might not be for you. Unless you have a room high up and facing the park, that is. The hotel is on a busy crossing, and the traffic of the multilane streets is rather noisy. Even though there are already two glasses in the windows... but I venture to say thats probably everywhere... that is Casa for you! - The internet speed is pretty bad. Good enough for Netflix in the evening but I was a bit scared to have some online meetings. It did work out ok, though. - The rooms are a bit outdated and some are better than others - if you care for a modern flair, this is not it. - On the day of our check-out, there was no electricity in most of the hotel; the AC was off, the lights were out etc. Because of this, we oversaw something whilst packing in the dark and left it in the completely black bathroom. We did not get contacted by the hotel, and once I noticed it, I called to try to arrange pickup. But, the communication was terrible; After 3 days, 4 phone calls with about 8 different people and multiple whatsapp messages we managed to locate my item. By that time I was properly angry and requested the hotel to organise for its transport to me asap (I was one hour down the road). The 'business contact' just laughed at me, told me that it would take much longer and asked me how long I plan to be staying at my current location. I decided to go and pick the item up myself the coming day, but then, in the evening they wrote me that they will deliver it the next day - which they actually did and I am very grateful for. Turns out that the electricity outage was neighborhood wide and ongoing for two days intermittently, and, as it has never happened before like this, it left the hotel in total chaos. Hence, my left-behind bag was not their biggest worry. So, long story short: I was upset by the business contacts rudeness and lack of customer service, but given that they had a lot to deal with and still eventually managed to delivered it, I am appeased. :) Conclusion: I would recommended the Movenpick Casablanca for people who are staying for a while in Casa, or for people who value great staff over the physical hotel. Actually, we did stay in another, much newer and more modern Casablanca 5* Hotel for the same amount of time just before this one, but we enjoyed the Movenpick Casablanca much more - the staff really sets it apart. Last words of wisdom: Dont expect a 5* Swiss standard and you will be happy here. We were.
mdarbin
21/07/2022 From Tripadvisor
catastrophic
Unfortunately, there is a big difference between Movenpick years ago and the Movenpick of today. my last visit was really bad. my room was dirty, the furniture was old, in the only a few channels worked, the lamps on both sides of the bad were broken, the water pressor in the bathroom was too high, and the second day there was no water in the toilette. We asked reception to change our room, but they were unwilling. The breakfast was poor. i tried to accept the situation and enjoy my time in the hotel. the last day we had dinner in the top floor there we found a lot of people who were not hotel guests and some women dressed in appropriately. i asked one of the waters if the people where hotel guests and he confirmed that they were not, which means that anybody can come and go in the hotel as they please, so the hotel is not secured. this was my last visit ever to this hotel.
davecF6918UI
21/07/2022 From Tripadvisor
Warming and charming
I had a really good experience from the day one till my departure, starting from the smiling and welcoming lady's in reception both of them named fatim Zara, the room was fresh and clean well organised, nice view Thanks for everything
Maiaskira
18/07/2022 From Tripadvisor
Amazing service
What an amazing service by salma indeed she is the light of the restaurant 16th floor always smiling ,and good communication skills, i highly recommended for any kind of promotion or whatever it iis this survey is for, she is a rear pearl, wish i can take her away 😀 wish i can keep writing about my experience with her but time is limited.
Frequently asked questions
Mövenpick Hotel Casablanca is ideally located in the business district of Casablanca, close to the Old Medina.
Mövenpick Hotel Casablanca is in the heart of the city centre.
Mövenpick Hotel Casablanca's address is:
Rond Point Hassan II, 
20070, 
Casablanca, 
Morocco
Mövenpick Hotel Casablanca is conveniently located close to popular attractions including:
10 minute walk to the shopping district, Maarif
10 minute drive to the historical site, Hassan II Mosque
10 minute drive to the Old Medina and The Bazar
Few steps away is the financial district with head offices of Banks 
Mövenpick Hotel Casablanca has been providing guests with a 5-star hotel experience since 2014.