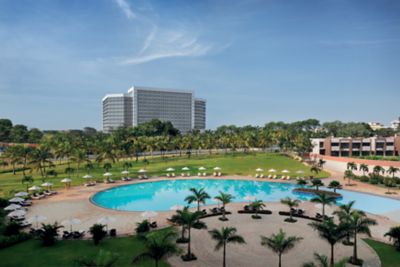 Movenpick Ambassador Hotel Accra
Restaurants & Bars
The Place to Savour Life
We believe in indulgence done right, treating our guests to deliciously fresh cuisine, abundant treats and flavours that are unmistakably Mövenpick, all served with a generous portion of heartfelt care.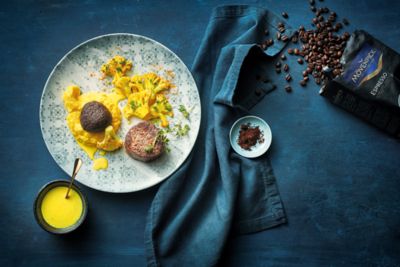 Facilities & Activities
Where Life Tastes Sweeter
Help yourself to the good life at Mövenpick. From sunny pool days to indulgent spa time, energising workouts to immersive cultural experiences, we invite you to drink it all in.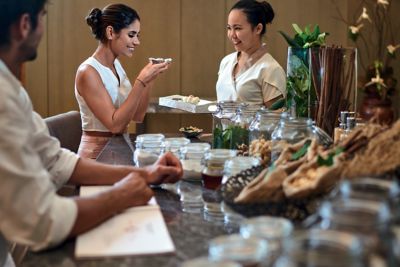 Meetings & Celebrations
Memorable Meetings & Sparkling Celebrations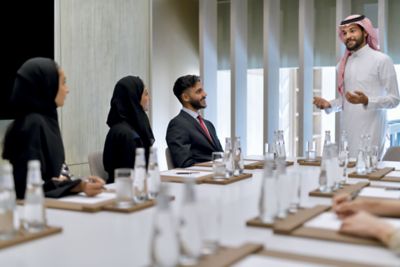 scroll up for previous option
Meetings that satisfy
With enticing venues and a menu of professional services, our meetings solutions are a recipe for success.
Find out more
scroll to show detail options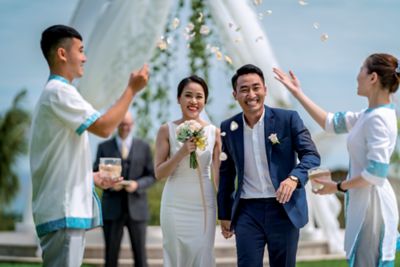 scroll up for previous option
Events bursting with flavour
With a touch of sugar, spice and everything nice, we'll help you celebrate life's rich moments.
Find out more
scroll to show detail options
Reviews
Global732241
29/04/2022 From Tripadvisor
Great hotel with wonderful staff
My second stay for business each time for a week. Well maintained, clean and modern facility. Good central location with lovely grounds and gardens make for relaxing and comfortable stay. Best part is the pool and welcoming helpful staff. Irene at the pool bar is the best. Friendly and helpful with always a smile. A lovely ray of sunshine after working all day.
tribaltravelclub
12/04/2022 From Tripadvisor
Superior Service and Accommodations
Movenpick Hotel and the staff understands customer service and did everything to meet our needs. Movenpick will always be our top choice hotel when staying in Accra, Ghana because they made our guests feel at home. The cleanliness was on point and we felt safe staying at the Movenpick in the mist of a pandemic. Daily temperature checks and sanitation. The complimentary breakfast buffet had a variety of options and the room service had an extensive late-night menu, that was delicious. High-level management Wilson and our reservations were handled by Rohit who were very professional and accommodating. The Movenpick is the perfect home away from home hotel with cozy rooms and beds. Whether we were lounging pool side or receiving a spa treatment. We are looking forward to our return. Thank you so much.
iawiproject
08/04/2022 From Tripadvisor
We Love the Movenpick Hotel
We have stayed 3 times for extended periods at the Movenpick hotel. Traveling for business extended trips can be trying. However all of the fabulous, amazing people at the Movenpick from the restaurant Mary, Bernice, Betty and so many more to the front desk, events team, security and more make us feel at home and deliver superior service. Thank You so much!
Hilli A
29/03/2022 From Tripadvisor
Wonderful stay
I had a very pleasant stay at the Movenpick Ambassador Accra. The staff was absolutely wonderful and kind during my entire stay. A special thanks to chef ROSMOND AMANTANAH who made sure that there was enough for me as a vegan during breakfast. Nothing I asked was to much. She and her staff made me feel so special. I would definitely book another stay here for my next visit to Accra.
816tabreza
23/03/2022 From Tripadvisor
It was a beautiful experience to remember, smooth check in and helpful house keeping staff and super delicious food.
Well worth the time spent, I can talk about the food and team for long , my wife made a special dietary request and we're attended by Chef Tahir. For all 3 days we stayed we never had to ask for our special food , it was there always Rare hospitality to see in todays time
Frequently asked questions
Mövenpick Ambassador Hotel Acrra is located on Independence Avenue, right next to the National Theatre in Accra Central.
The address for Mövenpick Ambassador Hotel Accra is:
Mövenpick Ambassador Hotel Accra,
Independence Avenue,
PMB CT 343,
Ridge,
Accra
Mövenpick Ambassador Hotel Accra is located in Accra city centre which is close to many popular attractions such as: The National Theatre, Kwame Nkrumah Park and Mausoleum, National Museum, Accra Arts Centre and the famous open-air Makola Market.
Mövenpick Ambassador Hotel Accra was completely rebuilt and opened in 2011.
The languages spoken by staff at Mövenpick Ambassador Hotel Accra include English and French.