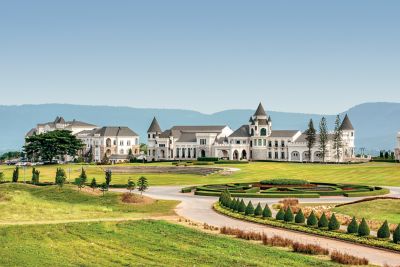 Mövenpick Resort Khao Yai
Zimmer
Ein Gemach zum Genießen
Restaurants & Bars
Ein Ort der Lebensfreude
Bei uns wird Genuss ganz großgeschrieben. Wir verwöhnen unsere Gäste mit köstlich frischen Speisen, Leckereien in Hülle und Fülle und Aromen, die typisch sind für Mövenpick – stets garniert mit einer Extraportion Liebe.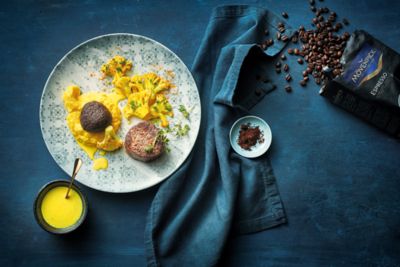 Ausstattung & Aktivitäten
Wo das Leben süßer schmeckt
Holen Sie sich eine Extraportion Lebensfreude bei Mövenpick Von sonnigen Pooltagen und entspannenden Spa-Sessions bis hin zu belebenden Workouts und spannenden Kulturerlebnissen – wir bieten das Rundumprogramm.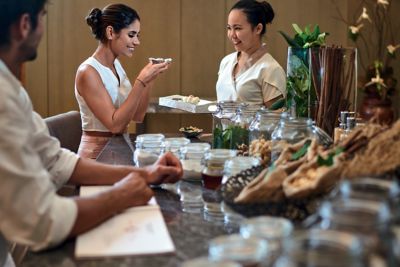 Praktische Informationen
Praktische Informationen
Bewertungen
Bernd B
21/09/2019 Von TripAdvisor
Schöne Ansicht
Postiv: Sehr schönes Gebäude,mit einem 9 Loch Golfplatz direkt am Hotel.Eine schön angelegte Gartenanlage, die sehr gepflegt aussieht.Schöne große Zimmer die auch noch gut in Schuss sind.Negativ:Morgens ab 06:30 Uhr schon sehr laut,Golfplatz wird mit Maschinen gepflegt.Matratze in meinem Zimmer durchgelegen.Restaurant nur morgens zum Frühstück besucht,weil Tagsüber arbeiten durchgeführt wurden.Frühstück soweit gut,mit netter Bedienung.Leider sehr laute und nervige Disco Musik zum Frühstück.war trotz Beschwerde nicht zu ändern.Stühle im Restaurant total durchgesessen,und schmuddelig.Läuft unter Mövenpick,was aber nirgends zu lesen ist.
chiml660
07/07/2022 Von TripAdvisor
Don't
This property has the best Covid protocol I ever seen in Thailand. You are greeted with ATK done by hazmat suited professional. In July 2022. The Villa we had has the following 1. TV with 50% channel with no signals 2. Batteries left at the Villa premises (we had toddlers) 3. 25% light switch is faulty 4. Faucet water has white murky settlements and rotten smell. 5. Personally I recon the servicing staff has very minimal training, maybe is because of two years of lock downs.
Chatjuta L
20/06/2022 Von TripAdvisor
ATK for what! Worst arrival experience
We arrived and have to do the ATK test which take so long and it is very ridiculous arrival experiences. Thailand is now opening the country to welcome guests and now most of resorts in Thailand stop even asking even for Vaccine passport but this hotel is asking guests to do ATK! We have to wait so long and so disappointed with the kind of service. Staff is rude and ignorant. I feel so piss off upon check in
MaBar2013
18/06/2022 Von TripAdvisor
after the first marvellous weekend we decided to book next trip soonest possibel
We had wonderful days in the fresh breeze of «My Ozone Valley» and the comfortable room with nice view. Staff were friendly and courteous from bellboys and reception and in all restaurant facilities, most of them speaking english. Perfect hospitality. Food and beverage: Try the original Mövenpick Icecream at Castleton Café Garden Pavillion or the authentic english Afternoon Tea with scones and clotted cream. The «Flavours of Khao Yai» culinary team with Chef Jacky just created a new menu (you can get it on QRcode or printed) and prepares a wide range of delicious creations from around the globe very special is the Zurich style veal with rösti potatoes. And yes they really know the difference between hash browns and the very special delicious swiss original «Röschti». Another highlight is the «Birchermuesli» another famous swiss dish. On 2nd floor and terrace is the italian restaurant «sapori cucina» where you find special dishes from the italian mountain and ski resort area Ponte di Legno, Brescia Valtellina where famous italian wines come from as well. I never saw in thailand before, my favorite was the dark flower mais dish «polenta tarangna» italian chef Antonio cooked best and authentic. The resort has only one disadvantage being fully booked most of the weekends so you have to hurry getting a room and decide eariest possibel or have the superbe experience during the week. We evaluate the resort now for a special event celebration.
Leeinbkk
06/06/2022 Von TripAdvisor
Absolutely Paradise ❤️ heaven on earth
My friend and I decided to have a quick escape from Bangkok. And I'm glad that we chose this stunning resort. Our experience started the minute we arrived. Warm welcome from the Front Desk. Big massive smile on everyone's face. We had the pleasure to meet the GM who is clearly enjoys what he is doing as he showed us that that he is true sincere gentlman and a role model to everyone. The resort is just perfect. Everything you need is just in there. Pool, spa, gym, golf, entertainment, farm, restaurants, everything comes with world class service (guaranteed). The room was super specious and comfortable. Balcony has a stunning view. Restaurants on-site offer a delish, succulent and yummy mouthwatering food ( international, Thai). Also to mention , the GM and his staff had gone above and beyond and arranged a birthday cake to my friend. It was a nice gesture from them. If you are looking yo have a unique experience/staycation with superb service, you must stay here. Thanks a million everyone. We look forward to returning soon. Regards - Loai
Hotels in nächster Nähe besuchen